COVID-19 Cases Linked to Major Highways in CA, Southeast, East Coast
COVID-19 hotspots have been linked to major highways and interstate routes in the U.S, according to scientists, amid fears relaxed lockdown measures are helping the coronavirus spread.
Researchers at the Children's Hospital of Philadelphia's Policy Lab and the University of Pennsylvania have been tracking and forecasting the spread of COVID-19 across 384 U.S. counties with active outbreaks, and found cases appear to be spreading from the south to the north on major roads, CNN reported.
These include the I-5 (the West Coast's main north–south Interstate Highway), the I-10 (stretching from Santa Monica, California, to Jacksonville, Florida), as well as the I-95 (the main Interstate on the East Coast), and the I-85 in the southeast (running from Montgomery, Alabama, to Petersburg, Virginia).
To chart COVID-19 trends, the team draws on information including cell phone GPS data from Unacast to calculate travel to non-essential businesses, as well as daily temperatures and population density. Their models capture 67 percent of the U.S. population, and 47 states and Washington D.C. The researchers are also monitoring around 200 countries without active outbreaks.
The findings come after health experts told Newsweek that eased lockdown measures may cause a spike in COVID-19 deaths in the coming weeks, as cases surge in states largely in the south and west.
Already, the U.S. is the country with the most known COVID-19 cases, according to Johns Hopkins University, at over 2.1 million of the total 8.1 million worldwide. As shown by the Statista graphs below, New York has been hardest hit so far.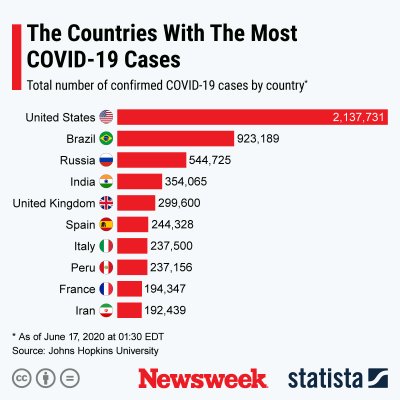 Lauren Walens, communications director of the Policy Lab, told CNN the team checks data every week and noticed a trend along the highways. "We don't look at traffic with this model, but we thought it was interesting."
There are many variables when it comes to the disease spreading, Walens said, including people traveling more. "Temperature is one of them, but there's little difference between Atlanta and Jacksonville's weather, so weather can't explain the difference in the two cities. We think it's in part mobility."
Dr. David Rubin, the director of PolicyLab and attending physician at the Children's Hospital of Philadelphia, told The Daily Beast: "There's a convergence of metro areas that's now leading to these larger epicenters of transmission. Places that were already in trouble [...] are the ones that are slipping out of control.
"For example the southwest outbreak is moving right up the I-5. You can see the risk all the way up. We're a week or two away from Sacramento and San Francisco."
Rubin said that as the coronavirus moves from south to the north, cases may also spread up from the Carolinas into the metro D.C. area via Virginia.