Doctor Says His Hospital is 'Drowning' in COVID Deaths: 'Get Your Shots People'
A doctor in Iowa has made a heart-felt plea for people to get vaccinated against COVID-19, saying that he has never dealt with "this many sick people" before.
Lance VanGundy, who is the emergency medical director at UnityPoint Health in Marshalltown, described in a video posted to his Facebook page his concerns at the misinformation out there about the jabs.
"We are drowning in people who are dying with this illness, and I have yet to admit a single person because of a vaccine-related incident," he said.
"I don't want to be political, I just want everybody to really know, in over 20 years of doing this, I've never been this busy or been this stressed or seen this many sick people."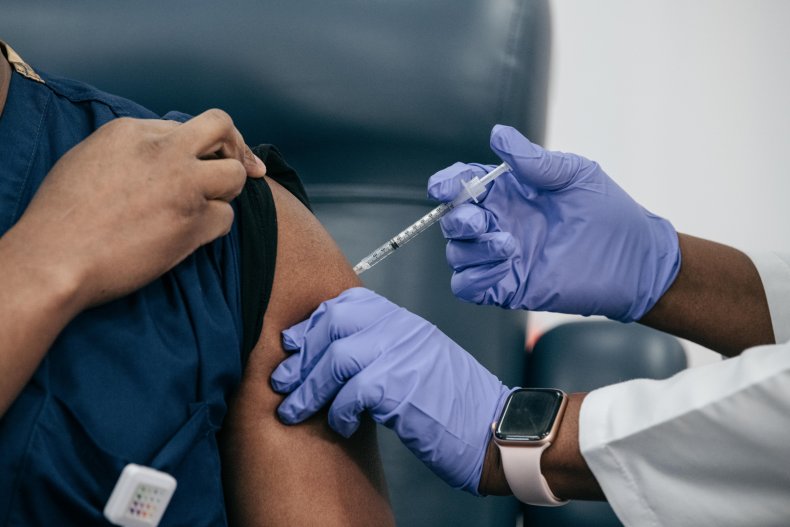 He said people should give their loved ones who have doubts about the jab, "a reassuring hug," and "tell them to get their vaccine."
"Don't be stupid and do dumb things because there's no place to admit you," he said in the video he recorded as he was parked in his car.
"If you're sick you're stuck with me until a bed opens up somewhere and that might take days because they are full of COVID people."
He said that in his ER he had to hold on to patients who had had a stroke, a heart attack and a blood clot on the lung, who were unable to be transferred to ICUs because they were all full in the state of Iowa.
"I'm pooped and I'm tired and I think most of the world is too but we are in this together," he said, "When people get political about it then try to pretend this doesn't affect them they're wrong.
"It feels like a third-world country sometimes," he said, concluding, "So get your shots people."
His post from September 2 was widely shared and commented upon, with one Facebook user writing she had sent it to her "bull-headed brother that refuses to get the vaccine," adding, "I hope you get through to him with your message."
Another wrote: "Thank you for speaking out. Iowans need to hear this."
Newsweek has contacted VanGundy for comment.
The latest figures from the Centers for Disease Control and Prevention (CDC) show that 63.7 percent of Iowans over the age of 18 have been fully vaccinated, which is close to the national average of 64 percent.
A number of people have come forward to describe their regrets at their vaccine skepticism.
Last week, Christina Lowe said the death of her husband Mikel, a San Diego native, could have been prevented, expressing her regret at their initial view that the disease "was mostly political."
The graphic below provided by Statista shows the states with the highest COVID-19 death rates.