Joe Rogan's quick recovery from COVID-19 is being celebrated by vaccine skeptics after the podcasting giant was heavily criticized for treating his bout of the virus with ivermectin.
The 54-year-old shared a health update with his fans over the weekend, confirming that he has now tested negative for coronavirus.
"Tested negative today!" he posted on Instagram. "Thanks for all the kind wishes!"
The host of the popular Joe Rogan Experience podcast revealed the news about his diagnosis on Wednesday on his Instagram, telling his followers he "immediately threw the kitchen sink" at the illness.
"All kinds of meds," he said in the video, adding: "Monoclonal antibodies, ivermectin, Z-pack, prednisone—everything. Crazy times we're living in, but a wonderful, heartfelt thank you to modern medicine for pulling us out so quickly and easily."
He also said: "I had a headache, and I just felt just run down. Just to be cautious, I separated from my family, slept in a different part of the house and throughout the night I got fevers and sweats and I knew what was going on."
His use of ivermectin—a horse de-wormer—was heavily criticized, resulting in the TV personality being labeled "an idiot."
The FDA has urged people not to take the drug to treat COVID and that large doses can cause serious harm.
The federal body has reported receiving multiple reports of people who have been hospitalized after self-medicating with the drug that is intended for horses.
Rogan—who boasts 13.1 million Instagram followers—has shared controversial opinions about COVID previously this year when he suggested that young, healthy people did not need to get the vaccine.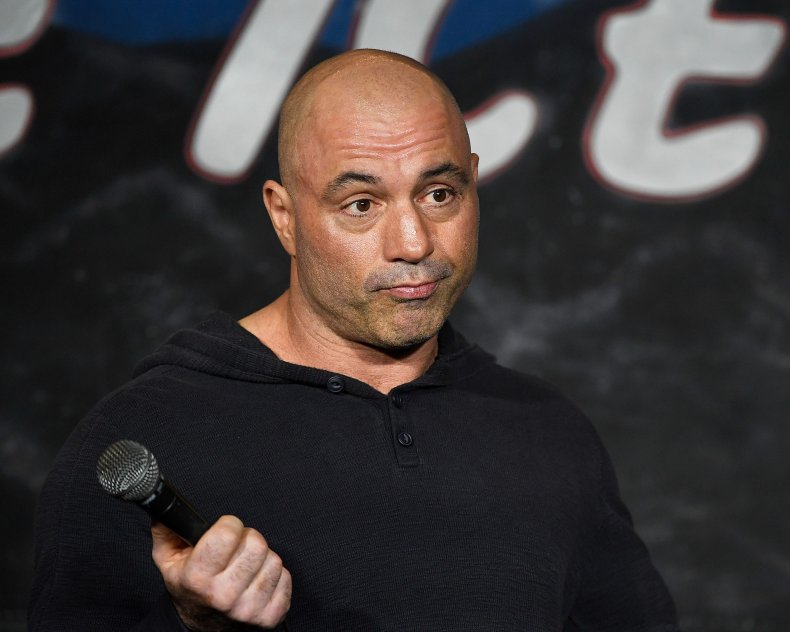 Rogan's podcast reaches an estimated 11 million people per episode.
His speedy recovery is now being lauded by some prominent vaccine skeptics online.
"Oscar De La Hoya: fully vaccinated, still gets the virus, undergoes brutal hospitalization. Joe Rogan: not vaccinated, takes ivermectin & vitamins, doesn't undergo hospitalization, beats the virus, tests negative by the 4th day," tweeted conservative activist Charlie Kirk.
While another conservative commentator, Katie Pavlich, shared a similar sentiment, tweeting: "Many are losing their minds over @joerogan a healthy, non-overweight, athletic person, making personal health decisions & taking a Nobel Prize winning drug. CDC: 80% of ppl hospitalized/dead from COVID were obese. Rogan isn't the prob. The reaction to his choices is telling."
Meanwhile, actor Matthew Marsden has said that "heads start exploding all over the country" at the news of Rogan's recovery without the vaccine.
Rogan has not confirmed whether he has received the vaccine or not.
52.9 percent of the U.S. population has been fully vaccinated, per the latest CDC update on Friday.