It Will Be Several Years Before COVID-19 Vaccine Is Available to Everyone, Doctor Leading Global Efforts Says
It may be "several years" before all those who want to get vaccinated against COVID-19 will be able to, according to the doctor leading global efforts to create it.
Richard Hatchett, the CEO of the Coalition for Epidemic Preparedness Innovations (CEPI), a partnership of public, private, philanthropic and civil organizations that finance and coordinate the development of vaccines, made the comments during American Public Health Association panel discussion last week.
Hatchett, who previously served as the chief medical officer and director of the U.S. Biomedical Advance Research and Development Authority (BARDA), said he believes it is "very likely" a COVID-19 vaccine will be developed. "And hopefully we will have many successful candidates, because we are trying to develop vaccine at scale for billions of people as rapidly as we can," he said. "And we know that no single vaccine can be scaled to the numbers of doses that we need within a reasonable time frame."
Hatchett went on that there is "no scenario" where there will be an excess of vaccine supplies in 2021, and it is anticipated that some vaccines may need to be administered twice to be protective.
The goal should be for the vaccines to be used as a scarce resource to end the pandemic by protecting healthcare workers and those most vulnerable to severe COVID-19, such as the elderly and those with preexisting conditions, said Hatchett.
"[Another goal is] essentially to bring the pandemic under control until we can globally distribute vaccine to everyone who wants it. And that's going to take several years.
"So we need to be very careful stewards of the vaccine that we have as it begins to be come available. It will be in short supply," he said.
His forecast comes as scientists around the world are researching over 100 potential vaccines to prevent COVID-19, the disease which has killed over 434,000 people worldwide in more than 7.9 million cases, according to Johns Hopkins University. The U.S. is the country with the most known deaths, at almost 116,000, and the most known cases, as shown in the Statista graphs below.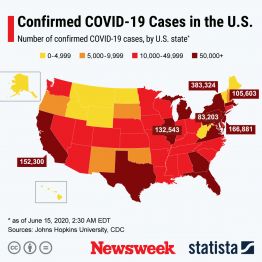 Ohid Yaqub, senior lecturer at the Science Policy Research Unit at the University of Sussex, and Jeremy Rossman, honorary senior lecturer in virology University of Kent, both based in the U.K., told Newsweek via email they agreed with Hatchett's view that the vaccine will not be immediately available to everyone.
Rossman said developing a safe and effective vaccine "is just the first step," which is followed by ensuring it can be manufactured and distributed to the world's population. "Exactly when a vaccine will be available for anyone that wants a dose, anywhere around the world, remains unknown, but it is likely that Dr. Hatchett of CEPI is correct and that the process will take far longer than a year," he said.
"Unfortunately, it is just guesswork at this point as to when the vaccine will be widely available. We do not know when (and if) we will have a vaccine that has undergone successful clinical trials. We do not know which vaccine, developed by which organization in which country will be approved (it could be multiple.)
"The access of a vaccine often depends on the manufacturing organization and the country of origin. For the COVID-19 vaccine it is not clear if there will be issues with 'vaccine sovereignty,' where a vaccine would be available within the country or origin or to the highest bidder first."
It is also unclear whether counties will follow CEPI's guidance on disturbing vaccines fairly, said Rossman. Echoing Hatchett, he said the limited supply will likely be prioritized for healthcare workers and those at high risk of serious COVID-19 illness.
"Together, these factors mean that the availability of the vaccine (once approved) will likely be highly variable between different populations in different countries," Rossman said.
It has been suggested, including by Dr. Anthony Fauci of the White House coronavirus task force, that a vaccine will be ready by the end of 2020.
But Yaqub said he believes the world would be "exceptionally fortunate" to have something in the next 18 months. While we wait for a vaccine, testing and tracing will be vital for controlling the spread of COVID-19, he said.
A vaccine alone is unlikely to be the answer to ending the COVID-19 pandemic, he said. Rather, treatments, vaccines, and public health measures,"will combine to have collectively large impacts," Yaqub said.