As New COVID Variants Spread Across U.S., Vaccines Hit a Wall
Despite high-profile vaccination pleas and growing concerns about COVID-19 variants, polling shows a constant wall of resistance to getting the vaccine over recent months.
The Delta variant is the dominant strain in the U.S. at present having spread rapidly throughout the nation since it was first detected in March. The highly infectious Lambda variant is also a concern in the U.S. after spreading rampantly in South America.
There have also been concerns of further variants emerging, as previously reported by Newsweek. Dr. Anthony Fauci, director of the National Institute of Allergy and Infectious Diseases (NIAID), suggested that a strain "worse" than Delta could emerge if vaccination numbers do not increase dramatically.
While millions have received the vaccine, there are still many who do not intend to do so.
According to recent polling from Gallup, 18 percent of those asked said they would not agree to be vaccinated if it was available to them immediately at no cost and that they were not likely to change their minds.
This polling was conducted from July 19 to 26, with a random sample of 3,475 U.S. adults. Similar polling from May put the level at 19 percent and from June at 20 percent.
Three reasons came top for those against getting the vaccine. These were wanting to wait for full Food and Drug Administration (FDA) approval, not trusting vaccines generally, and already having had coronavirus.
President Joe Biden has continually urged people to get vaccinated, warning of what he called "a pandemic of the unvaccinated." States with lower vaccination rates have seen worse COVID-19 hospitalization figures, as the graphic below from Statista highlights.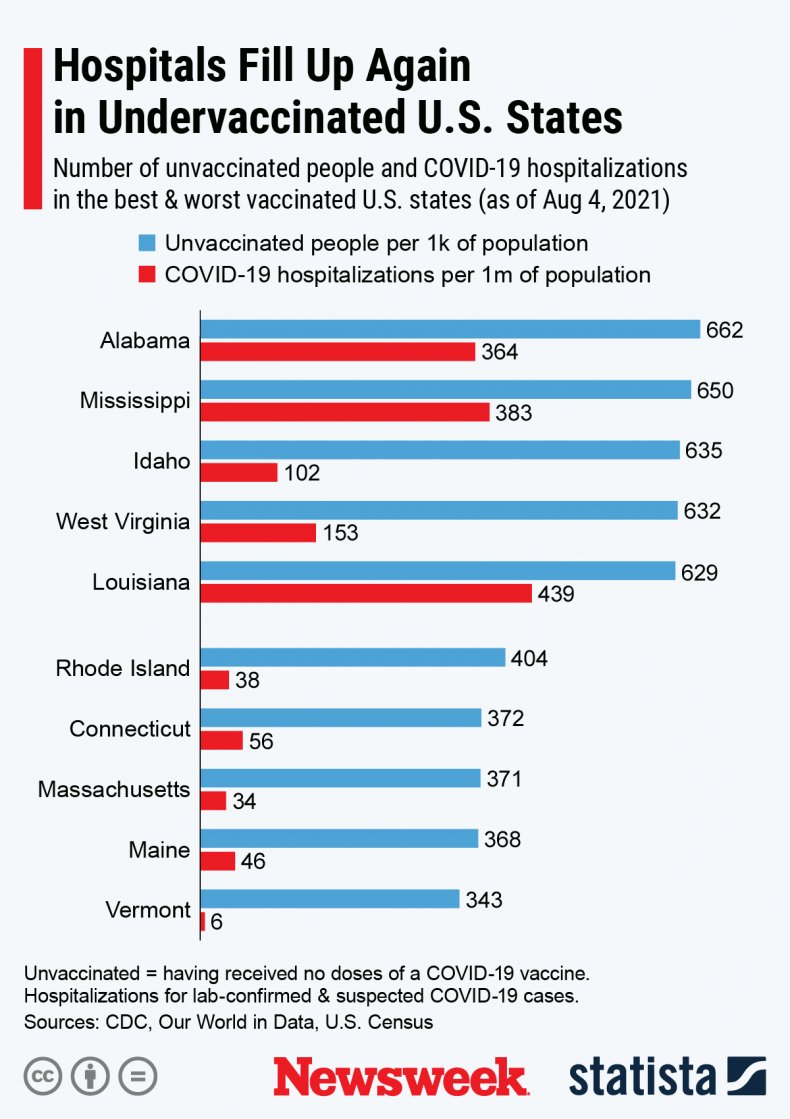 According to the Centers for Disease Control and Prevention (CDC) figures, 165.6 million people in the U.S. have been fully vaccinated. That accounts for around 49.9 percent of the total population.
Of the adult population aged over 18, 60.8 percent are fully vaccinated. More have had at least one dose, at more than 193 million. That accounts for 58.2 percent of the entire population. For adults, 70.4 percent have received at least one dose.
After hitting the 70 percent milestone, Biden tweeted: "It's incredible progress, but we still have further to go. If you haven't already, get vaccinated. Let's defeat this virus once and for all."
Vaccines have not been approved by the FDA, but the rollout has relied on the agency's Emergency Use Authorization process. This allows a non-approved medical product to be used in the event of a public health emergency.
In terms of having had the coronavirus, the CDC still recommends those who have been infected to get vaccinated, though this should be after recovering.
The CDC suggests a longer wait in some circumstances such as if someone was treated with monoclonal antibodies.
Newsweek has contacted the White House for comment on those averse to getting vaccinated.