COVID Vaccine Side Effects, Distrust Leave 30% of Americans Skeptical of Getting It: Poll
Roughly 1 in 3 Americans said they will definitely or probably not receive the coronavirus vaccine, mostly because of distrust and concerns that the shot could lead to unpleasant side effects, according to a new poll.
The survey, which was conducted by the Associated Press-NORC Center for Public Affairs Research and published Wednesday, found that at least 30 percent of respondents have indicated that they definitely will not, or probably will not, receive the inoculation.
Among those surveyed, 15 percent said they were certain they won't get vaccinated, while 17 percent said they probably won't.
The poll surveyed 1,055 U.S. adults from January 28 through February 1. The margin of sampling error for all respondents is plus or minus 3.8 percentage points.
According to the results, skepticism was found to run higher among younger people, people without college degrees, Black Americans and Republicans.
Among those who indicated they would definitely not receive the shot, 65 percent said they were concerned about side effects and reported feeling distrust about the vaccine. An additional 38 percent said they don't believe they need a vaccine, while a similar percentage said that they don't know if a COVID-19 vaccine would be effective.
For those who indicated they probably will not receive the vaccine, 63 percent said they are still waiting to see if it is safe, while 60 percent said they are concerned about side effects.
"I don't trust pharmaceuticals. I really don't. And it doesn't sound like it's going to be safe," Debra Nanez, a 67-year-old retired nurse from Tucson, Arizona, told the Associated Press.
"It would take a while for me to do research on it to make sure it's safe. I just don't want to take anything that's going to harm me," she added.
Matt Helderman, a 31-year-old from Greer, South Carolina, told the AP that he'd "like to see more safety data," while Baron Walker, a 42-year-old from Parkersburg, West Virginia, said that he felt that scientists and the government "rushed" the vaccine.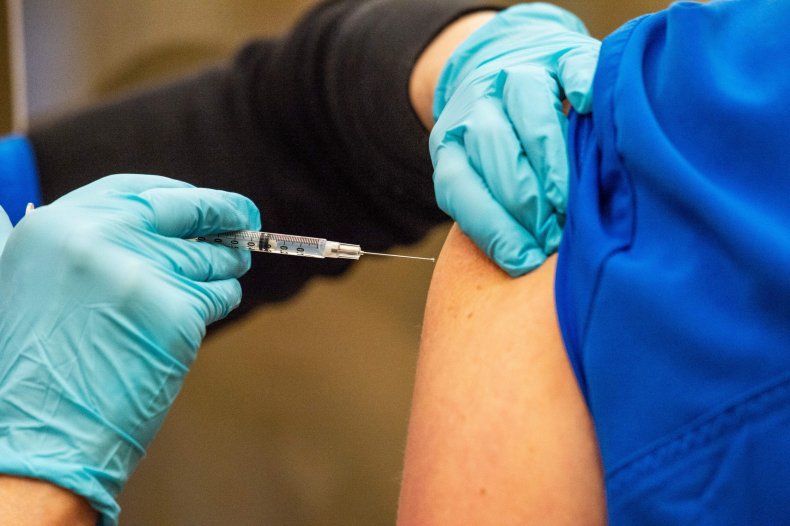 The poll suggests that notable levels of skepticism still persist among Americans, even a month and a half after the U.S. vaccine drive began, and despite research indicating that the inoculations are safe.
According to the Centers of Disease Control and Prevention, nearly 33 million Americans, or about 10 percent of the population, have received at least one dose of the vaccine, and 9.8 million have been fully vaccinated.
But experts have long said that in order for the vaccine to be effective at quelling the pandemic, between 70 and 85 percent of the U.S. population will need to be inoculated.
Dr. Anthony Fauci, the country's leading infectious diseases expert, previously told Newsweek that it is "very important to get the overwhelming majority of the people vaccinated."
Otherwise, he added, the country could be left in a "chronic state of a lower level of infection," with its ability to ultimately end the pandemic significantly hampered.
"If you don't get a substantial proportion of the people vaccinated, and you have a recalcitrant group that prevents you from achieving herd immunity, you can get into a chronic state of a lower level of infection," Fauci said.
Newsweek, in partnership with NewsGuard, is dedicated to providing accurate and verifiable vaccine and health information. With NewsGuard's HealthGuard browser extension, users can verify if a website is a trustworthy source of health information. Visit the Newsweek VaxFacts website to learn more and to download the HealthGuard browser extension.