As the Republican National Committee (RNC) gathers for its winter meeting, some party leaders are seeking to shift the GOP's focus to issues like inflation and parental rights instead of unwavering loyalty to former President Donald Trump.
The party's fault lines were present as Republican leaders gathered in Salt Lake City, Utah, to set a course for the GOP as the 2022 midterm elections approach. Some party leaders signaled that it's time for the party to look forward to ways to broaden its appeal instead of being ensnared in the feuds of the former president, who remains popular with large segments of the GOP.
"[Trump] needs to figure out a way to be constructive and not destructive: Help the party raise money; stay out of primaries unless there's a really good reason," William Palatucci, an RNC member from New Jersey, told NBC News. "Picking fights with really good candidates is not a good idea!"
Others at the conference said that they are losing interest in rehashing Trump's ongoing list of grievances. Some pointed to Republican Glenn Youngkin's victory in last year's Virginia governor race over former Governor Terry McAuliffe as a path forward. One unnamed state party chairman told NBC News that voters want candidates who talk "about tomorrow, not yesterday."
Earlier this week, Trump issued a statement calling on the House of Representatives' Select Committee investigating the 2021 Capitol riot to turn its attention to former Vice President Mike Pence for not sending Electoral College votes back to state legislatures.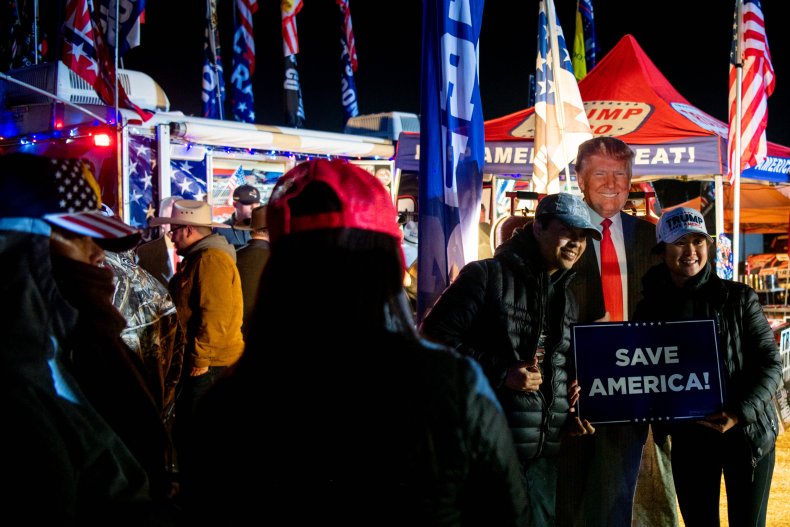 "It is beyond what we would call Midwestern common courtesy," one unnamed member told NBC News of the attack on Pence. "None of us understand it. Pence is a conservative Republican. If anyone is a RINO (Republican in Name Only), it's Donald Trump. Think about it."
Pence shot back at Trump. Speaking to the conservative Federalist Society, Pence said, "President Trump is wrong. I had no right to overturn the election."
"Frankly, there is almost no idea more un-American than the notion that any one person could choose the American president," Pence added.
But Trump's clout in the party persists, making endorsements across the country and having muscled out candidates in Ohio in favor of his "MAGA Ticket."
His influence was also felt at the meeting. The Republican National Committee voted on Friday to censure Representatives Liz Cheney of Wyoming and Adam Kinzinger of Illinois for their participation in the January 6 committee.
The blistering resolution, obtained by The New York Times, said the pair of Republican representatives "are participating in a Democrat-led persecution of ordinary citizens engaged in legitimate political discourse." It further stated that their behavior "has been destructive to the institution of the U.S. House of Representatives, the Republican Party and our republic."
Prominent members of the Republican Party, including Senators Mitt Romney and Bill Cassidy, condemned the censure.
Cheney and Kinzinger responded to the censure on Thursday, saying they stood by their decision to participate in the committee.
"If the price of being willing to tell the truth and get to the bottom of what happened on January 6...is a censure, then I am absolutely going to continue to stand up for what I know is right," Cheney told reporters.
Kinzinger posted his response to Twitter: "I have no regrets about my decision to uphold my oath of office and defend the Constitution. I will continue to focus my efforts on standing for truth and working to fight the political matrix that's led us to where we find ourselves today."
While Trump isn't going away, there are still unmistakable signs that his influence within the party is waning. An NBC News poll released last month found that only 36 percent of Republican-leaning voters said they were more supporters of the former president than of the GOP—down by 18 points from the eve of the 2020 election.
Newsweek has reached out to Republican National Committee and Trump's office for comment.