Creator of 'Hoe Union' Praised for Attempting to Keep Women Safe at Parties
A college woman received online praise after sharing in a now-viral post that she is the coordinator of a "hoe union"—a group chat of 36 friends dedicated to helping each other stay safe at parties.
Screenshots of the woman's story, originally from Reddit, were posted to Twitter on Wednesday by a woman named Maedi (@maediocre), who wrote: "Girls are amazing." The tweet has amassed more than 131,000 likes and thousands of comments from people who called the "hoe union" a "fantastic" idea.
At the beginning of her post, the woman explained that she's part of a college organization that is "big on partying."
"It can be fun but sadly it can also be risky," she said. "Most of my friends and I have had bad experiences."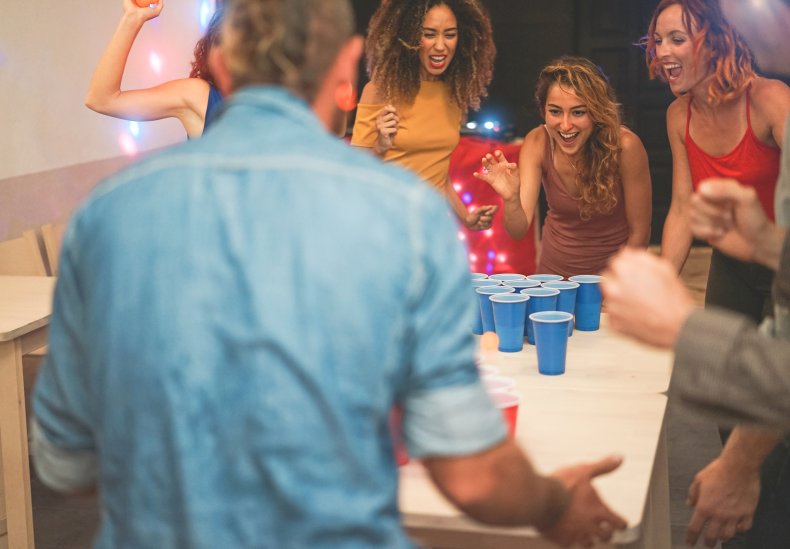 "As many as one in four women experience unwanted sexual intercourse while attending college in the United States," according to Indiana University, "and many of these incidents happen at or after parties."
To stay safe, the university encourages women to never leave their drinks unattended, never leave their friends alone when they've had too much to drink and to "make arrangements with friends to stick together and agree on when to intervene if things look like they are getting out of hand."
Elizabeth Armstrong, an assistant professor of sociology at Indiana University Bloomington, also reminded women to trust their instincts.
"If a guy seems like a creep, he probably is a creep. You don't have to be nice to him!" Armstrong said. "Forget about being polite to someone who is making you feel uncomfortable."
The anonymous woman from Maedi's tweet took things a step further—she formed a "hoe union" with her friends and they agreed that they would leave parties that:
Were hosted by or let in those who'd "sexually harassed" someone;
Wouldn't allow women to mix their own drinks or open their own beers;
Adhered to "racist, homophobic, fatphobic" or "bigoted" policies;
Tried to enforce a guy-to-girl "ratio;" and/or
Were hosted by those who "had a reputation [of] pushing freshmen or inexperienced drinkers to drink heavily."
From the get-go, the women in the group chat stuck to the rules.
"When we'd go to parties and s**t was ... off, we'd send a group chat message and all just leave for another party or go to someone's apartment," she said.
Eventually, the group chat grew to include 36 women who used the group chat to "share information." But when the school's administration heard about the "union," they tried to put a stop to it.
"I was called to talk to a guidance counselor and she said that someone had reported that I was leading a group that ostracized people. She said that there was a list of people who, if they came to an event, I'd organize so every woman left," the woman recalled.
The student told the counselor that no such list existed, and explained that the "union" was just a group chat for friends to discuss whether or not they thought a particular party felt safe. When the counselor tried to accuse the group chat of being more than just that, the student asked the counselor "why she thought it was appropriate to involve herself in a private conversation that happened outside of school and campus."
Commenters loved the idea of a "hoe union" and slammed the counselor for not being supportive of it.
"This is a fantastic idea," wrote @KiraAmarilla.
"This is freaking amazing and needs to happen more often," said @KaraGlitch.
"This sounds like such a genius idea. The counselor should be promoting the group to all women on campus," commented @ConanMcKegg.
"This is legendary and I'm concerned about anybody that feels put out by girls protecting each other," @AdamGaffney96 added.
Other Redditors to go viral in recent weeks include a dad who paid for one son's wedding but made his other son elope, a woman who charges her friends a "designated driver tax" and a man who said he recently cried in front of his date.