Credit Suisse Raises $54 Billion From Central Bank Amid Global Market Panic
Credit Suisse, Switzerland's second-largest bank, said it would borrow nearly $54 billion from the Swiss central bank in an effort to calm market fears that it could succumb to the contagion sweeping the global financial sector.
The Swiss investment bank, with $574 billion in assets at the end of 2022 and about $1.7 trillion in its asset management business, is one of just 30 banks in the world that global regulators have deemed systemically significant. In other words, it is considered too big to fail.
Still, the bank's shares tumbled on Wednesday as investors fretted that it would crumble under the weight of losses triggered by a rapid rise in U.S. interest rates, just as California-based Silicon Valley Bank did last week.
Swiss regulator FINMA and the Swiss National Bank stepped in to offer financial support following a day of panicked trading.
Credit Suisse said in a statement hours later, early Thursday morning local time, that it would take the central bank up on the offer by borrowing 50 billion Swiss francs, or about $53.7 billion.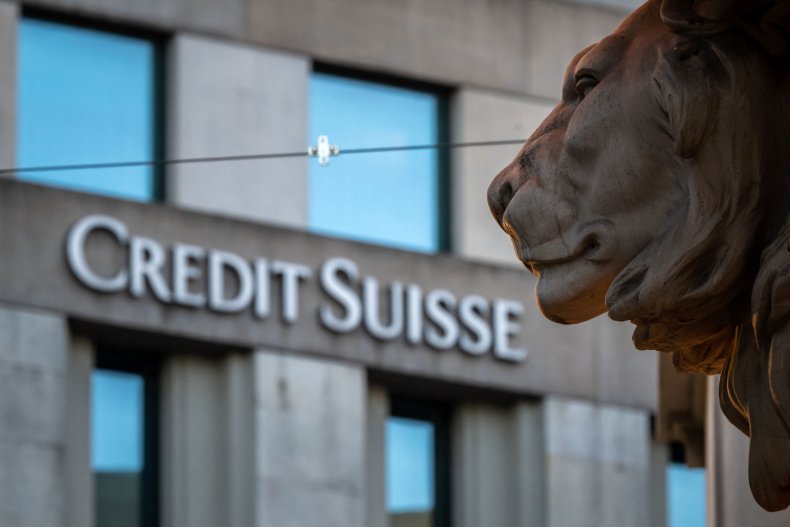 The bank also announced plans to buy back 3 billion Swiss francs in senior debt securities via an international subsidiary, while making cash tender offers for 10 others, worth up to $2.5 billion, and another four worth up to 500 million euros.
Credit Suisse said that the moves were a "decisive action to pre-emptively strengthen" liquidity and reassure investors.
"These measures demonstrate decisive action to strengthen Credit Suisse as we continue our strategic transformation to deliver value to our clients and other stakeholders," Credit Suisse CEO Ulrich Koerner said.
"We thank the SNB and FINMA as we execute our strategic transformation," Koerner added. "My team and I are resolved to move forward rapidly to deliver a simpler and more focused bank built around client needs."
Credit Suisse share prices dropped as much as 31 percent on Wednesday after officials from Saudi National Bank—which holds nearly 10 percent of the bank's stock—said it would not buy more shares to save the company.
The bank has been weakened by decades of financial scandal and was viewed as particularly vulnerable to the market turmoil created by the Federal Reserve's aggressive campaign to raise interest rates and stamp out inflation, as well as rising rates at the European Central Bank.
Those concerns have turned to panic over the last week due to the Silicon Valley and Signature bank collapses, the second- and third-largest bank failures in U.S. history.
A joint statement from FINMA and Swiss National Bank on Wednesday said that assistance was being offered to Credit Suisse because it "meets the capital and liquidity requirements imposed on systemically important banks."
A Reuters report citing people familiar with the matter claimed that the offer of help came following "pressure" from an unnamed "major government" and at least one other bank concerned about the potential for a crisis caused by the U.S. bank failures.
Prior to the announcement of the loan deal, Senator Bernie Sanders of Vermont told Reuters that "everybody is concerned" that the tumbling stock price of Credit Suisse could put the U.S. at risk for a larger financial crisis.
Newsweek has reached out to Swiss National Bank for comment.