Crime Is Costing Democrats Millions
Democrats are spending millions of dollars to fund the police after years of relentless attacks from Republicans claiming the party is soft on crime.
After months of negotiations within their caucus to reach a deal, House Democrats passed a four-bill criminal justice package Thursday worth millions of dollars to bolster the budgets of small local police departments around the country.
Together, the legislation would introduce millions in officer safety, de-escalation, and domestic violence response training; provide grants for small departments to recruit new officers alongside retention bonuses to keep existing officers; investments for officers pursuing graduate degrees in public health, social work, and mental health, and additional funding to allow police departments to fund mental health resources for their officers.
"This is smart investment, smart policy," Virginia Democratic Representative Abigail Spanberger, a former law enforcement officer and a key figure in negotiations, said on the House floor ahead of the vote. "And at this moment, we should have the common commitment to keeping America's communities safe."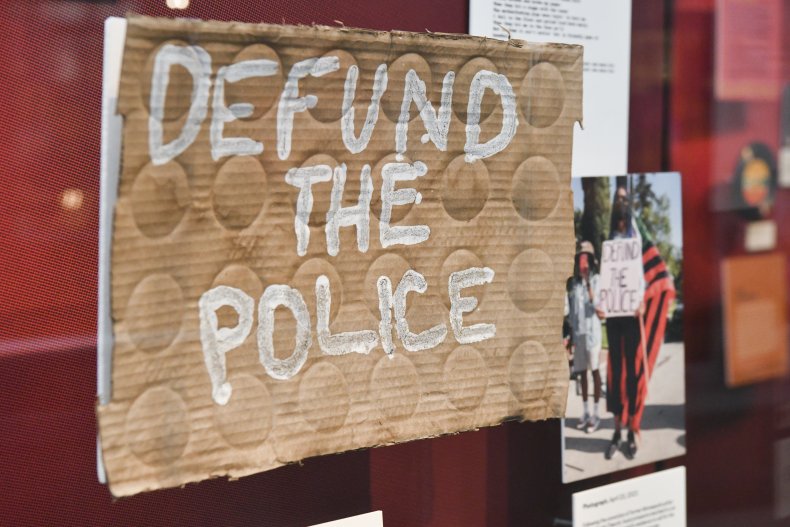 While the legislation likely won't gain momentum in a deadlocked Senate, the timing of the package could be critical for Democrats stuck fighting off GOP accusations of wanting to "defund" the police with less than 50 days until the 2022 midterm elections.
Polling over the summer by the Pew Research Center showed violent crime to be a major issue with 60 percent of voters—topping other concerns like education, abortion and immigration. And since the eruption of national protests against police brutality at the close of the decade, Republicans have sought to own the national narrative around crime, depicting themselves as backers of law enforcement and Democrats, as seeking to divest from it.
In 2020, Republicans effectively leveraged the messaging to topple numerous Democrats in that year's congressional elections, prompting soul-searching among members of the party. This year, House Minority Leader Kevin McCarthy has made support for the police a key tenet of his newly released "Commitment to America," which includes pledges to support 200,000 more police officers through recruiting and retention bonuses, "oppose all efforts to defund the police," and crack down on prosecutors and district attorneys who refuse to prosecute certain crimes.
Democrats have largely walked away from the policy. Meanwhile, President Joe Biden publicly disowned the concept of defunding the police in a nationally televised speech earlier this year. However, Republicans have made it a part of their campaign strategy this cycle as well. In Wisconsin, a political action committee closely aligned with Senate Minority Leader Mitch McConnell has targeted Democratic Senate nominee Mandela Barnes over his support for ending cash bail, while Pennsylvania GOP Senate nominee Dr. Mehmet Oz has targeted opponent John Fetterman's previous statements on clemency for those imprisoned for violent crimes such as murder.
Newsweek has contacted the Democratic National Committee (DNC) for comment.
Some Democrats, like Democratic Florida Senate candidate Val Demings, came out strong at the beginning of their campaigns to counter GOP narratives around police funding, dropping an eight-figure sum on her first television advertisement promoting her support for law enforcement. But the passage of the bills represents a much-needed victory.
According to Axios, many House Democrats saw the passage of the bills as a tangible demonstration of the party's actual commitment to law enforcement while still facilitating myriad policing reforms they had long sought to enact on a federal scale.
"I think it's helpful to [swing seat Democrats], and I think they have to talk about it every place they go," Illinois Democratic Representative Cheri Bustos told the outlet.
While the legislative package passed on a mostly bipartisan basis, it still attracted criticism from Republicans and Democrats alike. Representative Matt Gaetz, a Florida Republican, described the conditions for receiving the funds contained in the bill as overly restrictive, saying Democrats "don't want to fund the police, they want to addict the police to the federal dollar."
Meanwhile, Representative Tom McClintock, a California Republican, said the bill was not to fund law enforcement, but to fund liberally supported initiatives like intervention, de-escalation training, public health, and social work training over "actual law enforcement," all administered by the "increasingly corrupt and politicized Department of Justice."
Democrats' ability to pass the legislation also stemmed on leadership rejecting a widely supported bipartisan agreement struck between Spanberger and South Carolina Republican Congressman Tom Rice to fund small rural departments Rice said were "demoralized" amid staffing shortages and national anti-police rhetoric.
Rice told Newsweek on Friday that the legislation passed Thursday was written in a way that did little to support those small, rural departments, saying many could not afford the 25 percent funding match required in the Democrats' version of the bill they would need to receive those federal dollars.
"The bills that we voted on yesterday were the Democrats trying to cover up the fact that they're anti-police," Rice said in a phone interview. "It's a political thing to give them talking points. They know these bills aren't going anywhere in the Senate."
But support for the Democratic package was tepid even among members of their own conference. While Democratic Representative Pennsylvania Ayanna Pressley of Pennsylvania—a liberal member of the progressive coalition "the Squad"—voted "present" on all four bills to give Democrats the support they needed, all four other members of "the Squad" voted against them outright, in line with calls from numerous progressive groups who opposed any increases in funding for personnel.
"Real safety comes through investing in people and community infrastructure, not policing institutions that have failed time and time again to create safety that works for everyone," a letter from 65 social justice organizations opposing the legislation sent to the Black Congressional Caucus ahead of the vote, read.
Updated 9/23/22, 3:49 p.m. ET: This article was updated to include comment from South Carolina Republican Congressman Tom Rice.