Dr. Oz Campaign Hires Actors To Play Convicted Felons Supporting Fetterman
Republican U.S. Senate candidate Dr. Mehmet Oz has reportedly hired people to portray convicted felons as part of his campaign against Democratic opponent, Lt. Governor John Fetterman.
Oz, a celebrity heart surgeon endorsed by former President Donald Trump, has strongly criticized Fetterman for his stance on crime and in particular the fact he wants to end mandatory life sentences for second-degree murder.
Images of people portraying convicted felons and holding signs saying "Inmates for Fetterman" were shared to Twitter on Tuesday morning by PatriotTakes, a Twitter account that describes itself as "dedicated researchers monitoring and exposing right-wing extremism and other threats to democracy."
The individuals are shown wearing orange jumpsuits and one can be seen holding a sign that says: "Another convicted felon for Fetterman."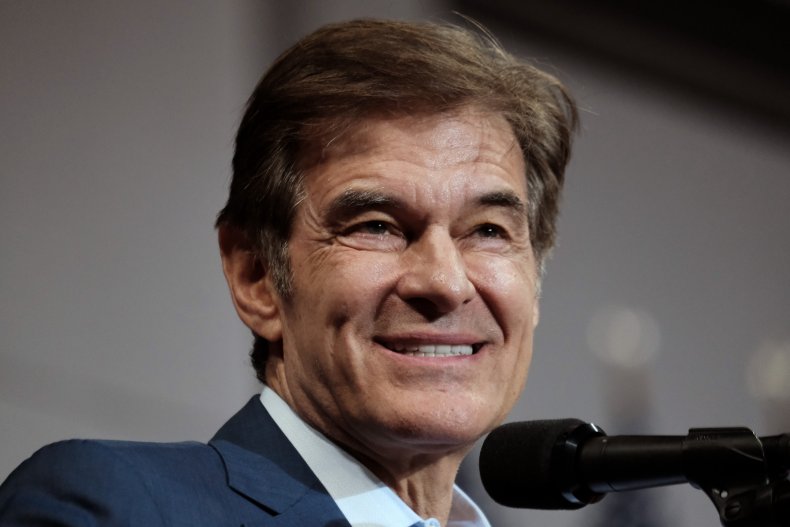 One of the people depicted is Colin Matthews, who originally shared the photos of himself with Oz, as well as with others dressed in the jumpsuits, to his Instagram page. He also discussed dressing as a convicted felon.
The photos shows Oz autographing one of the signs in question with Matthews standing next to him.
"Last night might've been the greatest things I've ever done in politics yet. I was hired by the Oz campaign to play the role of a felon supporting Fetterman… I can't believe how many idiots thought I was legit out of jail," Matthews wrote.
The photos were shared to Twitter on Tuesday but the Oz campaign announced its "Inmates for Fetterman" initiative on September 2 and has set up a dedicated website on the issue.
Oz's communications director Brittany Yanick previously shared a tweet from journalist Justin Sweitzer about the Inmates for Fetterman initiative. That tweet featured the campaign's press release and a photo that included Matthews and others in orange jumpsuits.
Oz has taken aim at Fetterman over his stance on convicted felons with the Republican accusing Fetterman of wanting to "eliminate life sentences for murderers."
However, Fact Check.org has found that claim to be inaccurate. In fact, Fetterman is opposed to mandatory life sentences for those convicted of second-degree murder.
The Oz campaign also recently said that two members of Fetterman's campaign staff were convicted murderers and should be fired.
"If John Fetterman cared about Pennsylvania's crime problem, he'd prove it by firing the convicted murderers he employs on his campaign," Yanick said in a statement on Thursday.
Fetterman's campaign responded by saying the accusation was a "gross smear" and the campaign workers, Dennis Horton and Lee Horton, were wrongly convicted and spent 30 years in prison before their sentences were commuted in 2021.
His campaign said that Fetterman "led the charge for the Board of Pardons to commute their sentences to time served."
Fetterman has been in front of Oz in a slew of recent polls in a race that could decide control of the Senate and poll tracker FiveThirtyEight currently rates the Democrat as favorite to win.
Newsweek has asked the Oz and Fetterman campaigns for comment.