'Crisis on Infinite Earths': When Episodes Are Airing and How to Watch Them Online
DC Comics fans are in for a treat over the next two months, as The CW will air five episodes of Crisis on Infinite Earths, which brings together all of the CW superheroes, as well as familiar faces from Smallville, Superman Returns, Birds of Prey and the upcoming Stargirl. The first episode airs on December 8, after which episodes will start to be made available to watch online in The CW and (in the future) Netflix.
When will Crisis on Infinite Earths episodes air?
The episode release schedule for the Arrowverse crossover is as follows:
Episode 1 (Supergirl): December 8, 2019, 8 p.m. ET
Episode 2 (Batwoman): December 9, 2019, 8 p.m. ET
Episode 3 (The Flash): December 10, 2019, 8 p.m. ET
Episode 4 (Arrow): January 14, 2020, 8 p.m. ET
Episode 5 (Legends of Tomorrow): January 14, 2020, 9 p.m. ET
After each one first airs on The CW, they will be available on the network's website by the following morning. As the CW website and app streams the last five episodes of all of its shows, all five episodes should be on the service until mid-February.
Also available on The CW will be Crisis Aftermath, two aftershows discussing the series. These will be presented by Kevin Smith and be available after they air on the network on Sunday, December 8 and Tuesday, December 10 at 9 p.m. ET.
The next episode of Crisis on Infinite Earths to air will be Part 3, which airs on December 10 on The CW. This episode will see Black Lightning (Cress Williams) join the Arrowverse's superheroes to fight the Anti-Monitor (La Monica Garrett, who Newsweek interviewed this week). The episode is also sure to feature yet more cameos from DC shows and movies past. Episode 1 saw actors like Burt Ward from Batman '66 and Robert Wuhl from Batman '89 appear, while Episode 2 saw the return of Smallville's Tom Welling as well as the live-action debut of Kevin Conroy, who has voiced Bruce Wayne in a number of animated projects, as Batman.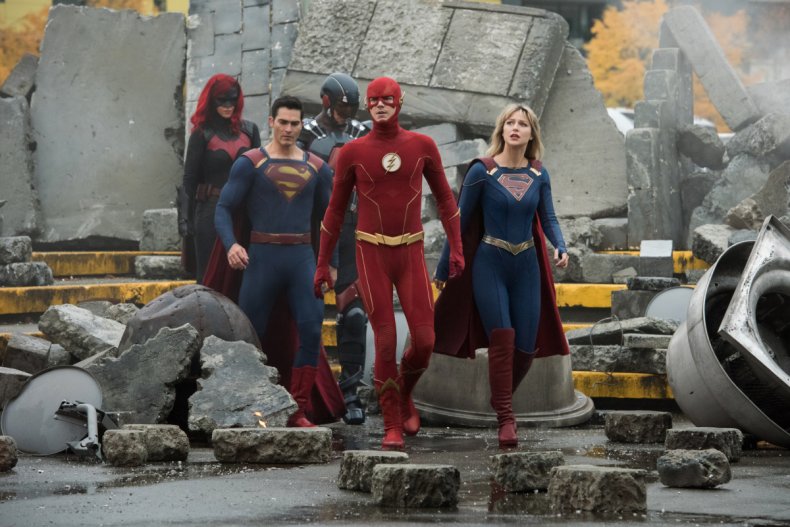 Eventually, all the five seasons that Crisis on Infinite Earths is a part of will arrive on Netflix. Currently, all CW series come to Netflix eight days after their season finales air. Though Warner Bros (who own The CW) are launching their own streaming service HBO Max at the end of May, Supergirl, Batwoman, The Flash, Arrow and Legends of Tomorrow are all expected to be released on Netflix at the end of their current seasons.
Arrow will be the first of these to be released on Netflix. The series finale of the show will air on cable on January 28, 2020, meaning it should be on Netflix by February 5. However, the whole of Crisis on Infinite Earths will not be on the streaming service until all the seasons have ended by the end of May, meaning Netflix subscribers will be able to watch the full Arrowverse crossover by early June.
Crisis on Infinite Earths starts on Sunday, December 8 at 8 p.m. ET on The CW.