Cristiano Ronaldo: The Strange Paradox Of Portugal's Best Player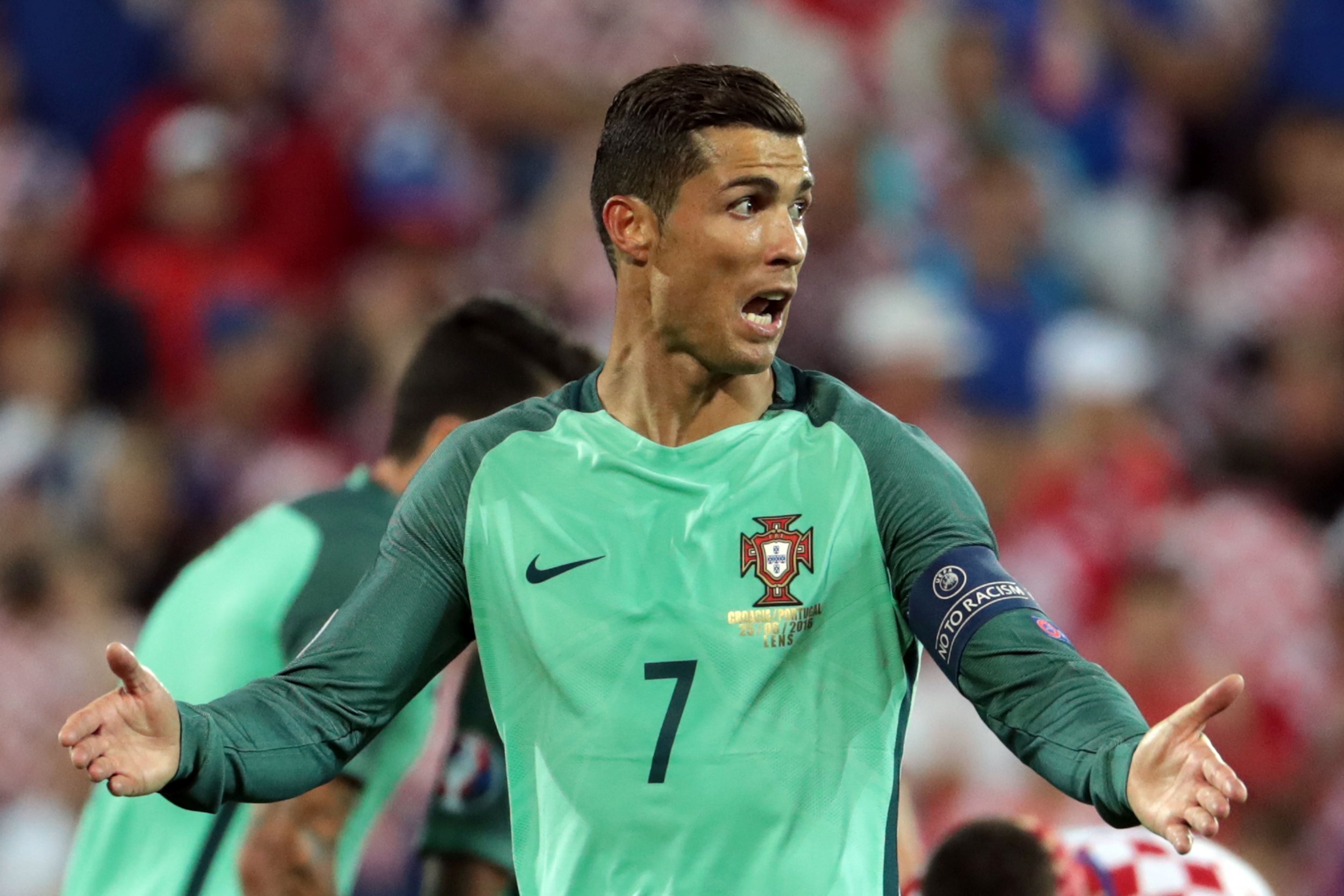 Let us call this story, if we may have such license, "The Lonely Paradox of Cristiano Ronaldo."
Portugal could only manage three draws in the group stage of UEFA Euro 2016, against Iceland, Austria and Hungary.
On two of those occasions, Cristiano Ronaldo, its best player, probably the world's second-best player, at least on club form, cut a strangely subdued figure.
It was not as though Ronaldo was not involved in the games—he missed several chances in each, managed to insult Iceland to levels of diplomatic incident and fluffed a penalty against Austria—rather that Portugal's desperate attempts to play with, and through, its greatest individual stymied him and it.
Newsweek subscription offers >
In the wild 3-3 draw with Hungary that sent Portugal through, Ronaldo performed his Superman act, a superlative flick and a header rescuing his reputation, and his country's chances in the tournament.
It was a great individual performance, but at the expense of a fine team display. Portugal was ragged, haggard, and should probably have lost against a Hungary team that proved itself zippy again in defeat to Belgium in the round of 16.
This is the problem with Portugal and Ronaldo, Ronaldo and Portugal, Rortugal, Poraldo—the two don't seem to be able to exist in a mutually beneficial manner, at least not in this tournament. When Portugal seeks to play through Ronaldo, it ends up delegating everything to him and loses shape.
And when Ronaldo takes a back seat? Well, here is the paradox. Stating the 31-year-old faded in the last 16 game against Croatia would suggest he was anything more than a wraith-like presence to start with.
Newsweek subscription offers >
All Portugal's fine tactical work came through its midfielders, Joao Mario and William Carvalho, shutting Croatia's technical wizards down.
At the back it was resolute, Jose Fonte and Pepe, Ronaldo's Real Madrid team mate, denying a succession of Croatian attackers.
It was not pretty—Tracey Emin's unmade bed to an impressionist masterpiece—but recognizing its technical inferiority, Portugal did what it could and had to do to shut Croatia down.
That effort did not include Ronaldo, up until minute 117, by which point, presumably, only so-called "purists" were watching.
Ronaldo and Ricardo Quaresma combined to win the ball from Ivan Rakitic, deep in the Portuguese half of the pitch. The ball was shipped on to Renato Sanches, the bullish teenager who Portugal might do better to build its team around in future. Sanches to Luis Nani, with a strange, scuffed shot that somehow piddled its way to Ronaldo, and…
Even in his shot there was contradiction—a mediocre effort kept out easily enough by Danijel Subasic, the Croatian goalkeeper—but just listless enough to spoon into the air off his body, so that Quaresma, who had hared upfield with Ronaldo, could slam home.
The message in the madness? Curiously, when Portugal ignores Ronaldo for all but the most basic, and crucial of tasks—goalscoring—it looks a far more cohesive, organized and all-around better team.
There may be no secret in this—now, in his waning days at Real Madrid, Ronaldo has evolved into a highly-effective pylon, a penalty-box finisseur par excellence.
It's the message Portugal may be learning. When the world's greatest gets too involved in team dynamics he bends the team out of shape—not an easy paradox to recognize, still less implement.
Play with Ronaldo, and Portugal risks elimination in the quarter-finals. Play around him, like Morris dancers around the Maypole, and it may just go all the way to the final.
Cristiano Ronaldo: The Strange Paradox Of Portugal's Best Player | Sports