Some GOP lawmakers spent time during the opening day of Judge Ketanji Brown Jackson's Supreme Court confirmation hearing to complain about how unfairly Brett Kavanaugh was treated in 2018.
Though Kavanaugh faced accusations of sexual assault during his hearing, Republican senators say he was treated with less respect than Jackson, who was nominated by President Joe Biden to replace outgoing Justice Stephen Breyer. Republicans said Jackson wouldn't be bombarded with what they referred to as "personal attacks" like Kavanaugh experienced.
"When we say that this is not Kavanaugh, what do we mean?" South Carolina Senator Lindsey Graham said. "It means that Democratic senators are not going to have their windows busted by groups. It means that no Republican senator is going to unleash on you an attack about your character when the hearing is virtually over."
"Most of us couldn't go back to our offices during Kavanaugh without getting spit on. Hope that doesn't happen to y'all," Graham continued.
Other Republicans joined Graham's concerns of Kavanaugh's treatment, including Texas Senator Ted Cruz. Although the two nominees' hearings are taking place under completely different circumstances—with Jackson never being accused of sexual misconduct—the GOP continually compared the two.
"Judge Jackson, I can assure you that your hearing will feature none of that disgraceful behavior," Cruz said. "No one is going to inquire into your teenage dating habits. Nobody is going to ask you with mock severity, 'Do you like beer?'"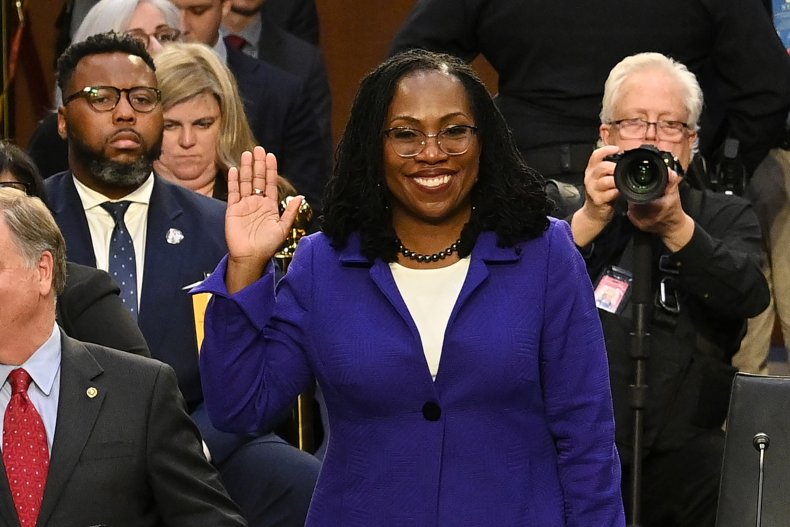 Critics took to social media condemning Republicans wondering why Kavanaugh has been mentioned so many times when speaking about Jackson.
"Brett Kavanaugh is trending because Republicans have to use him to defend [GOP Senator] Josh Hawley racist character assassination attempt to get Judge Ketanji Brown Jackson dropped from the SCOTUS confirmation," David Weissman said on Twitter. There are no valid reasons why she wouldn't be qualified for the position."
Hawley, of Missouri, has repeatedly attacked Jackson's judicial record, saying she doesn't deserve a Supreme Court seat due to allegations of being soft on child porn offenders, which has been proven untrue.
Others say it isn't relevant to compare to two confirmation hearings at all.
"One important distinction between Ketanji Brown Jackson and Brett Kavanaugh is that Ketanji Brown Jackson did not attempt to rape a woman when she was in high school," Ian Millhiser tweeted.
Neither Graham nor Cruz mentioned why Kavanaugh experienced backlash during his confirmation, but Graham suggested Jackson's nomination was a victory for the "radical left."
"Lindsay Graham acting like Kentanji Brown Jackson has some kind of privilege in this process because Dems were concerned about Coney Barrett's stance on abortion and Kavanaugh allegedly being a predator is ... very on brand for the Republican party," Jeanna Kelley tweeted.
No matter whom Jackson is compared to, she will face questions from the 22 lawmakers on the panel this week, before heading to the full Senate for a vote. Democrats can confirm her to the Supreme Court without a single Republican vote as long as the entire caucus votes "yes."
Newsweek reached out to Cruz and Graham for comment.