Who Is Ketanji Brown Jackson? Supreme Court Pick's Bio, Husband and Children
President Joe Biden is expected to announce on Friday that he will nominate Ketanji Brown Jackson to succeed Associate Justice Stephen Breyer on the U.S. Supreme Court.
Media outlets reported on Friday morning that Biden would tap Jackson for the seat on the Court as Breyer, the Court's most senior liberal, steps down.
If Jackson is confirmed by the evenly divided Senate, she will become the first Black woman ever to serve on the nation's highest court, as well as the third Black person and the sixth woman.
Who is Ketanji Brown Jackson?
Jackson, 51, is currently a judge on the U.S. Court of Appeals for the D.C. Circuit. She was nominated to that position by Biden last year and was confirmed in the role on June 14, 2021 by a vote of 53 to 44.
Jackson was born Ketanji Onyika Brown in Washington, D.C. in 1970
She married surgeon Patrick Jackson in 1996.
The couple have two daughters — Talia, 21, and Leila, 17.
Jackson's parents moved to south Florida when she was child and she graduated from Miami Palmetto Senior High School.
She studied government at Harvard University, graduating in 1992. Jackson spent a year as a reporter at Time magazine before returning to Harvard, receiving her law degree from Harvard Law School in 1996.
Patrick Jackson is also a graduate of Harvard and works as a general surgeon at MedStar Georgetown University Hospital.
Jackson began her legal career with three clerkships, perhaps appropriately spending a period clerking for Justice Breyer from 1999 to 2000 and was in private practice in Boston, Massachusetts from 2000 to 2002.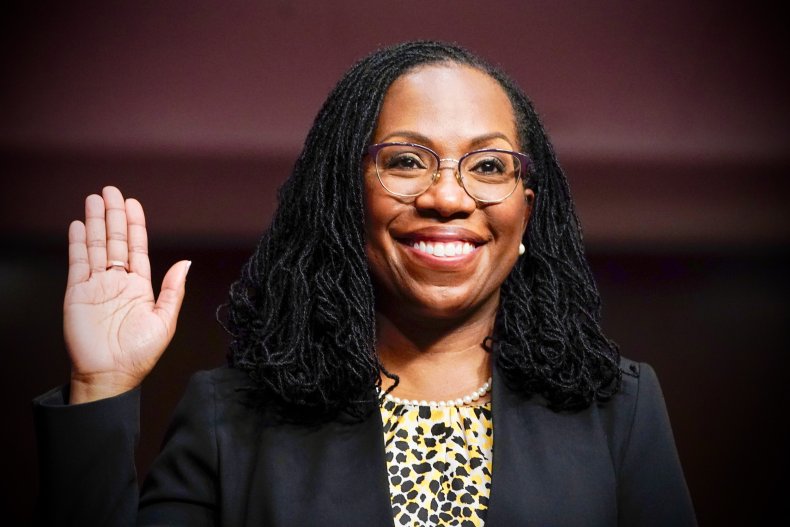 She was assistant special counsel at U.S. Sentencing Commission from 2003 to 2005.
Jackson then served as an assistant public defender in Washington, D.C. from 2005 to 2007. During that time, she was involved in cases related to detentions at Guantánamo Bay and was assigned to represent detainee Khi Ali Gul.
In private practice in D.C. from 2007 to 2010, Jackson then served as vice chair of the U.S. Sentencing Commission. She was nominated to the commission by then President Barack Obama in 2009, winning Senate confirmation in 2010 and serving in that role until 2014.
In 2012, Obama nominated Jackson to U.S. District Court for the District of Columbia and she was confirmed in that position by the Senate in 2013, serving on the court until she was elevated to the Court of Appeals in 2021.
Jackson succeeded Merrick Garland on the Court of Appeals for the D.C. Circuit after he was confirmed as attorney general.
Garland had been nominated to the Supreme Court by Obama in 2016 but the Republican majority in the Senate refused to hold hearings and effectively kept the seat until former President Donald Trump came to office.
Ketanji Brown Jackson's Ruling Against Donald Trump
Perhaps Jackson's best known ruling from the bench was against former President Trump. While a district judge in 2019, Jackson ruled that former White House counsel Don McGahn had to testify before Congress, famously writing that "presidents are not kings."
The Senate currently consists of 50 Republicans, 48 Democrats and two independents who caucus with the Democrats. Though the numbers are razor thin, Democrats should have the necessary votes to confirm Jackson to the Court.