Animal Rights Groups 'Skeptical' of SeaWorld's Plan to End Killer Whale Shows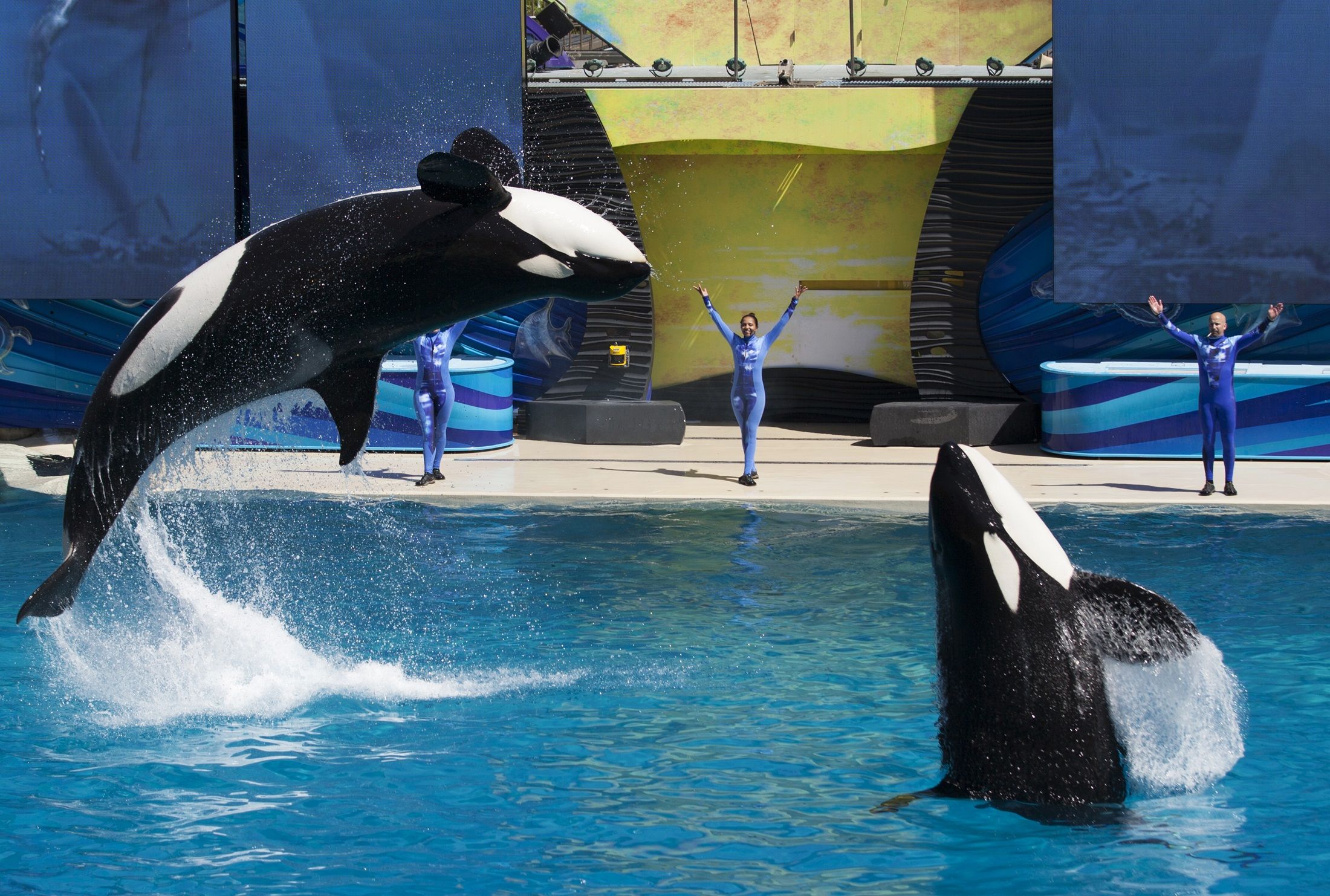 On Monday, SeaWorld made the announcement that after 2016, visitors will no longer be able to watch the controversial, theatrical killer-whale performance at the company's San Diego theme park—a decision that has been met with skepticism by activists who call the decision a small step toward addressing the freedom of orcas.
Instead of the marine-life theme park's long-lasting "Shamu" show, guests in 2017 will have an "all new orca experience" that will place more emphasis on the natural setting and behaviors of killer whales, Joel Manby, chief executive officer of SeaWorld Entertainment Inc., told analysts at a meeting on Monday. The decision is "based on customer feedback" in San Diego and the hope that customers can resonate with the park more through the experience.
"We didn't do anything in San Diego because of the activists. We did it because we were hearing it from our guests," Manby said. "Frankly, the activists aren't going to be pleased with anything that we do, I think, so that would not be good justification to make any move."
"We are listening to our guests, we are evolving as a company, we are always changing," he said.
But critics aren't satisfied, saying SeaWorld's change is not enough.
Naomi Rose, a marine mammal scientist for the Animal Welfare Institute who has been raising awareness of the captive orca industry for the past 22 years, says she commends SeaWorld for acknowledging there is an issue that needs to be fixed.
But, she says, the plan to end the show is a "very, very small step," and SeaWorld's easiest solution. The company, she adds, is failing to address the fundamental problem: the welfare of killer whales.
"They have to stop making more captive orcas. Until they do that, they aren't dealing with the real problem," Rose tells Newsweek. "They think this is some kind of trend that they can dress up with some cosmetic fixes, and that means they don't get it."
Monday's announcement came amid ongoing criticism in the wake of the 2013 documentary Blackfish that exposed the dark side of orca shows and the consequences of holding killer whales captive. The film focuses on Tilikum, a captive whale involved in the deaths of three people.
A growing number of citizens, activists and lawmakers have called on the company to end the practice of breeding captive whales, and they have demanded that businesses working with the theme park, such as Southwest Airlines, end their partnerships with the company. In July 2014, the airline ended its 25-year deal with SeaWorld amid mounting pressure.
In the past two years, SeaWorld Entertainment has seen declining revenue and attendance, and has seen stock prices slip. Rose says she doesn't want SeaWorld to go out of business. It operates 11 parks in five states and is responsible for thousands of animals—from sharks and manatees, to turtles and seahorses. Instead, she hopes the company can transition to a new business model.
The company has 24 orcas—11 live at the San Diego park, and 13 are in Orlando, Florida, and San Antonio. The new plan, however, only applies to the whales in San Diego. Rose argues that if management were serious about fixing issues concerning the public SeaWorld would implement changes universally.
"They claim their whales are thriving. Killer whales by their nature cannot thrive in captivity. These animals are too large, too wide-ranging, too intelligent, too complex to thrive in captivity," she says. "SeaWorld is still rejecting it out of hand, and until they do start discussing that, as opposed to 'We're going to fix our show,' we have a long way to go."
Critics credit California as more legislatively progressive than Florida and Texas. Lawmakers at both the state and federal levels have been working to ban live performances and captive breeding of killer whales. The California Coastal Commission, a state agency, in October ruled to allow SeaWorld to expand its killer-whale tanks, only if the company agrees to stop breeding whales and avoid importing new ones. SeaWorld Entertainment is fighting the ruling.
In 2014, shortly after the premiere of Blackfish, Democratic State Assemblyman Richard Bloom introduced the Orca Welfare and Safety Act to the California Legislature. The measure was designed to end killer whale shows in San Diego, phase out captive breeding and retire all orcas to sea pens. Earlier this year, Bloom said he wouldn't reintroduce the bill while scientists studied the issue of orcas in captivity.
Wayne Pacelle, president and chief executive officer of the Humane Society of the United States, said SeaWorld's announcement raises questions and it won't satisfy its critics.
"We're skeptical. I think they intended to have the announcement viewed as a game-changer, but it feels like a very small tweak to their existing model," he tells Newsweek.
Activists say they are uncertain about what SeaWorld's plans mean in practical terms. They also are unsure about certain details, including the definition of non-theatrical performances, the timeline of ending both the orca acts and breeding of captive killer whales and the company's plan to place the animals into more suitable environments that would help with their sociological welfare.
SeaWorld did not respond to Newsweek's request for further explanation of the details.
Pacelle says the ideal outcome for the killer whales' lives would be to create a sea pen in an inlet, or another contained area to provide the animals with an environment that is more suitable for them. He admits the surface-to-floor pen would be a large production involving many discussions among various people.
He says that SeaWorld's announcement cannot be compared to the clear, emphatic, pro-animal statement made in March by the Ringling Brothers and Barnum & Bailey to retire all of its performing elephants by 2018.
"[SeaWorld] didn't really say, 'We're going to stop the orca acts.' It just said, 'We are going to stop the theatrical performances,'" Pacelle says.
"This is bailing water out of a sinking ship," Rose says, "instead of actually fixing the leak."