13ft Crocodile That Has Had Motorbike Tyre Stuck Around Its Neck for 6 Years Finally Freed
A 13ft crocodile that had a motorbike tyre stuck around its neck for six years has finally been freed.
Animal welfare groups in Indonesia have been trying to lure the crocodile away from the Palu river on Sulawesi island since 2016, so that they might remove the tyre. However, all efforts up until now have been unsuccessful.
Instead, it was a local resident that managed to free the huge crocodile on February 7.
Tili, 34, embarked on a three-week long rescue mission to finally free the crocodile, using nothing but chicken as bait and some ropes. The crocodile managed to escape the trap on two occasions over the three weeks before he finally managed to capture the crocodile.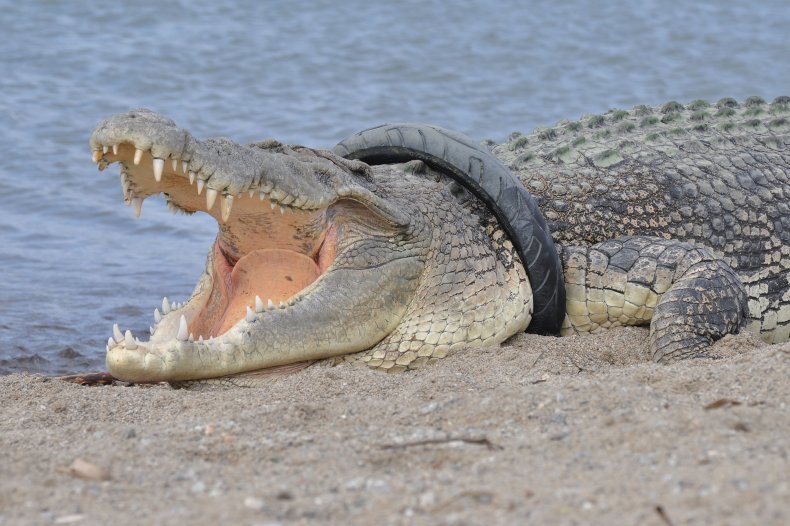 With the help of other villagers, Tili managed to heave the crocodile out of the water and remove the tyre from the crocodile's neck, before releasing him back into the river.
Tili told AFP that he "just wanted to help," as he hates seeing animals suffering.
Images showing the crocodile having the tyre removed by locals were released after the rescue effort.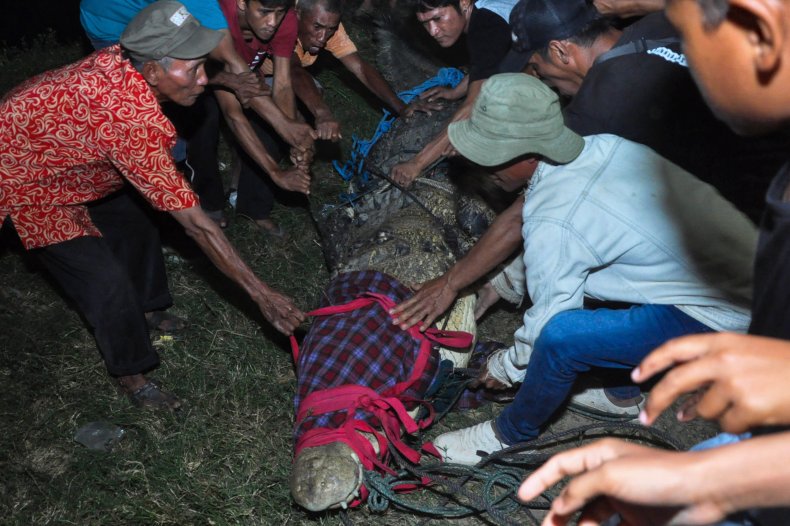 It is not unusual for marine animals to become trapped in human trash that is discarded in the environment. The consequences can be fatal, causing choking or suffocation. It is estimated that over one million animals die every year from litter—either by getting trapped in it or ingesting it. Marine animals are particularly affected, with more than 100,000 dolphins, fish, whales and turtles drowning after becoming ensnared in trash.
Indonesia's National Resources Conservation Agency had been particularly concerned that the tyre would strangle the crocodile if it was not removed within a matter of years. There were renewed calls for the tyre to be removed after a video showing the creature gasping for air surfaced in 2018.
A local 'animal whisperer' Muhammad Panji, who had been likened to the late 'Crocodile Hunter' Steve Irwin, even tried to lure the crocodile dry land in 2018 by using chickens as bait, but the reptile showed no interest.
In 2020, the National Resources Conservation Agency offered a reward to anyone who could remove the motorbike tyre. The authority offered an unspecified amount of money to the winner, however it was canceled after it was unable to attract any applicants.
Hasmuni Hasmar, head of the National Resources Conservation Agency told AFP that it was "a historical day."
"We are grateful the crocodile was finally rescued and we appreciate the locals who showed concern for the wildlife," he said.