Did Prince Philip Cheat On Queen Elizabeth? The True Story Behind 'Crown' Rumor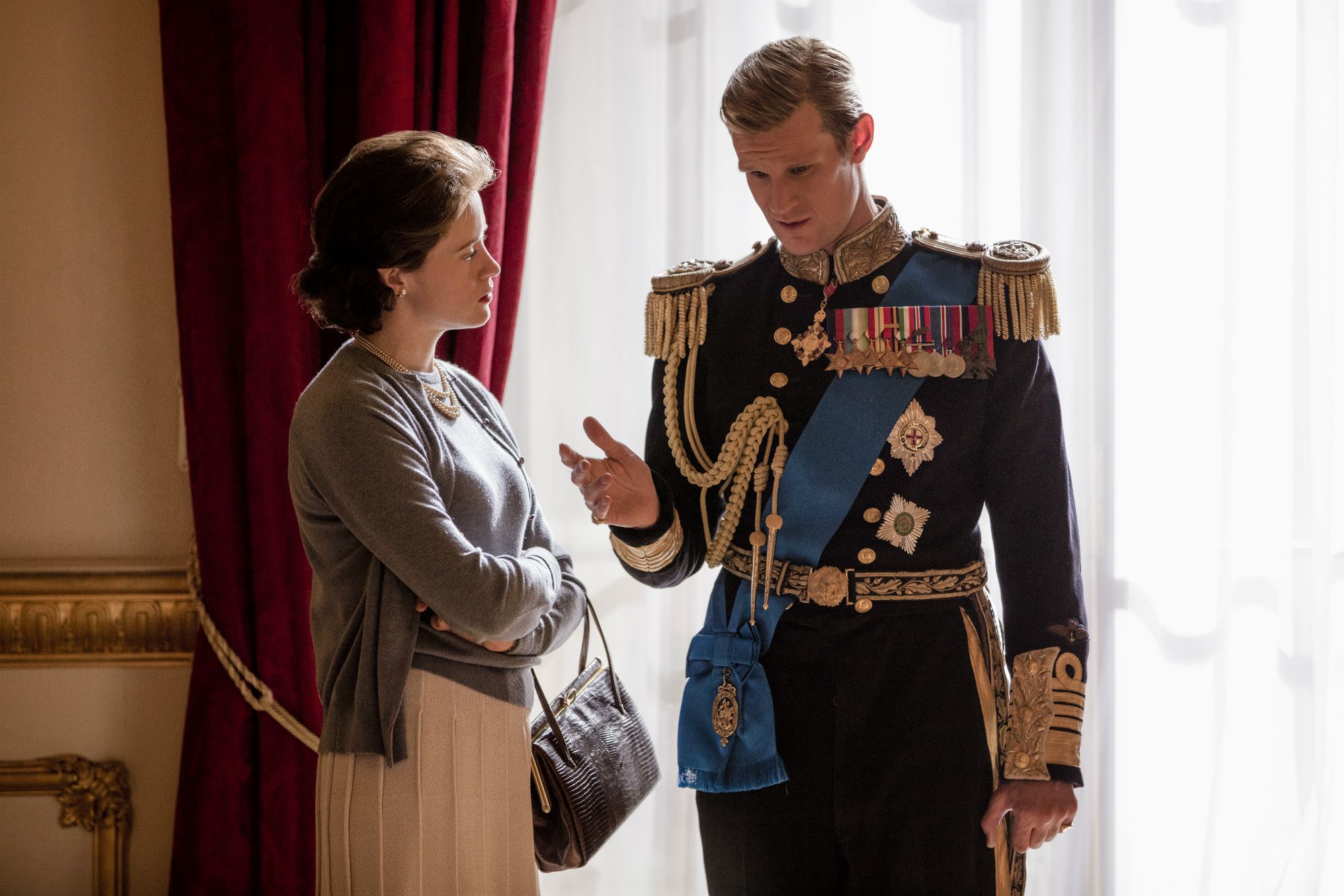 If you've been watching The Crown on Netflix, you know that things aren't particularly rosy between Queen Elizabeth II (Claire Foy) and her consort Prince Philip (Matt Smith) when Season 2 begins.
The first episode of the new season infers that Philip, dispatched on a five-month tour of the Commonwealth, had extramarital affairs. In fact, Philip's private secretary and friend Michael Parker (Daniel Ings) brags in a letter to their friends in the all-boys Thursday Club that it's like a "five-month stag do—whores in every port."
Before Philip departs, though, Elizabeth develops her own suspicions about his extracurricular activities. While packing a gift in his briefcase, she discovers a photo of a ballerina, Galina Ulanova. She later attends a performance of Giselle, featuring the dancer, but declines to meet her.
Ulanova was a real ballerina and did indeed perform in London in the late 1950s as depicted in The Crown. The Russian-born dancer performed in Giselle, Romeo and Juliet and Swan Lake, and she was lauded as one of the world's greatest ballerinas.
There is, however, no real evidence of an affair between Philip and Ulanova.
Philip, now 96 and celebrating his 70th wedding anniversary with Elizabeth this year, is rumored to have had other dalliances, including one with singer Pat Kirkwood. In October 1948, it was claimed Philip and Kirkwood had dinner together and danced in a nightclub while a then-Princess Elizabeth was pregnant with the couple's first child, Prince Charles.
Letters believed to have been exchanged between the pair show that Kirkwood was unhappy with the press characterization at the time that she was Philip's mistress. The letters also suggested that the relationship was not sexual. "I would have had a happier and easier life if Prince Philip, instead of coming uninvited to my dressing room, had gone home to his pregnant wife on the night in question," Kirkwood apparently told one journalist.
After Philip returned home from his tour of the Commonwealth, the royal marriage was also hit by press speculation in 1957 that "the Duke of Edinburgh was romantically involved with an unnamed woman whom he met on a regular basis in the West End apartment of a society photographer." This prompted a rare denial from Buckingham Palace, which stated, "It is quite untrue that there is any rift between the Queen and the Duke."
Some royal biographers have written that Philip did indeed have extramarital affairs. "He's never been one for chasing actresses. His interest is quite different," Sarah Bradford, author of Queen Elizabeth II: Her Life In Our Times, wrote. "The women he goes for are always younger than him, usually beautiful, and highly aristocratic."
Regardless of how much truth there is in the rumors of real-life Philip's infidelity, one thing is undeniable: it makes for electrifying television.
The Crown Season 2 streams globally on Netflix