The Crown season 5 and Prince Harry's memoir are set to bring a difficult end to Queen Elizabeth II's platinum jubilee year.
The latest installment of the Emmy-winning Netflix show will cover the "War of the Waleses," when Prince Charles and Princess Diana's marriage very publicly fell apart.
The show's release has been confirmed for November 2022 by actress Imelda Staunton, who will take over as Queen.
However, that means fact and fiction will go head to head as season 5 delves into potentially painful aspects of Prince William and Prince Harry's childhood, even as Harry's memoir is due to hit book stores.
The Duke of Sussex will tell his life story in a book scheduled for release by Penguin Random House in late 2022.
It all comes at the end of Elizabeth's platinum jubilee year, celebrating 70 years on the throne.
The November release date for The Crown does mean it will not coincide with the focal point of the celebrations, over four days in June.
However, the series will pile more pressure on Prince Charles at a time when the end of Elizabeth's time on the throne is only getting closer.
Season 4 showed Princess Diana, played by Emma Corrin, suffering from bulimia and loneliness as Charles (Josh O'Connor) had an affair with Camilla Parker-Bowles behind her back.
The next-in-line to the throne suffered a dip the month after broadcast in opinion polling relating to whether British people think he would make a good king.
In June 2020, YouGov recorded that 38 percent answered positively compared to 30 percent who answered negatively.
The Crown then dropped in November 2020 before further polling in December recorded 32 percent answering positively and 33 percent answering negatively.
The slump continued into 2021 when Prince Harry used his Oprah Winfrey interview to accuse his father of stopping taking his calls.
By the end of May, 31 percent said Charles would make a good king while 35 percent said he would not, according to the latest YouGov polling.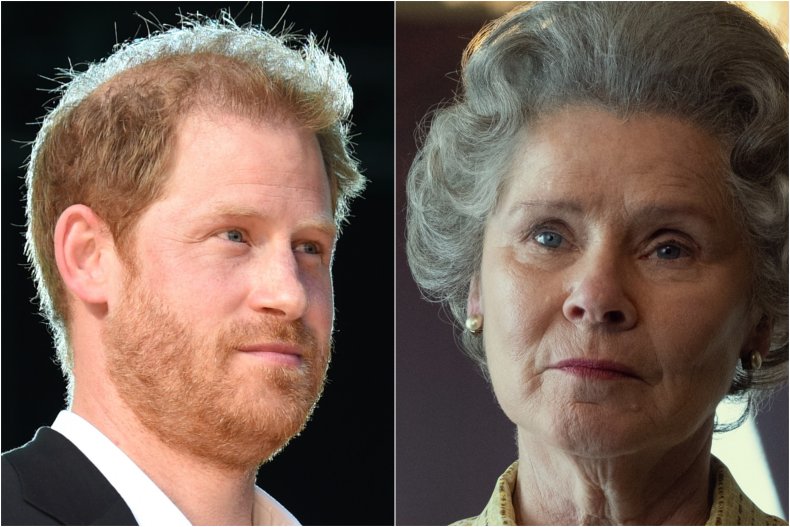 It may be that Prince Harry's memoir also contains criticisms of Charles after Harry in May told the Armchair Expert podcast he had experienced "genetic pain" from his upbringing.
The duke suggested to host Dax Sheppard that Charles had a difficult childhood and passed on that trauma to him.
Harry said: "I don't think we should be pointing the finger or blaming anybody, but certainly when it comes to parenting, if I've experienced some form of pain or suffering because of the pain or suffering that perhaps my father or my parents had suffered, I'm going to make sure I break that cycle so that I don't pass it on, basically.
"It's a lot of genetic pain and suffering that gets passed on anyway so we as parents should be doing the most we can to try and say 'you know what, that happened to me, I'm going to make sure that doesn't happen to you'."
A press release over the summer described the book: "In an intimate and heartfelt memoir from one of the most fascinating and influential global figures of our time, Prince Harry will share, for the very first time, the definitive account of the experiences, adventures, losses, and life lessons that have helped shape him.
"Covering his lifetime in the public eye from childhood to the present day, including his dedication to service, the military duty that twice took him to the frontlines of Afghanistan, and the joy he has found in being a husband and father, Prince Harry will offer an honest and captivating personal portrait, one that shows readers that behind everything they think they know lies an inspiring, courageous, and uplifting human story."