Toddler Aboard Cruise Ship Dies After Slipping From Grandfather's Arms and Falling From Upper Deck Onto Concrete Floor
A toddler died on Sunday after falling from a cruise ship onto the concrete floor of a dock in Puerto Rico, local news outlets reported.
The 18-month-old girl fell from the 11th floor of the deck of Royal Caribbean's Freedom of the Seas onto the Pan American Pier II in San Juan, according to Primera Hora. Local police told the publication the infant slipped from her grandfather's arms.
The outlet stated the young girl and her family are from Indiana. Police are investigating the tragic incident, according to Telemundo PR.
The Freedom's captain announced the ship's departure was to be delayed, according to Primera Hora. He offered his sympathy to the young girl's family over the liner's intercom, the outlet added.
Royal Caribbean currently operates a seven-day tour of the southern Caribbean on Freedom of the Seas, departing from San Juan each Sunday evening. According to Cruisemapper.com, this week's voyage is scheduled to stop at St. Maarten, St. Kitts, Antigua, St. Lucia and Barbados, before returning to Puerto Rico.
A Royal Caribbean spokesperson told Newsweek: "We are assisting local authorities in San Juan, Puerto Rico as they make inquiries after an incident aboard Freedom of the Seas earlier today. We do not have further information to share at this point."
Another spokesperson added Royal Caribbean was "deeply saddened" by the tragic incident. They said the company's care team is on hand to assist the family.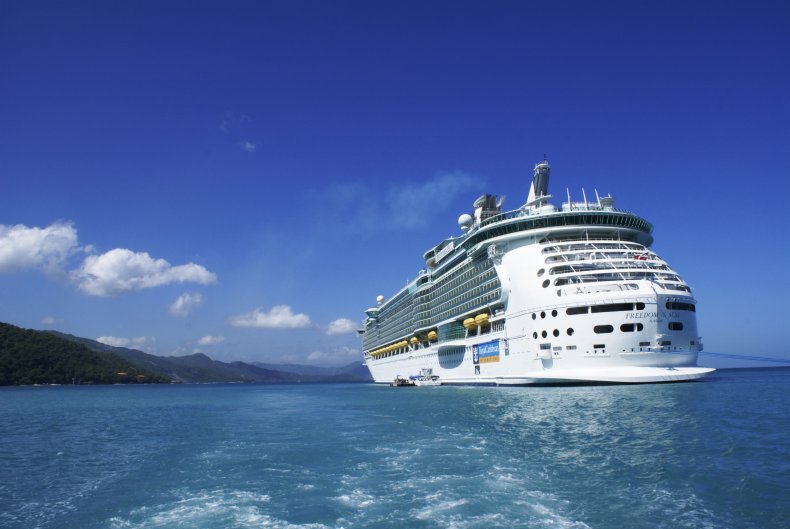 Once the largest cruise ship in the world, Freedom of the Seas can carry up to 4,515 passengers and 1,360 members of crew. The 15-deck vessel stretches more than 1,100 feet long and 185 feet wide.
The boat was christened in 2006 with Katherine Louise Calder, a Portland foster carer to some 400 children, named as godmother. Calder was selected by a popular vote on NBC's Today Show.
Just over two weeks ago, Freedom of the Seas passengers on an excursion in St. Martin had to be rescued from the sea after their bus ended up in the water. Royal Caribbean told Fox News the passengers were on an independent shore excursion
"One guest sustained non-life-threatening injuries. The remaining guests returned to the ship," a company spokesperson said in a statement.
In May, reports emerged that an Irish woman had filed a lawsuit against Royal Caribbean after she allegedly sustained an injury on a boating excursion during a seven-night cruise on Freedom of the Seas in 2016.
Siobhan Kellett said she broke her elbow during a White Knuckle Boat Ride outing in St Martin, but claimed a medic onboard Freedom missed the fracture. She filed a suit against Royal Caribbean Cruises Ltd and travel agent Panther Associates. Both firms deny Kellett's claims.
The same month two passengers, 61 and 75, died of "unrelated natural causes" aboard another Royal Caribbean ship, Voyager of the Seas. The company told Newsweek it was providing support to the guests' families "during this difficult time."
This article has been updated with further comment from a Royal Caribbean spokesperson.