Cruise Ship Murder Mystery: Woman Who Plunged from Princess Cruises Upper Deck May Have Been Murdered
A 52-year-old U.S. woman who fell from an upper deck of a cruise ship in the Caribbean may have been murdered, news outlet Mas Noticias has reported.
Police officers and forensic specialists are investigating the possibility she was deliberately killed during an altercation with a man, Aruba's Diario stated.
The woman plunged from a deck of the Royal Princess early Tuesday, landing so hard on a lifeboat she shattered its windows, the publication reported.
Passengers saw the "muscular" man choking the woman, Diario noted. Authorities hope an autopsy will reveal if she died from the fall or from asphyxiation, it said.
Princess Cruises confirmed to USA Today that a woman had died on the vessel, but did not share further details of the incident, the outlet stated.
The cruise company shared the following statement with Newsweek: "A 52-year-old, American, female guest passed away early Tuesday morning aboard Royal Princess as the ship was en route to Aruba. The incident was reported to the FBI and local authorities and the local authorities met and boarded the ship upon arrival in Aruba.
"We are cooperating fully with the investigating authorities, including the FBI. An official cause of death has not been announced. We are deeply saddened by this incident and offer our sincere condolences to the family and those affected."
Individuals claiming to be passengers on the ship have posted alleged details of the incident online. User Dushi Dushi wrote on a Cruise Critic forum that the ship's security personnel were told to gather on a deck at around 4:30 a.m.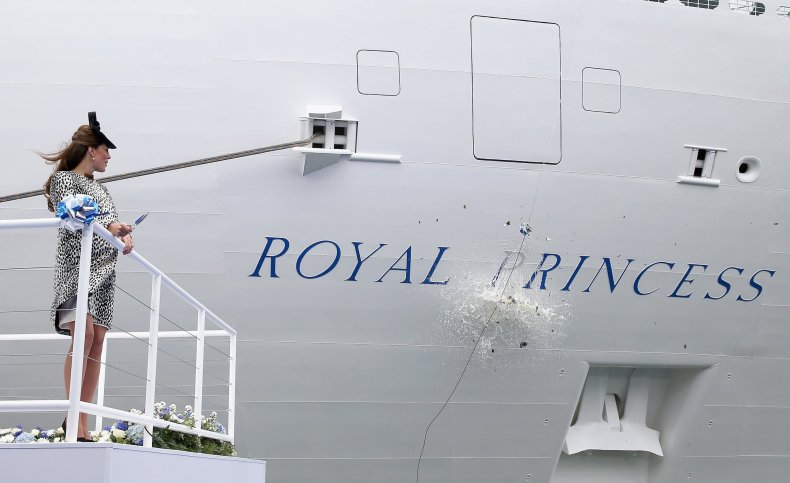 Passengers were not allowed to leave the ship once it docked in Aruba later that morning, the user stated. Local police officers and forensic technicians then boarded the ship, the messages claim.
According to USA Today, the Royal Princess was cruising through the Caribbean from Fort Lauderdale, Florida, and is set to return to the city Saturday.
On November 7, an elderly woman died after falling from a tender platform on a Holland America Line cruise ship traveling in the Cook Islands. The woman was pulled alive from the water before losing consciousness on the platform, the cruise company told Newsweek. Although the circumstances of the death are still unclear, passengers reported rough seas at the time.
In October, A Royal Caribbean cruise ship recently made an emergency stop after taking on water. "We were experiencing rough sea last night, and then in the early hours last night we heard a bang," one passenger told The Express. "We were told there was a minor technical fault... But it was a major problem and we were on a ship hundreds of miles from land taking on water."
This article has been updated to include a statement from Princess Cruises.