Elderly Passenger Dies After Falling From Cruise Ship in 'Rough' Seas
A passenger aboard a Holland America Line cruise ship has died after falling into the sea from a tender platform. The 70-year-old-woman passed away at 1.30 p.m. local time November 7 after she was pulled back on board, Holland America Line wrote in a statement sent to Newsweek.
The woman was still conscious when she was pulled from the waters off Avatiu, Rarotonga, in the Cook Islands. "She then lost consciousness on the platform and could not be revived by medical staff at the scene," the cruise company reported.
"Authorities were notified and company care team counselors assisted her family and other guests during this difficult time," the statement read. "We are saddened by this event, and our thoughts and prayers are with the family."
Holland America Line's Maasdam vessel was ten days into a two-week cruise of French Polynesia. A spokesperson for the company told Newsweek the reason for the woman's fall is currently unknown.
An anonymous passenger told Cruise Law News the weather might have been a factor in the incident. "The seas were very rough and it was debatable whether we should have been tendering at all," the passenger told the outlet. A tender is a smaller boat often used to transport passengers and goods between cruise ships and the shore.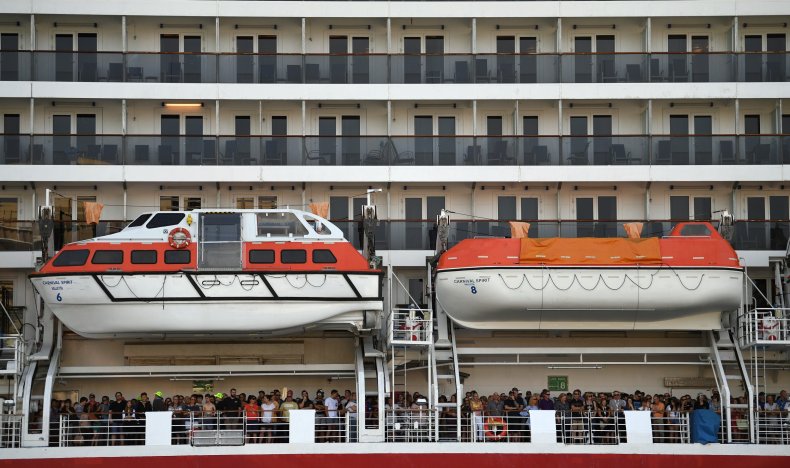 In other maritime news, a technical fault recently made a cruise ship tilt from side to side. Passengers on board reported "chaos" on the Carnival Cruise Line vessel that was traveling from Florida's Port Canaveral.
"I didn't think anything of it since it's not uncommon for ships to rock back and forth," passenger David Crews told WKMG-TV (News 6). "But it didn't rock back. It kept leaning. Plates and silverware started sliding off the tables. The tables themselves started to slide. Glasses and plates started to fall and shatter. At this point, it was pure chaos. Screams. Cries. Panic."
A Royal Caribbean cruise ship recently had to make an emergency stop after it started taking on water. Passenger Paul Edwards told The Express: "We were experiencing rough sea last night, and then in the early hours last night we heard a bang...
"We were told there was a minor technical fault with the stabilizers, and we had to dock in the Port of Vigo, Spain, for 24 hours while they fixed it. But it was a major problem and we were on a ship hundreds of miles from land taking on water."
In October, news emerged that a man had died on a cruise ship after suffering a fall during his bachelor party. Florida resident Christopher McGrory passed away after being rushed to a nearby hospital from the vessel that was traveling from Port of Palm Beach to Freeport in the Bahamas.