Video: Couple Miss Cruise Ship, Crew Waves Goodbye With Giant Fake Hand
A couple who narrowly missed boarding their cruise ship at its stop on a Caribbean island had insult added to injury as a member of the vessel's crew waved a giant hand that said "bye" at them and others on the pier when it left the port.
The moment from Royal Caribbean's Freedom of the Seas cruise ship as it departed Philipsburg, St. Maarten, was captured on video and posted to Facebook. It is obvious that the sleight against the stranded couple was unintentional and down to unfortunate timing.
They can be seen looking distressed with a port official on the pier. On the video, people can be heard shouting "they missed it" and laughing, while others on the cruise ship cheer and whistle as it begins to sail away. The couple now likely must fly on to another port of call.
Though it is not clear from the video when the incident occurred, Freedom of the Seas was scheduled to be in St. Maarten on Monday. The cruise ship, which is based in Puerto Rico's San Juan, is in the middle of a seven-day cruise around the Caribbean. It is due back Sunday.
A Royal Caribbean spokeswoman told Newsweek: "Our crew member was not directing her wave to our guests on the pier. She was waving at our sister ship, Anthem of the Seas, which was also in port and scheduled for departure. The gesture was one of respect and nautical camaraderie between crew members.
"We regret the inconvenience our guests experienced due the late return to the pier. Guests are encouraged to be back by all-aboard time. Departure times are routinely announced onboard, posted in shipboard newsletters and at gangways to keep our guests informed at all ports of call."
Freedom of the Seas made its maiden voyage on May 11, 2006. It is over 154,400 tons, 1,112 feet long, 185 feet wide, and has 15 decks. The vessel can carry 4,515 guests and 1,360 crew in total.
In June, Freedom of the Seas passengers had to be rescued from the water in St. Maarten after their bus crashed into the water following a failed maneuver. A video of the incident showed a bus half-underwater and lying on its side with the rear doors open.
At least two people could also be seen lying on the roadside as emergency personnel provided treatment and bystanders looked on.
The vessel is also at the center of a recent tragedy involving a toddler who fell to her death from an 11th-floor window in early July during a cruise.
Chloe Wiegand, 18 months, died after her grandfather Salvatore Anello placed her on a ledge by an open window and she tumbled out. He says he didn't realize the window was open and the distraught family is considering a negligence lawsuit against Royal Caribbean.
"Honestly, to lose our baby this way is just unfathomable," Kimberly Wiegand, the girl's mother, told NBC's Today show. "I never want another mother to have to experience this, to see what I had to see, or to scream how I had to scream.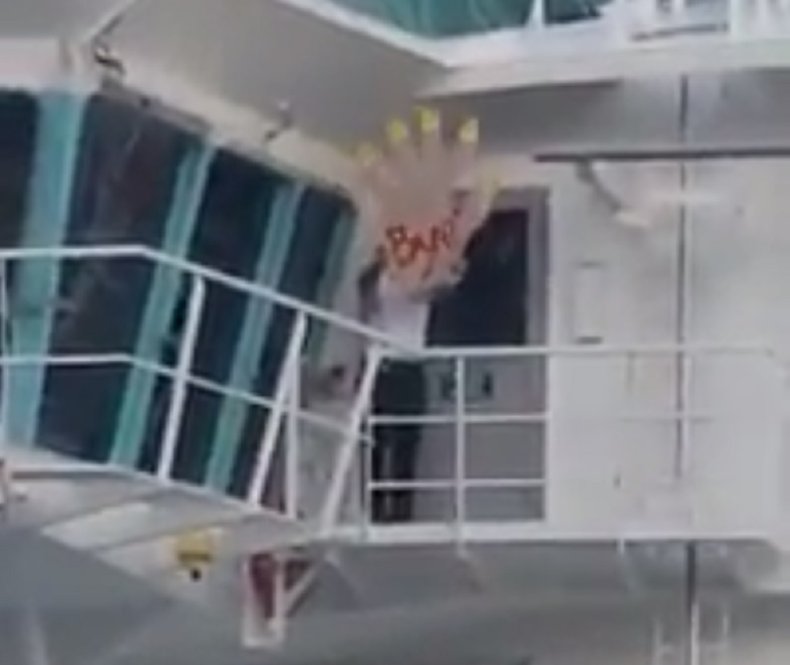 This article was updated with a comment by Royal Caribbean.