The Best Halloween Anime Series to Stream on Crunchyroll and Funimation This October
Halloween is upon us, and what better way to celebrate the holiday than with an array of spooky anime?
From classic horror favorites to new titles that are certain to give viewers the chills, Crunchyroll and Funimation both have a lot to choose from.
And even then it's not all about the scares, there's also horror comedies and romance too if the thought of anything more frightening is, well, too frightening.
Here's Newsweek's guide to the different anime available on the streaming platforms.
Fright night
Halloween is the time to watch gruesome, spine-tingling horror bound to keep you up at night, and there's a number of anime like that on both VOD services.
The Junji Ito Collection is certain to frighten viewers as it adapts the horror manga auteur's work into a chilling omnibus of scary stories.
Ito is one of Japan's most prolific horror manga creators and the 14-episode adaptation of his work is available to binge on both Crunchyroll and Funimation.
The 2001 vampire classic Hellsing, which tells the story of the Hellsing Organization and its fight against vampires and ghouls, is a must-watch for anime fans, while Trinity Blood is also available on Funimation if blood-sucking creatures are more your thing.
For something released more recently, look no further than Jujutsu Kaisen, an action-adventure that sees its high school student protagonist Yuji Itadori become the host for an ancient curse named Ryomen Sukuna.
Modern classics like Tokyo Ghoul and Death Note will also be good choices for Halloween, and they are available on both streaming platforms.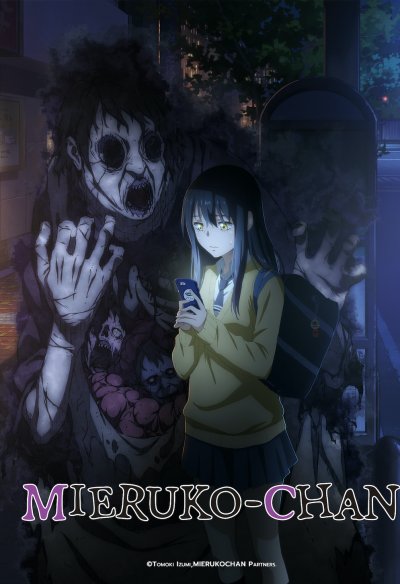 It's not all about the scares
If scary horror shows aren't your thing then not to worry, there's a whole range of horror comedies available to watch on Halloween.
Mieruko-Chan is a new anime series streaming now on Funimation with English subtitles. The show follows its eponymous character as she navigates school life while also being able to see ghosts.
On Crunchyroll, Hozuki's Coolheadedness is another comedy fans can enjoy during the spooky season. The supernatural anime sees Hozuki, who is the aide to the Great King Enma, try to deal with various problems in hell, not always successfully.
Meanwhile, Zombieland Saga Revenge is an idol anime with a twist, as the members of the group are undead zombies trying to make their mark on the music world, while also saving their prefecture.
And what about romance?
Horror and romance may not necessarily seem like two genres that go together but it certainly works in anime.
For anime fans looking for a swoon-worthy horror there are several to choose from, including vampire series Diabolik Lovers and its sequel Diabolik Lovers II: More Blood, both of which are available to stream on Crunchyroll.
Sengoku Night Blood also has a similar focus on vampires but includes the added bonus of werewolves and Oni.
One classic horror romance is Vampire Knight, which as the title suggests focuses on creatures of the blood-sucking variety with a romantic twist.