Nikolas Cruz's Foster Family Says Confessed Florida Shooter 'Followed The Rules' And Was 'Very Polite' At Home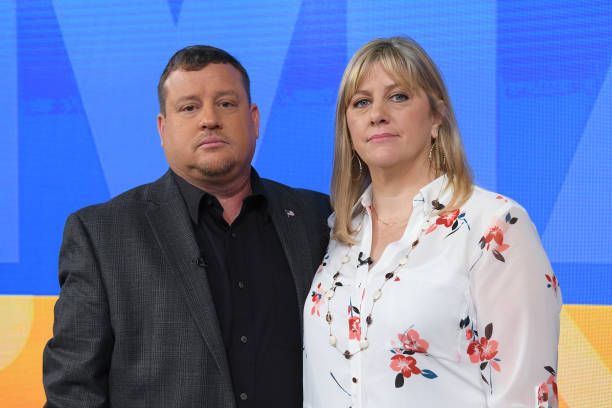 Nikolas Cruz's foster family said Monday they are still "betrayed" and "shocked" that the teenager they took in mere months agoallegedly orchestrated the mass high school shooting in Florida that left 17 people dead on Wednesday, February 14.
Cruz confessed last week to the shooting at Marjory Stoneman Douglas High School in Parkland, Florida. He was charged with 17 counts of premeditated murder on Thursday.
In their first television interview since Wednesday's massacre, Kimberly and James Snead told Good Morning America's Michael Strahan that Cruz was "nothing like they portray on television or in the media."
The 19-year-old, who lost his adoptive mother to pneumonia in November, had stayed at the family's Parkland, Florida, home for about three months and had "followed every rule to a tee," James Snead said. He added that Cruz spent a night at their home prior to moving in and "was very polite" and "seemed normal." He'd also befriended one of the Sneads's sons and "loved" the family's animals.
The foster family knew Cruz had guns—an AR-15, two other assault rifles, BB guns and pellet guns —but were "not at all" concerned because Cruz never stepped out of line, James Snead said. They'd allowed him to keep the guns in a home safe without direct access to the key, though it's come to light that Cruz had a spare.
Media coverage has painted a starkly darker picture of Cruz: A troubled, potentially mentally ill teenager with an affinity for guns. Cruz posted pictures of weapons and dead animals on social media, voiced racist and violent fantasies against black, gay and Hispanic people in an online group chat and commented on a YouTube video months ago that he wanted to be "a professional school shooter."
Cruz was known to provoke confrontations as well and "had trouble controlling his temper," one neighbor who lived next to Cruz nearly a decade ago told The New York Times. Since 2010, Broward Sheriff's deputies had been called to the Cruz family home on 39 occasions.
The FBI even received a tip from "a person close to Nikolas Cruz" on January 5 that cited concerns with Cruz's "gun ownership, desire to kill people, erratic behavior, and disturbing social media posts, as well as the potential of him conducting a school shooting," according to an FBI statement. Officials had failed to investigate.
Although the Sneads knew Cruz was depressed and thought he often appeared withdrawn, the only answer they could pull from him was that "he was thinking about his mother," according to The Times. Cruz was supposed to see a counselor this week.
"Everything everybody seems to know, we didn't know," James Snead told Strahan.
The revelations have left the family "heartbroken," Kimberly Snead added later in the interview. Snead works as a neonatal intensive care nurse and James Snead is a military intelligence analyst and decorated Army veteran.
"We still can't process it, what he's done," she said. "Because this wasn't the person that we knew."
Snead said she saw Cruz at the police station following the shooting, and despite wanting to "just strangle him more than anything," had struggled to find words.
"'Really, Nik? Really?' I yelled at him," she told Strahan. "I was just furious and heartbroken. Absolutely just heartbroken." The Sneads then expressed condolences to the families for the "pain they must be feeling." The 17 people killed included 14 students and three staff; 14 other people were injured.
Attorney Jim Lewis, who also spoke on GMA Monday morning, said the family is fully cooperating with law enforcement and the FBI.
"I want people to know out there that these are good people who are trying to do the right thing," he said. "The young man had indicated that he was very happy in this home. ... No good deed goes unpunished."