'Crying': Internet Laughs at Bride's Engagement Party Prank on Half Sister
Members of a popular internet forum were delighted after one woman revealed how she tricked her prickly half sister into wearing a lavish wedding gown to a costume party.
In a viral Reddit post published on r/pettyrevenge, Redditor u/obsnotmain (otherwise referred to as the original poster, or OP) said she was alerted her half sister planned to upstage her at her own engagement party but explained how a bit of quick thinking stopped the diabolical scheme in its tracks.
Titled, "My half sister wanted to show up in a wedding dress to my engagement party, so I changed the party theme so she would fit right in!" the post has received more than 33,000 votes and 1,500 comments in the last seven hours.
Writing that both women are the same age, the original poster said the pair has always had a poor relationship, due in large part to her half sister's need to "one up" her at seemingly every turn.
But ahead of her recent engagement party, the original poster said she was informed of yet another attention-grabbing plot and decided that enough was enough.
"My cousin hits me up saying she has to show me something. It was the picture of the dress [my half sister] was gonna wear [to the party]," OP wrote. "This dress...can only be described as opulent. It was long and white. Strapless...I'm pretty sure it was a wedding dress."
"This made me really mad. So I decided.... f**k that," OP continued.
In a flash, the original poster said she texted every party guest but her half sister to tell them she was scrapping the party's dress code in favor of a full-blown, Halloween-esque costume party.
Noting that her mother's side of the family was immediately on board with the idea, the original poster expressed reservations about her father's side, but was everything but disappointed on the day of the party.
"Guests start showing up. Most of them in costumes," OP wrote. "As soon as [my half sister] notices that everyone was either wearing elaborate costumes or weird accessories and she didn't stand out, she lost it."
"Especially when my fiancé came along and told her that 'her bride dress looked amazing for a cheap costume,'" OP continued. "She left crying and her mother and my father told me that I was being childish."
Weddings, as well as all of the festivities that come with them, are meant to celebrate two loving partners. But for some, having just two stars of the show simply isn't an option.
Across the internet, marriage forums including The Knot, Wedding Bee and Wedding Wire are rife with nightmare tales of jealous wedding guests and their attempts to commandeer at least a portion of the attention heaped on the happy couple.
But among many accounts of these envious events, stories of brides fending off attention-seeking sisters stand out as some of the most intense.
In a forum post on The Knot, one bride said her younger sister got engaged just to prove she could squeeze a bigger and better ring out of her now-fiancé.
On Wedding Bee, a bride accused her sister of getting a massive (and very-visible in a bridesmaid's dress) back tattoo as revenge for not being named maid of honor and on Wedding Wire, another bride assured her older sister is racing to get married before her, just to say that she did it first.
In each of these cases, brides also made it clear that their sisters' respective behaviors were likely intentional and, like with the original poster's half sister, were examples of greater patterns and not standalone incidents.
However, while marriage outlet A Practical Wedding advises that brides in similar situations take the "adult route" by having heart-to-heart conversations with their sisters about why their sabotage attempts are harmful, sometimes the "adult route" simply isn't an option.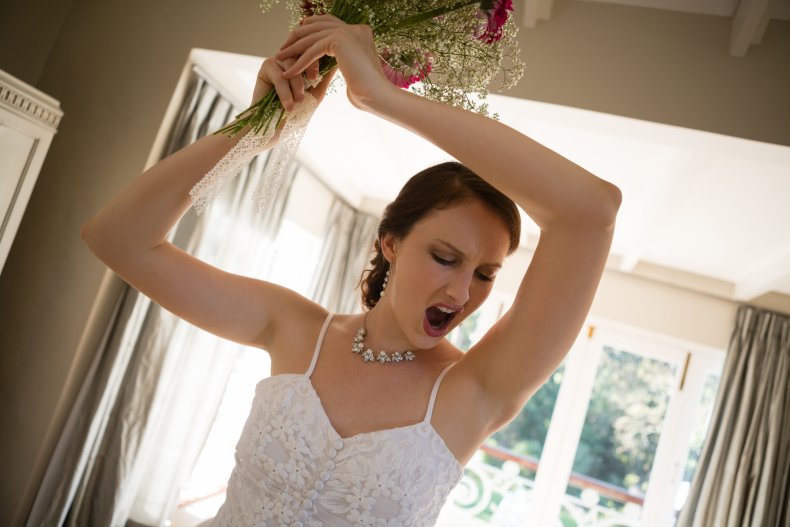 Despite her father's insistence that the prank on her half sister was childish, Redditors responding to the original poster commended the bride-to-be for taking matters into her own hands, even if it meant treating her engagement party like it was Halloween.
Acknowledging her fiancé's joke that her half sister's dress looked like a "cheap costume," Redditor u/paulfromatlanta speculated that the jab has good indications for the couple's married life.
"So he's a keeper," they wrote, receiving more than 8,000 votes. "Excellent petty revenge."
"His comment was icing on the cake," Redditor u/ZomdyMom added. "Brilliant."
Redditor u/Terra88draco, whose comment has received more than 6,500 votes, assured OP her prank was justified and called out her half sister for having such a distraught reaction.
"I can't get over how a 24 year old left crying because she wasn't the center of attention at someone else's engagement party," they wrote. "And you aren't being childish."
In a separate comment, which has received more than 1,000 votes, Redditor u/Great-Pop643 applauded the original poster but advised that she also take more concrete in action in preventing anything similar from happening in the future.
"What you did was so petty, I love it!" they exclaimed. "[But] please tell me you disinvited them to your entire wedding after that."
"For the love of all you hold sacred, DO NOT LET THIS GIRL ATTEND YOUR WEDDING," Redditor u/JustineDelarge echoed.
Newsweek reached out to u/obsnotmain for comment.