Obama: Cuba, U.S. Agreement to Reopen Foreign Embassies Is 'Historic Step'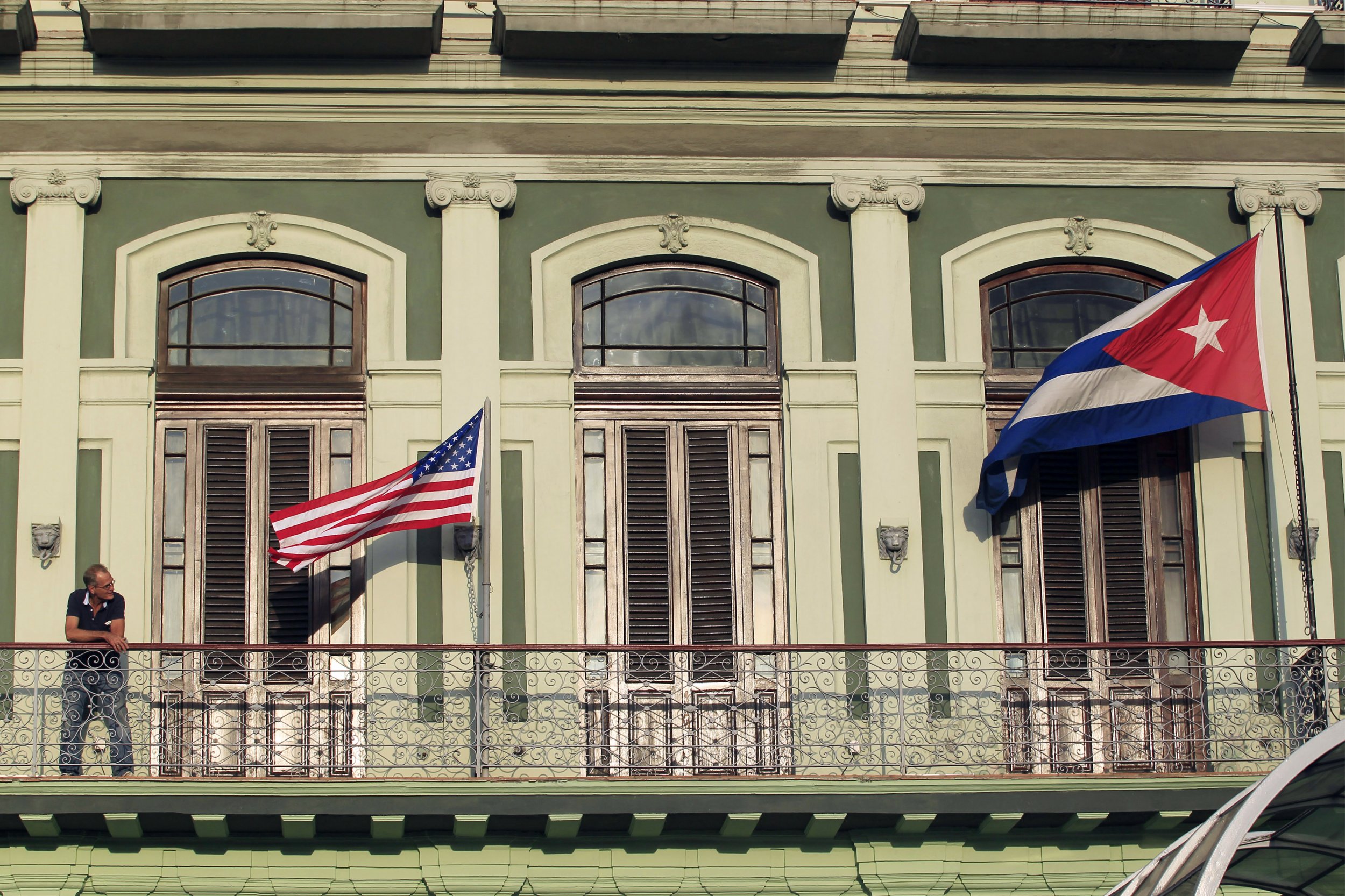 Updated | U.S. and Cuban diplomats have agreed to reopen embassies in their capital cities later this month. The move, announced Wednesday morning, signaled the official re-establishment of diplomatic relations between the two countries after more than five decades of hostility.
"Today I can announce that the United States has formally agreed to re-establish diplomatic relations with Cuba," President Barack Obama said Wednesday from the White House Rose Garden. "This is a historic step forward to normalize relations with the Cuban government and people and begin a new chapter."
U.S. Interests Section Chief Jeffrey DeLaurentis arrived Wednesday at the Cuban Foreign Ministry in Havana to hand-deliver a letter from the White House to the communist island nation about the intent to restore the embassies. The establishments are expected to reopen July 20.
Previously, the U.S. had not maintained an embassy in Havana since January 1961, when President Dwight D. Eisenhower withdrew diplomatic recognition of the island nation in response to Cuban demands that U.S. embassy staff be reduced. The two countries' diplomats have maintained de facto embassies, called "interests sections," since the late 1970s. Both the Cuban Interests Section in Washington, D.C., and the U.S. Interests Section in Havana are located in the Swiss embassies in their respective countries.
"We don't have to be imprisoned by the past. When something isn't working, we can and will change," Obama said Wednesday, as he stood alongside Vice President Joe Biden while addressing the country. U.S. Secretary of State John Kerry will travel to Cuba later this summer to raise the American flag over the embassy, Obama said.
The Foreign Ministry in Havana made its own official announcement on Wednesday after receiving a letter from Obama to Cuban President Raúl Castro.
The decision to reopen an embassy in Cuba is one of a series of moves taken by the White House since Obama's December announcement of his intention to "chart a new course" and normalize relations between the two countries.
For 54 years, the United States had enforced a strict trade embargo against Cuba, which was enacted in retaliation for the Cuban government's expropriation of American lands and assets as part of its post-revolutionary land reform program. Since Obama's declaration, the United States has removed Cuba from its State Sponsors of Terrorism list, which the island nation was first added to in 1982. Also, Cuban exiles living in the United States have been given greater latitude in sending money to relatives in Cuba. And restrictions barring U.S. citizens from traveling to the island nation have been loosened.
Critics were quick to speak out against Obama's announcement Wednesday, saying it didn't address whether all U.S. diplomats will be restricted from moving freely throughout the island, if the U.S. government will be limited in the number of diplomats assigned there, and if diplomatic mail can be searched and potentially seized by Cuban authorities.
"This is the only government in the Western Hemisphere, which the Obama administration has chosen to establish relations with, that is not elected by its citizens," Robert Menendez, chairman of the U.S. Senate Committee on Foreign Relations and a New Jersey senator, wrote in a statement. "The message is, democracy and human rights take a back seat to a legacy initiative."
The president acknowledged on Wednesday that Americans and Cubans differ on certain values, including freedom of speech and assembly. But, he added, "Americans and Cubans alike are ready to move forward."
"Nobody expects Cuba to be transformed overnight," he said. "This is what change looks like."
Obama also said he has asked Congress to lift the travel embargo that restricts most Americans from visiting Cuba. The easing of travel and trade restrictions between the two countries began in mid-January when a handful of companies were licensed to charter flights between the nations. In May Obama approved ferry service from Florida to Cuba, a travel route that most likely will be implemented by the fall. Hundreds of thousands of people previously traveled the 225-mile route on daily ferries until Cuba's revolution in 1959.
JetBlue announced in May it would begin to offer round-trip flights to Havana out of New York's John F. Kennedy International Airport, beginning July 3. The New York metropolitan area has the second largest Cuban-American population in the United States, after Florida. The airline operates four other charters from Florida to Cuba, and each one seats 150 people, Philip Stewart, manager of corporate communications at JetBlue, told Newsweek.
Senator Marco Rubio of Florida, a Republican presidential candidate, said there are several uncertainties about what Obama has accomplished since his announcement in December, including securing the return of U.S. fugitives from the island nation, settling U.S. citizens' legal claims for property confiscated during the Castro regime and securing political freedoms for Cuban residents.
"I intend to oppose the confirmation of an Ambassador to Cuba until these issues are addressed. It is time for our unilateral concessions to this odious regime to end," Rubio wrote in a statement.
Obama has said he has not ruled out visiting Cuba. The last and only sitting president to visit Cuba was Calvin Coolidge, 87 years ago in January 1928.