Cuomo Agrees to More Independent Investigation Into Harassment Allegations After Calls Mount
New York Governor Andrew Cuomo agreed Sunday to a more independent investigation into the sexual harassment allegations made against him, most recently by a second former aide.
"The Governor's office wants a thorough and independent review that is above reproach and beyond political interference. Therefore, the Governor's office has asked Attorney General Tish James to selected a qualified private lawyer to do an independent review of allegations of sexual harassment," said Beth Garvey, special counsel and senior advisor to the governor. "The independent lawyer will be legally designated as a Special Independent Deputy Attorney General and granted all powers under Section 63(8) of the Executive Law."
When a sexual harassment allegation by Charlotte Bennett surfaced Saturday, Cuomo's office directed the investigation to former U.S. District Judge Barbara Jones, who worked alongside one of the governor's close advisers at a law firm—a move that was roundly criticized. That prompted Garvey to request New York State Attorney General Letitia James and the chief justice of the court of appeals to "jointly select an independent and qualified lawyer in private practice without political affiliation" to conduct the investigation.
"The work product will be solely controlled by that independent lawyer personally selected by the attorney general and chief judge," Garvey said at the time. "All members of the governor's office will cooperate fully."
In a Tweet later posted following Garvey's statement earlier Sunday, and before the most recent one, James noted that "I do not accept the governor's proposal."
"The state's Executive Law clearly gives my office the authority to investigate this matter once the governor provides a referral," said James. "While I have deep respect for Chief Judge DiFiore, I am the duly elected attorney general and it is my responsibility to carry out this task."
"The governor must provide this referral so an independent investigation with subpoena power can be conducted," James concluded.
Cuomo's agreement followed growing calls for an independent investigation. New York City Mayor Bill de Blasio called for an independent investigation into the number of nursing home deaths and the allegations of sexual harassment against Cuomo.
"The state legislator must immediately revoke the governor's emergency powers that overrule local control," de Blasio said in a statement posted to Twitter Sunday. "In addition, two fully independent investigations must be held immediately into the deaths at nursing homes and the disturbing personal misconduct allegations."
"Precedence shows that investigations of the governor must be completed independent of his office," de Blasio continued. "The investigation into nursing home deaths must be free to examine campaign contributions from the nursing home industry and the investigation into sexual misconduct must be led by someone fully independent of the governor, not the former business partner of the governor's top advisor."
Democratic Senator Mazie Hirono of Hawaii also called for an independent investigation into the allegations of sexual harassment against Cuomo during a Sunday appearance on ABC News This Week.
"The proper response for any of there kind of allegations of reprehensible, inexcusable behavior is to listen to the mainly women who come forward because it takes great courage for them to come forward, to listen to them, and then to do the appropriate investigation and corroboration of the allegations," Hirono said.
"In the case of Governor Cuomo, it seems to me that the New York attorney general would be the independent entity to conduct such an investigation," Hirono added.
Democratic Senator Kristen Gillibrand of New York also recommended for an "independent, transparent and swift investigation" into the accusations against the New York governor. The senator's statement was shared on Twitter Sunday by Washington Post columnist Karen Tumulty.
Prior to Cuomo's agreement to a more independent investigation, journalist Glenn Greenwald criticized the governor's decision to "handpick" Jones.
"Governor Cuomo's scam of pretending to request an 'independent investigation' to be conducted by someone he handpicks—who just happens to be a crony of one of his closest aides—shouldn't be taken seriously by anyone," Greenwald tweeted Sunday morning prior to Cuomo's agreement.
"You don't get to select your own "independent investigator," Greenwald concluded.
Bennett's accusation follows that of a previous sexual harassment allegation against the governor made by former Cuomo aide Lindsey Boylan last week.
Newsweek reached out to Cuomo's office, but didn't hear back in time for publication.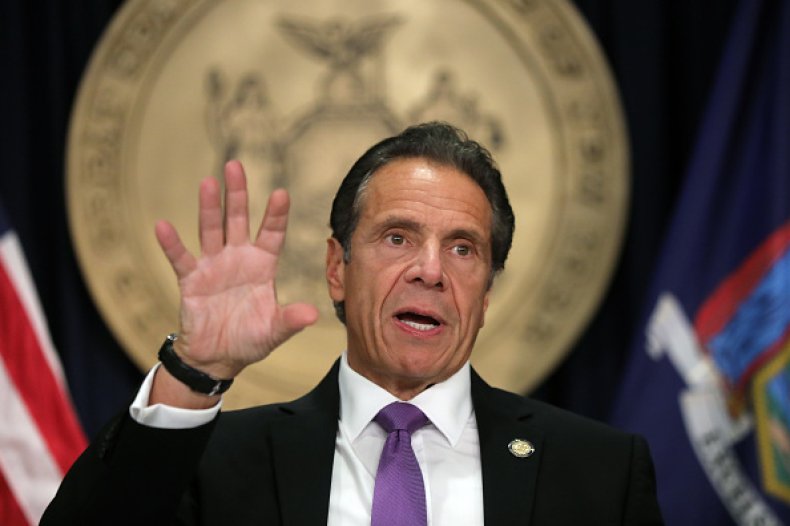 Updated 2:59 PM ET, to include New York State Attorney General Letitia James' Sunday afternoon tweet.
Updated 5:59 PM ET, to include Beth Garvey's most recent statement.