NY Democratic Officials Call for Cuomo's Resignation Following 2nd Sexual Harassment Allegation
New York Governor Andrew Cuomo faced immediate calls to resign after a second former aide detailed sexual harassment allegations against him in a New York Times report published Saturday. In addition to calls from state leaders who urged the governor to step down, numerous officials emphasized the need for an independent investigation into his alleged conduct.
Charlotte Bennett, 25, left Cuomo's administration in November after serving as a health policy adviser. Bennett told the Times that the governor asked her if she had ever dated an older man, and said he was open to relationships with women of her age, during her time working in the administration.
The Times report was published just after former Cuomo aide and current candidate for Manhattan borough president, Lindsey Boylan, recounted Cuomo's extensive history of alleged inappropriate behavior and sexual harassment toward her in an essay released via Medium.
The governor has denied both women's allegations. In a statement issued Saturday, Cuomo praised Bennett's work ethic while Beth Garvey, special counsel and senior adviser to the governor, confirmed that former federal Judge Barbara Jones would conduct an internal review of the accusations "and all staff will cooperate in that endeavor."
Many of New York's state leaders are advocating for an independent investigation into allegations against Cuomo, including Democratic Senate Majority Leader Andrew Stewart-Cousins and Assembly Speaker Carl Heastie. A group of Republican state senators called on New York Attorney General Letitia James, whose office previously pursued an investigation into Cuomo's conduct surrounding COVID-19 deaths in the state's long-term care facilities, to open another inquiry following Boylan's harassment allegations last week.
At least two Democratic state legislators have called on Cuomo to resign Saturday.
"I commend the courage of Ms. Bennett and Lindsey Boylan for coming forward. The harassment experienced bye these former staffers is part of a clear pattern of abuse and manipulation by the Governor, and that pattern makes him unworthy of holding the highest office in New York," said New York State Senator Alessandra Biaggi in a statement. "A truly independent investigation into the allegations made by Ms. Bennett, Ms. Boylan, and any forthcoming survivors should take place — but the Governor's influence touches all entities in New York that might review his conduct."
Biaggi noted that personnel currently assigned to conduct a review of Cuomo's conduct are intertwined with his professional network, and therefore, the investigation "does not meet any standard of independence." Still, she insisted the governor resign from his position.
"While a truly independent investigation may uncover more evidence or instances of abuse, the existing details are sufficient for me to form my conclusion. As a New Yorkers, a legislator, Chair of the Senate Ethics and Internal Governance Committee, and a survivor of sexual abuse, I am calling for Governor Cuomo to resign," the statement concluded.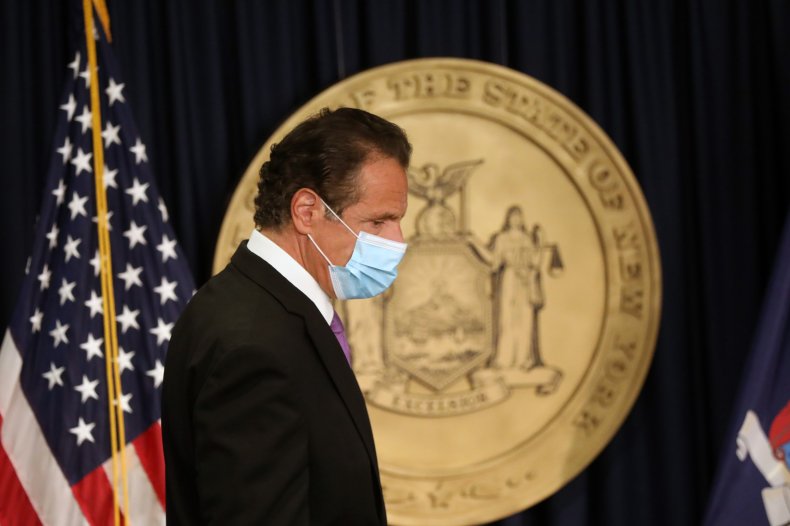 Biaggi was one of 14 Democrats who called for an end to Cuomo's expanded emergency powers earlier this month, primarily in light of the governor's role in last year's nursing home crisis and alleged attempt at a cover-up.
Democratic New York State Assemblywoman Yuh-Line Niou also asked Cuomo to resign.
"You're showing, @NYGovCuomo," she wrote. "Our governor is a manipulative, controlling, abusive, power obsessed, predator. Please resign."
"The harassment detailed here, on top of allegations made earlier this week, are wholly unacceptable and require a fully independent investigation, not a review buy a handpicked inquisitor," said New York State Senator Andrew Gounardes on Twitter Saturday evening, following the Times report.
"For people in power this behavior is intentional," he continued in a subsequent tweet. "They act this way to exert their power over those they think are powerless. They demean and dehumanize others to show they can. They say or do anything they want believing that their victims are not in a position to stop them."
Gounardes previously joined Biaggi and about a dozen other state senators in pushing to repeal Cuomo' emergency powers, which were broadened when the pandemic began in the spring. Alongside several colleagues, he has criticized Cuomo publicly over the governor's reported efforts to downplay the scope of COVID-19 deaths among residents in New York's long-term care facilities, and allegedly use threats to intimidate other government officials.
"I believe the Attorney General should make an appointment to ensure that it is a truly independent investigation," echoed Heastie in his own tweet responding to Bennett's allegations on Saturday.
Ron Kim, a Democrat and state assemblyman who alleged that Cuomo threatened to "destroy" him after he openly criticized New York's nursing home crisis, called the governor a "coward" following the Times report's publication and his office's response.
"Andrew Cuomo is a coward who has abused his position of power," Kim tweeted. "Abuse feeds in the dark. Bravery is one heck of a floodlight."
"This is not an instance, it's not a mistake. Clearly this is a problem, and the Governor must answer for it," wrote Ben Kallos, New York City Council member and progressive caucus co-chair, who is also a current candidate for Manhattan borough president. "This is disturbing, and we need a real independent investigation on the Governor's behavior."
Congresswoman Alexandria Ocasio-Cortez joined New York state officials' push for an external investigation into Cuomo's alleged actions on Sunday, specifically requesting that the attorney general's office undertake a review.
"Lindsey Boylan and Charlotte Bennett's detailed accounts of sexual harassment by Gov. Cuomo are extremely serious and painful to read," the New York representative wrote on Twitter. "There must be an independent investigation - not one led by an individual selected by the Governor, but by the office of the Attorney General."
New York City Mayor Bill de Blasio shared similar support for an independent inquiry into the harassment allegations against the governor, and urged state lawmakers to repeal Cuomo's expanded emergency powers.
"It's clear what must now take place," the mayor said in a statement. "The State legislature must immediately revoke the governor's emergency powers that overrule local control. In addition, two fully independent investigations must be held immediately into the deaths at nursing homes and the disturbing personal misconduct allegations."
Boylan suggested that officials take steps to force Cuomo's departure from office if he fails to comply with resignation requests. The state's former deputy secretary for economic development and special adviser to the governor described the culture of harassment as "pervasive" within Cuomo's administration in last week's Medium post—and suggested that she was far from the only woman who experienced it.
"Like a true abuser, @NYGovCuomo continues to work behind the scenes to undermine the truth and to harm his many victims. His abuse of power never ends. He does not get to choose his judge and jury. We do. And what is abundantly clear to me is the governor should resign," Boylan tweeted Sunday morning. "And if he does not resign, he should be removed from office. Not one more victim. Not one more life destroyed."
The news of the latest allegation surrounding Cuomo has gone beyond New York. During her appearance on ABC News' This Week Sunday, Democratic Hawaii Senator Mazie Hirono also called for an independent investigation into the matter.
Early Sunday afternoon, Cuomo's office released an additional statement proposing that Attorney General James and New York State Chief Judge Janet DiFiore determine independent counsel to investigate the sexual harassment allegations against him. James rejected his proposal and in a message shared to Twitter, requesting that the governor provide a referral necessary for her office to proceed with the inquiry.
"The state's Executive Law clearly gives my office the authority to investigate this matter once the governor provides a referral," James wrote. "While I have deep respect for Chief Judge DiFiore, I am the duly elected attorney general and it is my responsibility to carry out this task. The governor must provide this referral so an independent investigation with subpoena power can be conducted."
Later Sunday afternoon, Cuomo's office issued another statement that read: "The Governor's office wants a thorough and independent review that is above reproach and beyond political interference. Therefore, the Governor's office has asked Attorney General Tish James to selected a qualified private lawyer to do an independent review of allegations of sexual harassment," said Beth Garvey, special counsel and senior advisor to the governor. "The independent lawyer will be legally designated as a Special Independent Deputy Attorney General and granted all powers under Section 63(8) of the Executive Law."
Newsweek reached out to Cuomo's office for comment.
Updated at 11:46 a.m. ET to include Ocasio-Cortez's tweet and De Blasio's statement.
Updated at 3:31 p.m. ET to include Cuomo's proposal to Attorney General James and Chief Judge DiFiore, as well as James' response.
Updated at 6:29 p.m. ET, to include the most recent statement by Cuomo's office.