'Curb Your Enthusiasm Season' 10 Guest Stars: Which Celebrities Will Cameo in the New Season's Cast?
HBO's Curb Your Enthusiasm Season 10 has already got off to a great start, with fans and critics calling it the best season of the show in years and recurring guests like Richard Lewis and Ted Danson already making their first appearance. The Larry David sitcom, however, has plenty more celebrity cameos to come, with actors like Jon Hamm and Jonah Hill set to play themselves and Isla Fisher, Laverne Cox and Mila Kunis portraying characters in the HBO series.
Who will guest star in Curb Your Enthusiasm Season 10?
Clive Owen
Hollywood star Clive Owen, star of Children of Men and The Knick (and who is about to play Bill Clinton in American Crime Story: Impeachment), was confirmed in an interview with Curb producer Jeff Schaffer in The Hollywood Reporter, who said: "We heard that Clive Owen was a huge fan—we thought that was impossible—but we were told Clive Owen loves the show, and we were writing an episode and thought it would be perfect if Clive Owen could play Clive Owen in the season."
Jonah Hill
In the same interview, Schaffer also said: "Jonah Hill also plays himself—and he's hysterical." The Daily Mail, meanwhile, snapped pictures of the Superbad and Moneyball actor on set appearing alongside...
Sean Penn
Sean Penn, showing a knack for comedy far from his work in Milk, Mystic River and 21 Grams. He was spotted shooting a scene alongside an actor dressed to resemble the young Larry David. As both Penn (Into the Wild) and Jonah Hill (mid90s) are both directors in their own right, this suggests they may be shooting something based on the early life of the Seinfeld co-creator.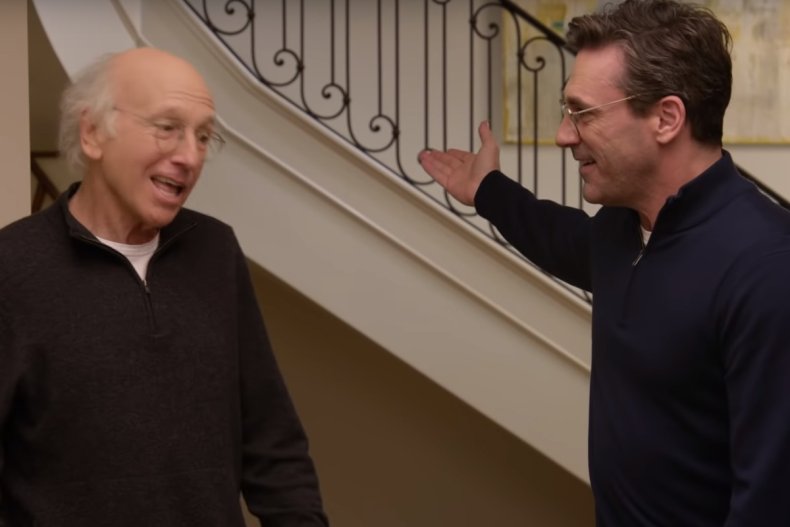 Jon Hamm
In the trailer, we saw Jon Hamm playing a version of himself in which the Mad Men actor seemed like a younger mirror image of David, matching his mannerisms and even his clothes.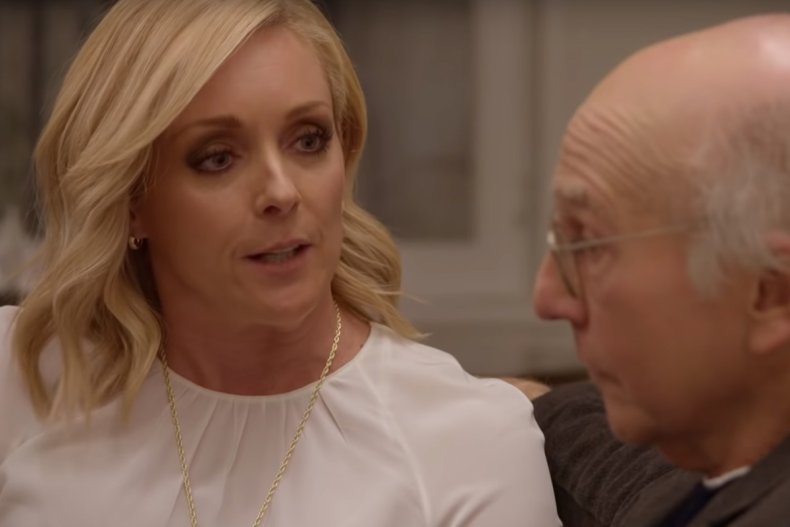 Jane Krakowski
In the Curb Season 10 trailer, the 30 Rock and Unbreakable Kimmy Schmidt actor, seen recently in Apple TV's Dickinson and Netflix's AJ and the Queen, Krakowski plays the latest in a long line of women who have told Larry to "get the f**k out."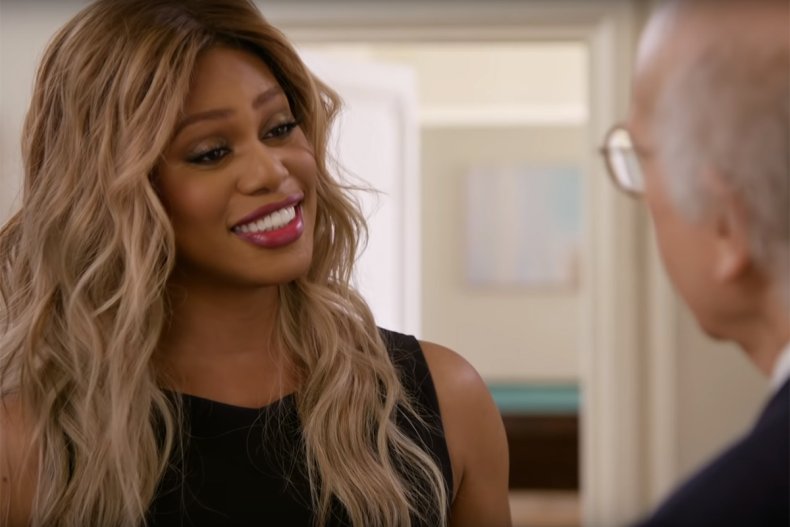 Laverne Cox
The promo also shows Larry giving a speech at a gala for a charity called Survivors United, which might be a charity he gets involved with as a PR move after getting wrapped in a #MeToo scandal in Season 10, Episode 1. At the event, Orange is the New Black star Laverne Cox introduces him, and we see Larry try to convince her to introduce him with a list of false achievements, to which she replies: "You want to impress people with lies?"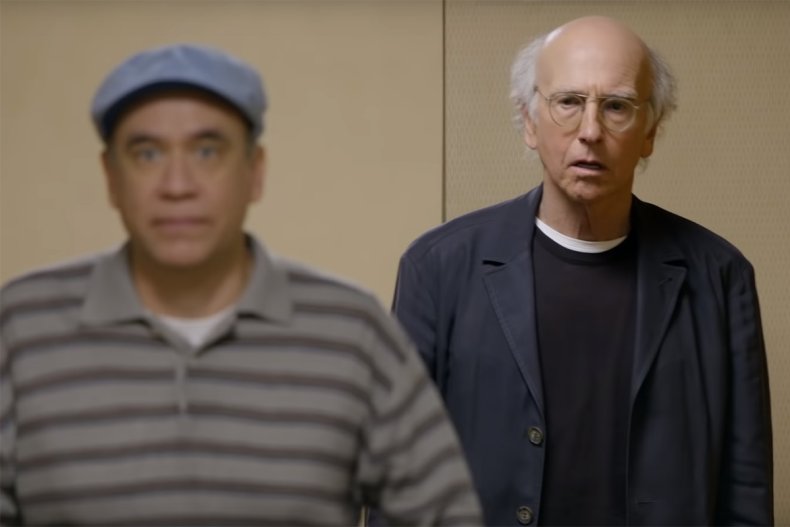 Fred Armisen
Schaffer said of Armisen's cameo: "There are some roles where we think as we're writing them, 'Oh, I know who this should be'... like Fred Armisen, who comes in later in the season. In the trailer, Armisen, the former SNL cast member and star of Portlandia and Documentary Now can be seen as a person who walks very slowly in front of Larry on a walker, much to his frustration.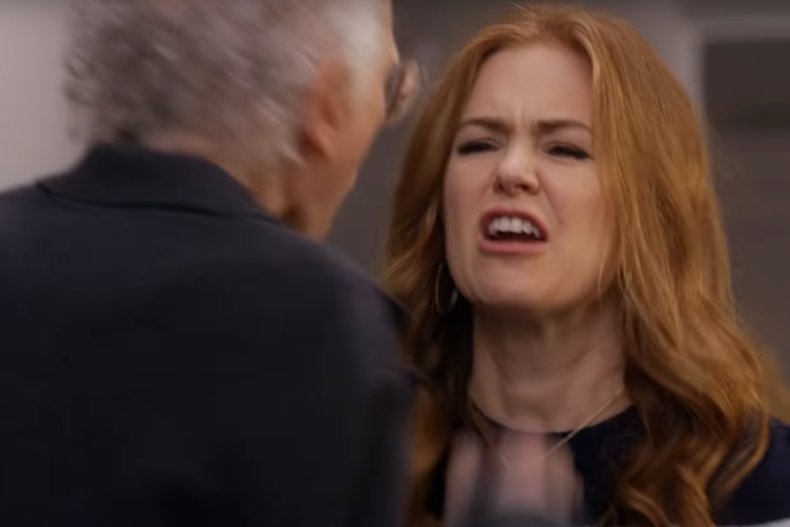 Isla Fisher
Isla Fisher gets to use her physical comedy chops, the ones which won her roles in Wedding Crashers and Confessions of a Shopaholic, in a scene seen in the Curb preview where she slaps Larry in the face.
Also confirmed to be appearing in the cast of Curb Your Enthusiasm Season 10 are:
Mila Kunis
Ed Begley Jr.
Abbi Jacobson
Timothy Olyphant
Vince Vaughn
Nick Kroll
Curb Your Enthusiasm Season 10 airs Sundays at 10.30 p.m. ET on HBO.