Custodian's Photo Showing School Bathroom's Mess Sparks Outrage: 'Monsters'
Reddit users shared their anger after seeing a post on the popular forum "Mildly Infuriating" that showed the chaotic mess a high school bathroom was left in.
"I'm a night custodian at a high school," read the title of user u/unwanted-tomatoes' post, which amassed more than 40,000 votes since it was shared on Tuesday. "This is what the first day of school looks like."
The photo that u/unwanted-tomatoes posted showed a mess of papers strewn across the bathroom floor and in the sink.
"This mess was all created by freshmen on their orientation day, u/unwanted-tomatoes told Newsweek. "Ever since kids came back from distance learning with COVID, the behavior has gone to a whole other level of insanity."
He said that this particular mess captured in the photo took about 10 minutes to clean, but Reddit users did not see that every toilet was also stuffed with paper.
That, u/unwanted-tomatoes said, took about 30 minutes to clean out.
A study published by the Economic Policy Institute examined staffing shortages in public K-12 schools and it pointed to COVID concerns as a factor in nonteacher staff shortages.
"But the reality is that staff shortages in K-12 schools are a problem that policymakers in much of the country have had for decades," the organization said.
In addition to being exposed to COVID-19, the Economic Policy Institute reported that public education support workers are paid low wages and work limited hours.
"The combination of low pay and limited hours makes these front-line jobs less attractive to return to—or apply to," the organization said.
Fellow Reddit users took to the comments section to voice their anger about what was left for u/unwanted-tomatoes to clean.
"It's ok to hate them," a Reddit user wrote. "I will hate them along with you."
"A lot of kids are absolute monsters," wrote another Redditor who said they are a father to two teenagers.
"The disrespect and entitlement is just out of this world [nowadays], one Reddit user said.
"Custodians deserve way more recognition," a Redditor wrote.
The custodian said that he has worked in that position for about five years. In the last two years, he said he's witnessed things he never expected to see at the high school level of education.
"Last year kids were ripping off toilet paper dispensers, paper towel dispensers, soap dispensers, breaking mirrors, [a] kid walked out of the school with the door," u/unwanted-tomatoes said. "We've seen fecal matter smeared on windows and mirrors, used feminine hygiene products thrown on the ceiling."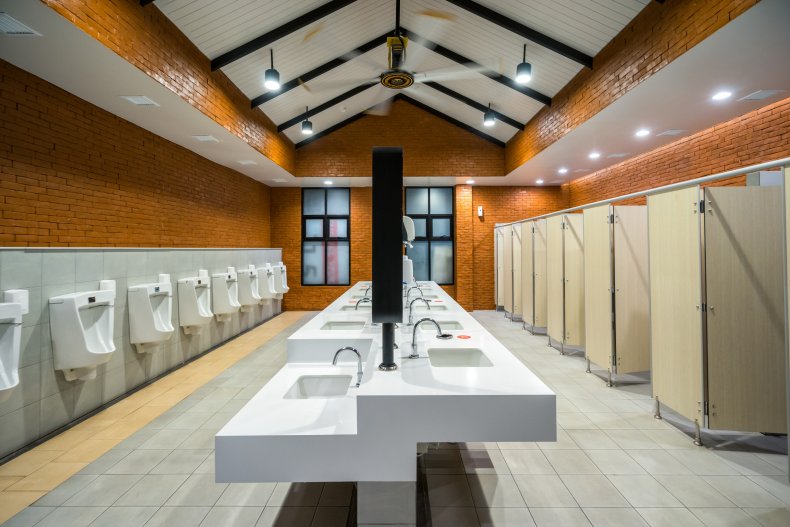 One Reddit user said they work as a bus driver and echoed the sentiment.
"Most bus drivers are old enough to be the kids' grandparents, but the kids don't see any problem creating daily messes that require these old people to be on their hands and knees to clean up," the commenter wrote.
Another photo of a school bathroom was recently shared on the "Mildly Infuriating" forum, this time showing metal gates that were installed to "keep" students from going between classes.
A photo of a Reddit user's restaurant bill sparked a discussion about "tipflation," while one teacher's policy for students using the bathroom also angered Reddit users.