'Cyberpunk: Edgerunners' Cast: Who Voices Netflix's 'Cyberpunk 2077' Anime?
Cyberpunk 2077 has acquired an anime spin-off, or at least a follow-up set within the same universe for fans of the game to enjoy.
Made by Studio Trigger, the creative minds behind anime like Kill la Kill, the show brings a whole new story to the franchise.
The show has a notable English and Japanese voice cast behind the animation, and here is everything you need to know.
'Cyberpunk: Edgerunners' Cast: Who Voices Netflix's 'Cyberpunk 2077' Anime?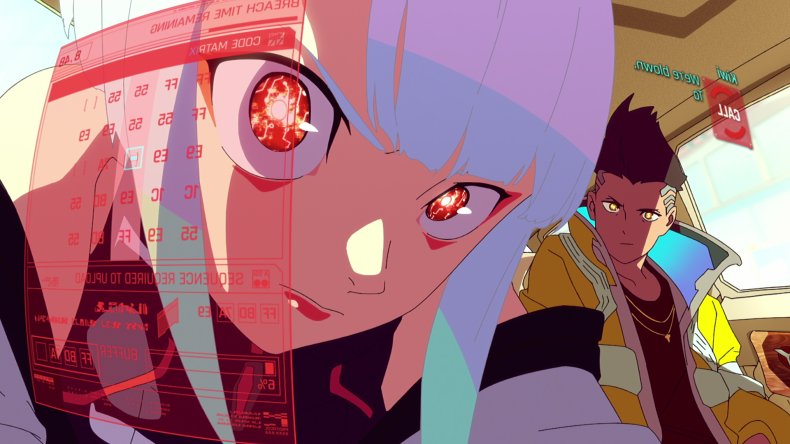 Set over 10 episodes, the anime features a standalone story that focuses on a street kid named David, who is trying to survive in a city obsessed with technology.
Following a meeting with a netrunner named Lucy, David decides to become a part of a gang of Cyberpunks to help make ends meet, and he starts going on jobs for the group, each seemingly more dangerous than the last.
Given the show is a standalone, viewers who are concerned about watching the anime without having played the game need not worry, as the two are not directly related and, in fact, the anime is set before the game, though it is not clear in exactly what year it is set.
The show's English voice cast boasts quite a few big names, particularly Giancarlo Esposito who fans might know from Breaking Bad, The Mandalorian, and The Boys, to name just a few of his accolades.
Esposito voices a character named Farady in the show, while Matthew Mercer, of Critical Role fame, takes on the role of Falco. Zach Aguilar voices main character David, and Emi Lo portrays Lucy.
The Japanese voice cast, meanwhile, sees Yu-Gi-Oh! GX voice actor Kenn play David, The Seven Deadly Sins star Aoi Yuki play Lucy, and Kazuhiko Inoue take on the role Farady.
Here is the English Voice Cast of Cyberpunk: Edgerunners:
Giancarlo Esposito as Farady
Matthew Mercer as Falco
Zach Aguilar as David
Emi Lo as Lucy
William C. Stephens as Maine
Stephanie Wong as Kiwi
Gloria Garayua as Gloria
Ian James Corlett as Pilar
Marie Westbrook as Dorio
Alex Cazares as Rebecca
Borge Etienne as Ripperdoc
Here is the Japanese Voice Cast for 'Cyberpunk: Edgerunners':
Kazuhiko Inoue as Farady
Kenn as David
Aoi Yuki as Lucy
Hiroki Tōchi as Maine
Takako Honda as Kiwi
Yurika Hino as Gloria
Wataru Takagi as Pilar
Michiko Kaiden as Dorio
Tomoyo Kurosawa as Rebecca
Kenjiro Tsuda as Ripperdoc
Cyberpunk: Edgerunners is out on Netflix now.