What Is 'Star Wars: Visions' and Where It Fits in the Timeline
Star Wars: Visions is the exciting new anime anthology series set in George Lucas' iconic sci-fi universe.
The show, released on Disney+ on September 22, sees some of Japan's top animation studios try their hands at creating their own stories that take place a long time ago, in a galaxy far, far away.
With nine episodes in total, each anime short film features a different story and the series is not limited to what has come before it.
Here is everything you need to know about the series and where it fits in the Star Wars universe.
What is Star Wars: Visions about?
The first episode is titled "The Duel" andmade by Kamikaze Douga. It follows a lone Jedi known simply as Ronin who fights Empire troopers after they start terrorizing a small village.
Animated in black-and-white, the episode is directly influenced by the work of Akira Kurosawa, while Ronin is based on his regular leading man Toshiro Mifune.
"Tatooine Rhapsody" is made by Studio Colorido and follows a band who try and save one of their members from Boba Fett and Jabba the Hutt.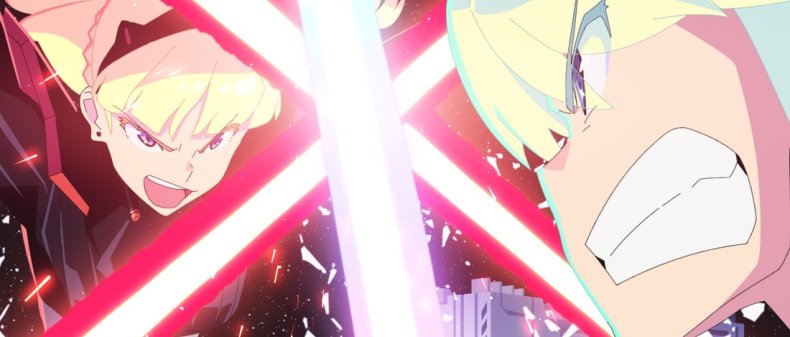 Studio Trigger's "The Twins" follows siblings Karre and Am who were born into the Dark Side with the intention of making them rule the galaxy, and it sees them clash as Am tries to free himself from his destiny.
"The Village Bride" was directed by Kinema Citrus, and it focuses on a young Jedi named F who has been on the run for years and her struggle with revealing her identity in order to save others.
"T0-B1" is made by Science Saru and it follows a cybernetic boy and his dreams of becoming a Jedi, while "The Elder", directed by Studio Trigger, details the clash between a padawan and his Jedi master.
Production I.G's "The Ninth Jedi" examines a world where Jedi's are long gone and one master's quest to revive them, while "Lop and Ocho", by Geno Studio, is about a family's struggle when the Empire arrives on their planet, and Science Saru's "Akakiri" follows a Jedi defending a kingdom from Sith-like shogun.
Where does Star Wars: Visions fit into the timeline?
While some of the short films do not have a specific era in mind, others do fit into the pre-established Star Wars timeline.
"The Elder" takes place before The Phantom Menace, while "Lop and Ocho" is set in between Revenge of the Sith and A New Hope.
Given its villains are Boba Fett and Jabba The Hutt, "Tatooine Rhapsody" is set during the period between the prequels and the original films.
Both "The Twins" and "The Ninth Jedi" are set in the aftermath of The Rise of Skywalker, with the former focused on the Empire and the latter examining what became of the Jedi Knights.