'Cyberpunk 2077' DLC Apparently Coming in 'Early 2021'
CD Projekt Red is hoping 2021 will be a better year for Cyberpunk 2077, and releasing free DLC is one way the studio aims to make fans happy.
A new, official-looking website has gone live, dedicated strictly to Cyberpunk 2077's DLC. Unfortunately, there is no new information aside from the message on the front page that reads, "Free DLC hitting Night City Early 2021. Stay tuned for more info!"
Newsweek reached out to CD Projekt Red for clarity regarding this new site and the apparent tease of DLC in early 2021, but did not hear back in time for publication.
So what could this free DLC for Cyberpunk 2077 be? Well, CD Projekt Red's co-CEO Adam Kicinski explained in the company's third-quarter-earnings call in November that the studio was going to announce and reveal the game's DLC plans after its launch on December 10.
Then, during an emergency investors' call following Cyberpunk 2077's release, Kicinski confirmed that more information would be shared in early 2021.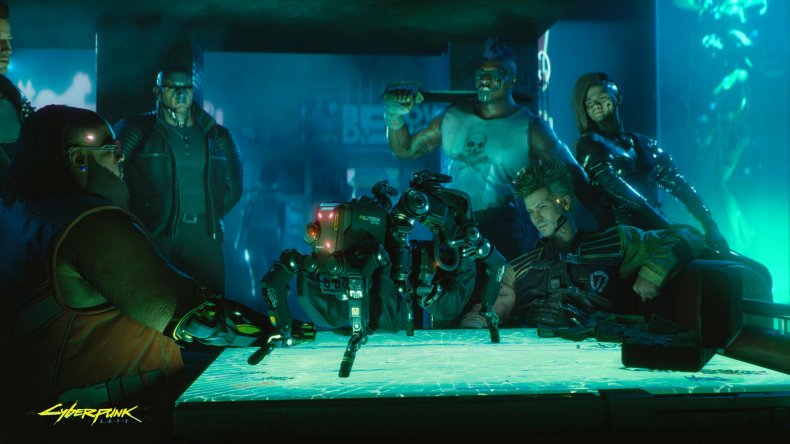 CD Projekt Red confirmed back in August on Twitter that the DLC for Cyberpunk 2077 will be similar to how the studio handled The Witcher 3: Wild Hunt. In that game, players saw new weapons, armor, and quests. There were 16 free pieces of DLC items for The Witcher 3: Wild Hunt.
It's unclear if the Cyberpunk 2077 DLC website going live was a mistake on the part of CD Projekt Red, seeing as there has been no official announcement about it. But even if it's all rolling out according to plan, this supposed free DLC is coming at a rough time for the Polish game studio.
Cyberpunk 2077's launch was divisive, to say the least. The last-gen versions of the open-world RPG on PS4 and Xbox One had gamers up in arms, with widespread complaints about game-breaking bugs, low frame rates, visual issues and much more.
The problems persisted for so long that many gamers asked PlayStation and Microsoft for refunds.
When CD Projekt Red apologized to consumers following the launch, the studio also promised two big updates—one in January and the second in February—that would stabilize the PS4 and Xbox One versions to the point of playability. The studio has already released two hot fixes to help stabilize Cyberpunk 2077.
Players who didn't want to wait for those bigger updates were offered refunds for their digital copies of the game. Unfortunately, Sony initially didn't honor refund requests; the company soon changed its tune, though, and Cyberpunk 2077 was actually removed from the PlayStation Store.
Retailers like Best Buy and, reportedly, GameStop also began taking refunds for physical versions of Cyberpunk 2077, even if the game had been opened.
CD Projekt Red is now the subject of a class-action lawsuit, after The Rosen Law Firm served the studio on Christmas Eve, on behalf of USA purchasers of the securities of CD Projekt S.A. between January 16, 2020, and December 17, 2020.
The lawsuit alleges that the studio "made false and/or misleading statements and/or failed to disclose" that Cyberpunk 2077 was virtually unplayable for last-gen consoles. CD Projekt Red has confirmed that it received the lawsuit and stated on Christmas Day that "the Company will undertake vigorous action to defend itself against any such claims."
What do you think of the Cyberpunk 2077 DLC? What do you hope to see? Let us know in the comments section.