Czechs Hold 'Roma Lives Matter' Protest After Video Shows Cops Using Knee Like Derek Chauvin
Hundreds of people gathered Saturday in the Czech Republic to protest the recent death of a Roma man at the hands of police, after video footage showed officers kneeling on his neck and chest for several minutes.
The demonstrations in Teplice took place one week after the man died following a controversial police encounter in that city on June 19. Footage of the incident showed three officers kneeling on the man's chest and neck for several minutes before he was seen unmoving, BBC News reported. The man, who's name has not been officially released, was later pronounced dead in an ambulance.
Police said Monday that the man's death was related to a drug overdose and not due to the police encounter, but activists have since condemned the officers and declared his death to be racially motivated.
Members of the Roma community, an ethnic minority that constitutes roughly two percent of the Czech population, have long faced racial discrimination in Eastern Europe, including in employment and education.
Many activists have compared the incident to the death of George Floyd, a Black man who died after white police officer Derek Chauvin knelt on his neck for more than nine minutes in Minneapolis last year. Following months of international protests and racial justice demonstrations, Chauvin was sentenced to over 22 years in prison on Friday.
On Saturday, hundreds of Czech protesters could be seen carrying "Roma Lives Matter" banners and condemning police violence.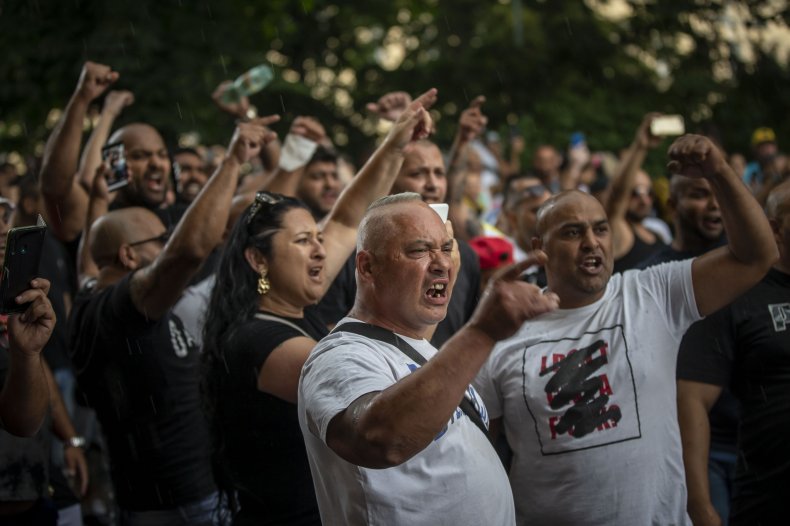 "I'm angry," Jan Duzda, a Roma music producer, told the Associated Press. "I'm angry because this is not for the first time. It's really strange. My question is why he died."
Duzda added that the Roma community is often abused by authorities and called police treatment "very, very bad."
Police have since apologized for the man's death but defended the use of force by stating that the man had become overly aggressive due to a crystal meth overdose.
"We are sorry about the loss of any human life," said local police chief Jaromir Knize, according to the AP. "Under the current circumstances I stand behind the officers, but of course, I'm sorry about the death of the person, that's for sure. Nobody wishes anything like that to happen."
However, police rejected accusations that the incident was comparable to Floyd's death, later writing "No Czech Floyd" on social media, the BBC reported.
"We can clearly rule out any link between the police intervention and the death," said police deputy Zbynek Dvorak.
Several human rights groups, including the Council of Europe, Amnesty International and the government's envoy for human rights have all called for an independent probe into the incident.