Dachshund Puppy 'Contemplating' Whether to Play Fetch in Adorable Video
A dachshund puppy's unique approach to playing fetch has left dog lovers in hysterics.
Gigi the Mini weenie only arrived with owner Wendy Rojas and her husband four weeks ago, but she's already making a big impression.
The 12-week old pup currently resides out in Orem, Utah, with her human companions, yet she's already got something of a global fanbase after the video of her playing fetch was shared to TikTok. It's already been watched over 12 million times.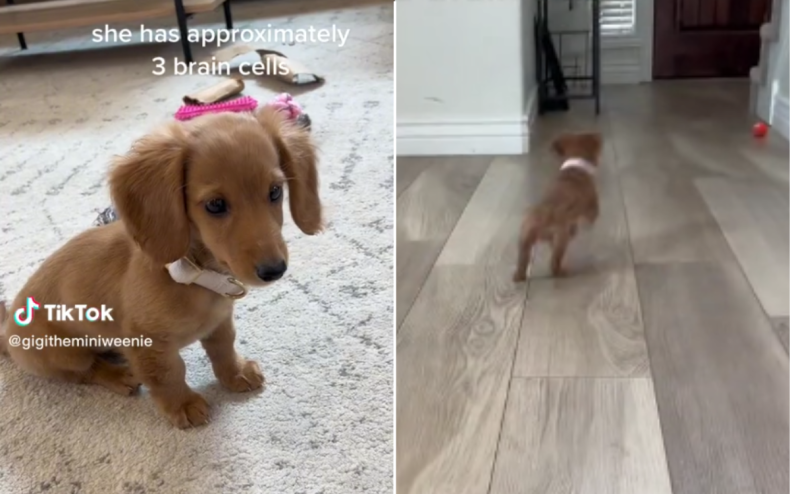 Keeping a dog active is crucial to their long-term health. According to a 2022 study of over 15,000 domesticated canines published in the journal Scientific Reports, being physically active can help lower the risk of dogs developing dementia with age.
That's why games like fetch can be so useful to a dog owner looking to put their four-legged friend through their paces.
It's certainly proven useful to Rojas and Gigi since the young canine isn't yet fully vaccinated.
"So far, we have spent a ton of time inside," Rojas told Newsweek. "She can't do fun outdoor activities yet, but she loves snuggling with us, playing with her toys, demanding attention, and giving us lots of kisses."
Rojas and her husband are avid outdoor enthusiasts. "We love hiking and the outdoors and can't wait to introduce Gigi to the mountains and all of the beauty Utah has to offer," she said.
For the time being though, they've been keeping Gigi busy with games like fetch. Although, it's fair to say the mini Dachshund has been keeping them on their toes too with her novel approach to the game.
Rather than immediately dash off as soon as the ball is thrown, she prefers to wait and consider her options before making a run for it.
It's a technique that has earned her plenty of fans on social media.
One TikTok user said she was "contemplating" her next move, while another theorized she was "just waiting for the ball to get closer."
A third commented: "She is working smarter, not harder," with a fourth suggesting she was "doing that for dramatic effect."
Rojas said the mini dachshund is certainly a fan of the game and has been keeping busy with it while she's stuck indoors.
Unusual Technique
"I've been playing fetch with Gigi the past few weeks and she seems to really enjoy it," the dog owner said. "She's funny because every time we throw a toy for her, she kinda just stares at it for a few seconds and then goes for the pounce. I think it has to do with her hunting instincts!"
While Gigi appears to be keeping busy, her arrival has also helped Rojas move on following the loss of her previous beloved dog - a pain many pet owners will be all too familiar with.
"I grew up with a mini dachshund, and she passed away last June, so I knew I needed a new dachshund in my life. She has been the perfect addition to our family," she said.
"I started Gigi's TikTok account because I knew my future self would appreciate documenting her life from the moment we brought her into our family. I think the video of me playing fetch with her went viral because people love dogs and their cute and hilarious personalities."
Given the seamless transition Gigi has made into their family, Rojas admitted they are "already discussing" the idea of adding another mini dachshund to the family, which is sure to add a new dimension to those games of fetch.
Do you have funny and adorable videos or pictures of your pet you want to share? Send them to life@newsweek.com with some details about your best friend and they could appear in our Pet of the Week lineup.