Dad Builds Toy Flamethrower for Kids - But Not Everyone is Happy About It
A highly inventive dad found a new way to keep his children entertained after building them their very own toy flamethrower.
But while his inspired creation delighted his kids and their friend, some on social media expressed concern about exposing children to weapons of this kind.
The video, posted to Twitter by ActionMovieKid, aka Daniel Hashimoto, a dad of two who works in visual effects, has been viewed over 6 million times - but not all of the comments accompanying the post have been positive.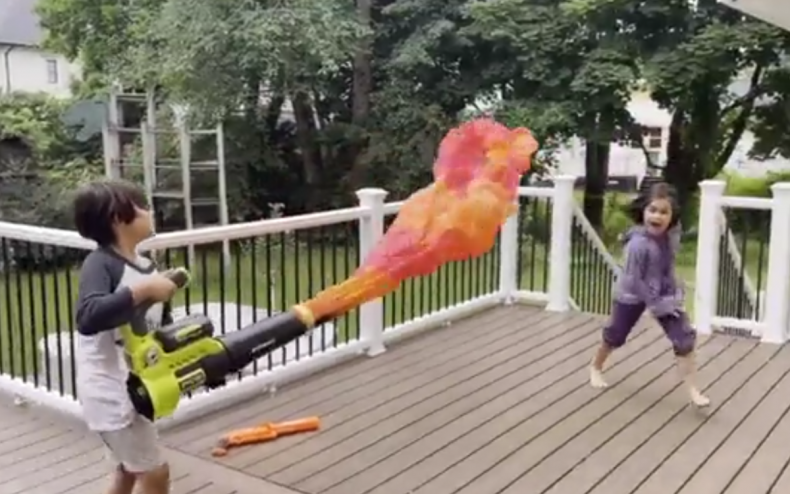 One viewer said it was "kinda horrific when you think what a real flamethrower can do to a human" while another accused them of glorifying "one of the most horrific weapons of war." A third, meanwhile, wrote: "A gun should not be a toy for a child, it's really that simple."
Plenty, however, could see the fun in it and moved to defend the clip against such criticism. One Twitter user urged critics to "Let them be kids" with another noting that children "have been playing with swords for thousands of years."
"It's kids messing around and having fun," a third added. "Stop pretending like wholesome prop building will turn them into mass murderers."
While parents have previously expressed concerns that playing with toy guns can lead to violence in later life, many experts disagree with this assertion.
Bettina Meisel, chairwoman of the Association of Analytical Child and Adolescent Psychotherapists in Germany (VAKJP), told Daily Sabah the key consideration is the fact "children's games often have a make-believe element."
Meisel explained that, when playing, children play out fantasies, taking on roles or abilities far removed from real life. While she notes there are some instances where caution should be exercised, most notably if a child "exhibits hatred" during play, the focus should be on whether they are enjoying themselves.
"If the game isn't grim, emotions aren't harsh and everything's free and easy, then there's nothing fundamentally wrong with pretend-shooting games," she said. Meisle also dismissed the idea of trying to stop children playing games of this kind, noting: "kids usually look for a way out or an alternative when they're forbidden from doing something that's fun for them."
The emotions appear anything but harsh in the footage shared by Hashimoto, who filmed his two kids, James and Sophia, along with a neighboring friend, laughing and playing with their new toy.
Hashimoto told Newsweek: "My leaf blower was on the patio and James asked if they could use it without the battery as a prop. After a bit, the kids played more with it- launching ping-pong balls out of it like a cannon - and filming slo-mo videos of their hair getting blown back like they were on a motorcycle."
He said he came up with the idea after coming across one of his wife's play silks which his kids have previously used to build tents and forts with.
After a bit of trial and error, he successfully attached the play silk to the blower using masking tape. The results were spectacular, with the kids going on to take turns chasing each other with the "flamethrower."
"My wife and I love building random things like this for fun, hoping to inspire creativity for the kids," Hashimoto said. "So far, it's paid off! These kids are clever and wildly imaginative, and immerse themselves in play." He added: "I hope it encourages other parents to try something like this out," he added. "So long as they're being responsible."
Hashimoto also dismissed any criticism of his creation. "When you're a kid - playtime is epic! You can imagine larger-than-life scenarios," he said. "We definitely want to encourage imaginative play, creative problem solving, inventing a fun new game out of what's lying around. I believe that most children can turn this kind of imagination into being good at improvising, and dealing with challenges."