The father of a newborn baby has been admonished online after asking to move back in with his mother from Monday to Friday so he can "get a proper night's sleep".
His outraged mother asked for advice on how to respond on discussion website Mumsnet.
Other Mumsnet users reacted with almost universal condemnation, with one branding the son a "silly, selfish boy" and another warning it could end his relationship.
The mother, using the name "HippPiggy", described her dilemma under the title "Adult son wants to move back mon - fri to 'get a night's sleep'."
She wrote: "DS [Dearest Son is] 27 and his gf [girlfriend] recently had a baby. As you'd expect they are being woken up during the night.
"DS has asked if he can move back in mon - fri so he can get a proper night's sleep so he can concentrate on going to work and do his job effectively.
"DH [Dearest Husband] thinks the idea is outrageous and he should just 'get on with it', I feel a bit confused as to why he is even asking. Surely other new parents don't do this?
"I get sleep deprivation is hard, but I am not overly enamored with this idea. But I don't want to be unsupportive either - how would you respond?"
The post shocked other Mumsnet users, with one replying: "Wow. How about he thinks of his wife's need to get some sleep too and takes the time to do his share of the night-time care?"
Another added: "I think I'd be giving him a very sharp talking to about being a parent and not thinking it was acceptable to leave it all to his girlfriend. Silly, selfish boy."
A third warned moving back with his mother could result in a breakup with his girlfriend, posting: "I'd respond that if he abandons his partner with a newborn, it's likely to end his relationship. So, no."
The mother responded saying her son is arguing for the move because he is doing "everything" for the baby, in addition to having a job.
She wrote: "Yeah I agree - he should be sharing the work load, but his argument is when he gets back from work he does 'everything' for the baby- feeding, bathing, cleaning all the bottles, laundry, cooking etc. it's difficult because he's really struggling and does seem to be doing more than his fair share when he can."
This sparked one Mumsnet poster to show some sympathy, stating: "I agree with your DH yes it's a bit outrageous that he doesn't want to be there.
"On the other hand, he may be working full days and his girlfriend may be expecting him to do half night feeds and nappy changes.
"I would ask him why he's so tired, if it's because he's working a full day then spending 3 hours a night awake then maybe you could step in and support his gf during the day.
"On the other hand if he's not being required to help on a night but is just finding the baby waking tiring, you need to tell him to get a grip and that's having a baby.
"I say this as I didn't expect my husband do help through the nights during the week as he was at work full time, but I did expect help on Friday and Saturdays."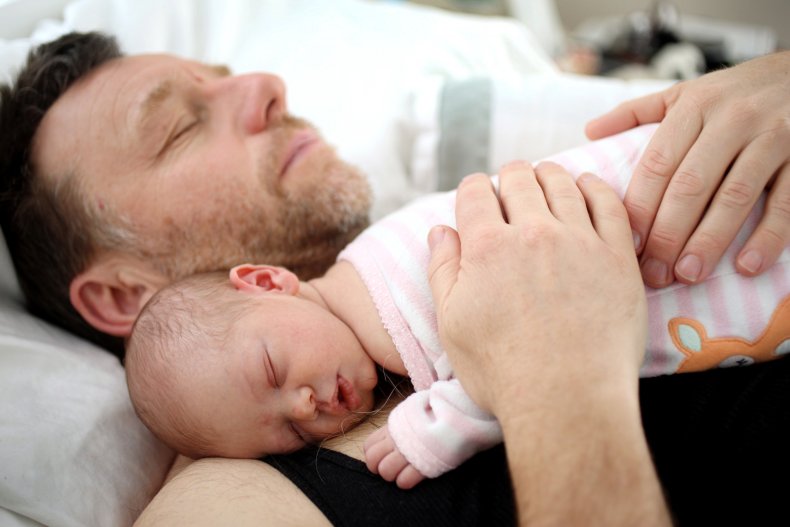 Mumsnet is often used to ask for relationship advice, or for people to question if their actions were rational.
In one post a woman explained why she refused to give up her "really nice spot" with a table, by the river, to a young couple with a toddler in a baby stroller.
Another viral discussion saw a woman who had just given birth being widely praised for asking her mother not to visit immediately, as she was overwhelmed by visitors.
A third debate saw a bridesmaid condemned after pulling out of her friend's wedding on the day because she looked "fat in the dress".