Dad Hilariously Spoils the Dogs He 'Didn't Want' by Cutting Up Their Food
A dad who was left alone to take care of the family dogs has left the internet in stitches this week after a video captured viral attention on TikTok.
With more than 430,000 views and thousands of likes and comments, the video was shared by Polly Manser who lives in the U.K.
Alongside the caption, "Ladies and gentlemen, I present to you the man who didn't want a dog," the video shows a text message conversation between Manser and her dad.
While Manser was on holiday in Rome, her dad had been tasked with taking care of the dogs, but suddenly realized there was no dog food in the house. His solution? To share his breakfast of beans on toast with goldendoodle pups Scruffy and Milo instead.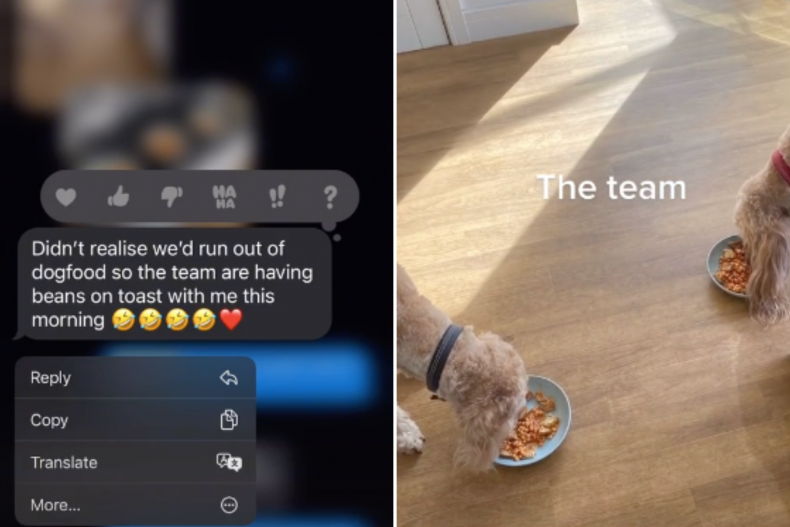 Manser told Newsweek: "We have had Scruffy for many years now but a few years ago we got Milo as a puppy and my dad seemed to think a puppy wasn't a good idea. I mean, he did chew our house to pieces…but we wouldn't be without him now. My dad does like dogs but obviously having two large dogs in the house is a large commitment."
The text message about the dog's unusual breakfast left Manser delighted: "I was so surprised when he sent me the text, it was just something I wasn't expecting. It was also very heartwarming to see the way he loves them. How cute was the way he cut up their toast, anyone would think he was looking after two toddlers."
The spoiled pups were very keen on their breakfast treat, eating it all in around 30 seconds, while Manser was delighted to see her dad's reaction to being home alone with the beloved family dogs.
Her dad is not the only parent to fall for a pet they claimed they weren't sure about. Earlier this year another dad was caught doing a special rendition of Whitney Houston's "I Will Always Love You" for a cat. Meanwhile, in an adorable viral clip, another dad fell in love with a bulldog puppy he told the family not to adopt.
Internet users were delighted by the footage of Scruffy and Milo. One commenter wrote, "I'm not crying you're crying," and another said, "Your dad is the sweetest."
A pet owner admitted also treating their canine friends to a special breakfast every now and then and wrote: "Every few months we cook our dogs a mini fry up. They love it."
"Every doggy needs a papa like this," said another viewer on TikTok.
"It's lovely to see so many people agree with how cute the gesture was," said Manser. "Of course, I had a couple of comments saying that beans are potentially harmful to dogs, however, I can confirm the dogs are completely fine and my dad would never do anything harmful on purpose to hurt his favorite children!"
Do you have funny and adorable videos or pictures of your pet you want to share? We want to see the best ones! Send them in to life@newsweek.com and they could appear on our site.