A pre-paid card has been slammed online amid claims numerous fees "bled the card dry," leaving a kid with less than $10 of his birthday money to spend.
A snap of a Netspend account is attracting a lot of attention on Reddit, as the poster Guyacnj, aka Guy, claimed his son was given $50 from his uncle.
But he stated when his son finally decided to spend some of his present, he was left with a paltry $8.35. Numerous charges for an "inactivity fee" and "account maintenance fee" had drained the funds.
Three inactivity fees, and four maintenance fees, at $5.95 each, dating from July 2021 up until January 2 this year, had eaten up $41.65.
Sharing the post to various Reddit forums, including A**holedesign, on Monday, Guy said: "Kid gets a Netspend pre-paid for his bday last year with $50 on it. Finally decided to use it and the fees bled the card dry."
Guy, from North Carolina, told Newsweek of the moment they realized the money had gone, saying: "My 10-year-old son received the card as a gift from a relative.
"He wanted to hold on to it to get something he wanted. I registered the card and put it in a drawer. This past week he found a Star Wars Lego he wanted to use the card on. The Lego was $40.
"I tried to purchase it but the card kept getting declined when I tried to use it. That's when I went online and see the fees that had been withdrawn. When I registered I submitted my email with the registration. Not one email was sent from the company letting me know of service fees or my favorite... inactive fees."
He said he and his family will not be using the company again, adding: "I was livid they took the money in fees monthly and no notice of it.
"If I had known, we would have used it earlier. I really want to know what the hell an 'inactive service fee' is? I didn't know it cost the company money to hold money??? No one in my family will ever use the card or that company again. I spoke to the relative that bought, his uncle, to ensure he doesn't do it again."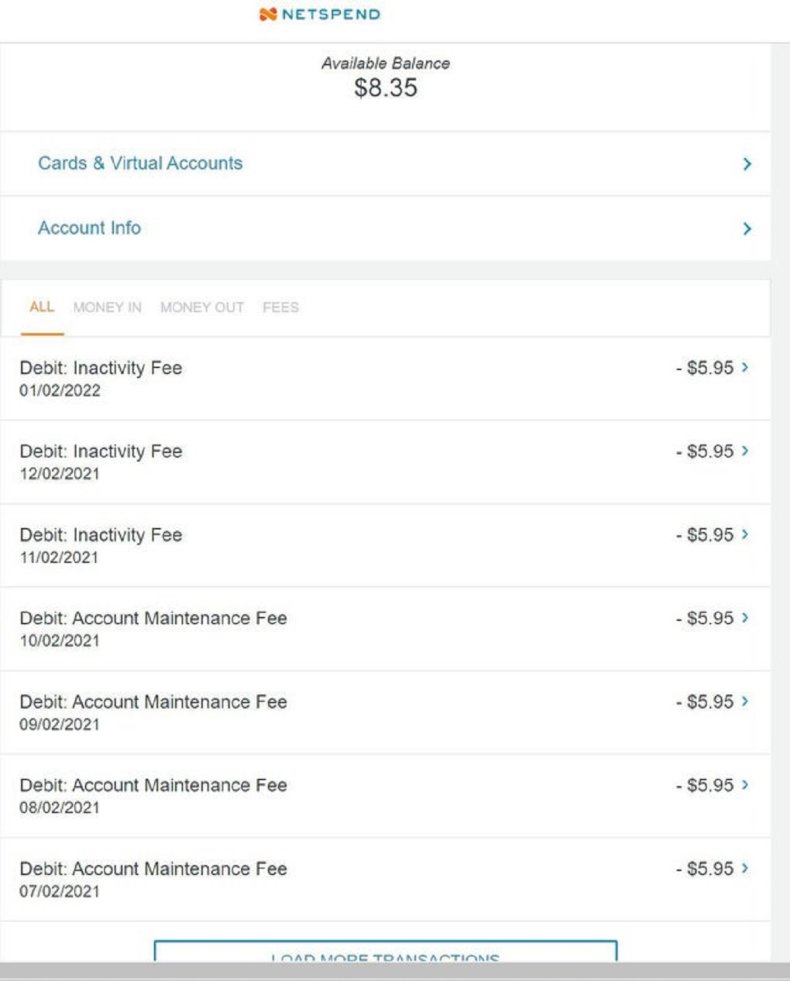 The post amassed more than 40,000 upvotes as Guy said the card was purchased in April 2021, adding he bought his son the Lego in the end.
"I paid for the Lego. I didn't tell him the card his uncle bought him was raped for almost everything. I didn't want to ruin the gift," he said.
Commenting online, UniqueUsername812 joked: "Ah yes, Netspend, teaching kids the important lesson of, checks notes, spending your money immediately and not saving it for a rainy day."
Sadi_Reddit wrote: "Just realized it's a prepaid card, agree on the scummy part."
CriesOverEverything quipped: "It is called Netspend and not Netsave."
Wafflesbro5412 said: "This is robbery. Straight up. And it makes me angry that they probably have some small text in their use agreement for this."
Danmanjo sarcastically wrote: "This isn't robbery!! You accepted these conditions when you read our 1,000 page terms of service!!"
DurkaDurka81 asked: "How is this even allowed?"
While BarrySmart added: "Legal theft."
Speaking to Newsweek, Netspend explained there are various fee plan options.
A spokesperson said: "We offer our customers the ability to choose from a variety of competitive fee plan options, including our 'Pay-As-You-Go' plan. The Pay-As-You-Go plan assesses a fee per purchase transaction made by the customer.
"Customers may enroll in a Monthly Plan to pay a flat monthly fee instead of a fee for each purchase transaction under the Pay-As-You-Go plan.
"We encourage all of our customers to contact our customer service department to discuss which plans best suit their needs and changes to their plans can be made at any time."
And they confirmed the "inactivity fee" kicks in after 12 weeks, consistent with the time-frame on the bill.
"With our 'Pay-As-You-Go' option, the $5.95 'Inactivity Fee' occurs after no customer-initiated account activity has happened in 90-days," they said.
Depending on the type of card or account, Netspend can also charge a $2.50 ATM withdrawal fee domestically, while they can also charge $1 if a domestic ATM transaction is declined.
It can cost customers $0.50 to check their balance at an ATM, and potentially be billed $9.95 for a replacement card fee.
Netspend, founded in 1999, offers various cards and says it's the "leading provider of FDIC-insured Visa Prepaid, Prepaid Mastercard, and corporate prepaid card solutions through our issuing banks in the United States."