Dad Slammed for Telling Teen They Should 'Be Over' His Affair
The internet criticized a father who purportedly told their 18-year-old child that they should "be over" the fact that he cheated on their mother over a decade ago.
Posting in Reddit's "Am I The A**hole" (AITA) forum on Wednesday under the username u/Affectionate_Air_633, the teen said their father had a five-year affair with one of their mother's friends. The teen's father eventually married the woman, and the two went on to have six children together, one of whom was conceived while their father was still married to their mom.
The post has garnered more than 12,000 upvotes and over 700 comments while highlighting a common marital problem—infidelity.
In their post, the teen explained that their mom kept as much distance "as humanly possible" between herself and her ex after the divorce, but she encouraged u/Affectionate_Air_633 to build a relationship with their father.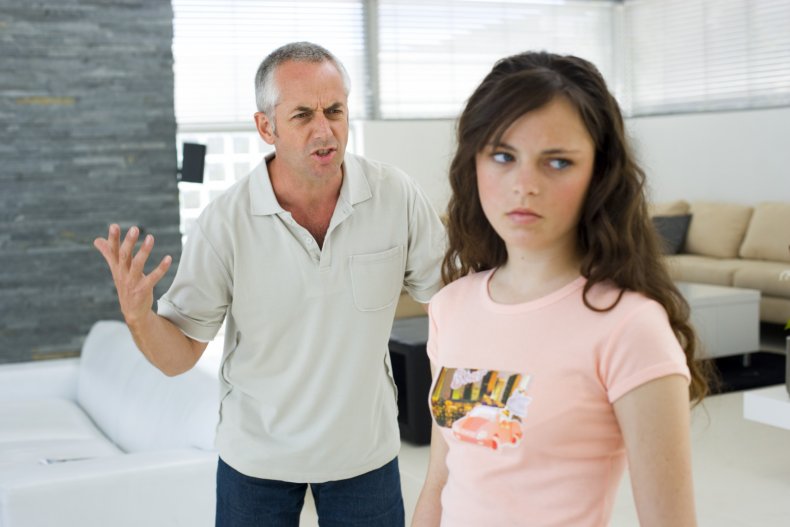 "She told me a long time ago that she loved me, wanted me to be happy and loved and not to be distant from them for her, but that she would never be able to play happy families with my dad and his wife and their kids because some hurts are too deep and painful to move on from," u/Affectionate_Air_633 wrote.
During the pandemic, things went from bad to worse when the teen's father and step-mother—who were both frontline workers at the time—asked u/Affectionate_Air_633's mother to take in their six children, stating they wanted to limit their kids' "exposure" to COVID. Of course, she said no, forcing the couple to send their children elsewhere.
"After a while, my dad and his wife left their jobs when it got too much and their financial stability took a huge hit. My dad can't afford to throw a graduation party for me, which is fine. But he and his family are not welcome at the one my mom is hosting," u/Affectionate_Air_633 explained.
"He was b**ching about them missing out on celebrating with me because of my mom," u/Affectionate_Air_633 continued. In response, the teen defended their mom and told their dad that he was the one to blame for their family's issues.
"He told me it had been a decade and my mom and I should be over it, and I should not have taken sides. I told him he should have kept the affair from me then instead of letting it come out," u/Affectionate_Air_633 concluded.
Writing for TED ideas, biological anthropologist Helen Fisher said "infidelity" is "widespread."
"Current studies of American couples indicate that 20 to 40 percent of heterosexual married men and 20 to 25 percent of heterosexual married women will also have an extramarital affair during their lifetime," Fisher wrote.
Research from the University of Colorado Boulder's Department of Psychology and Neuroscience revealed that a majority (53.5 percent) of those who admitted to having an extramarital affair said they did so with a "close friend." Additionally, about one-third of participants (about 29.4 percent) reported having an affair with someone "who's somewhat well-known, such as a neighbor, co-worker or long-term acquaintance."
Though cheating may be somewhat common, Redditors slammed u/Affectionate_Air_633's father for the affair and his subsequent behavior.
"He's [the teen's father] incredibly insensitive and clearly doesn't think he ever did anything wrong. Good for you for sticking up for your mum and not taking your dad's bulls**t," wrote u/Sleepy_felines.
"You and your mother don't have to 'get over it,' he just doesn't like to be reminded that he engaged in actions that broke up families and hurt people," said u/Cassubeans.
u/The-Shattering_light called the teen's father an "a**hole," saying: "[H]e doesn't get to demand people get over his betrayal just because it's become inconvenient for him."
Newsweek has reached out to u/Affectionate_Air_633 for comment.
Other AITA posters to go viral this month include a woman who scolded her husband for embarrassing a waitress, a woman who walked out of a dinner with her future in-laws and a woman whose roommate asked that she let her roommate's dad sleep in her bed.