Dad With Toddler on Lap Balks at Removal From Plane, Threatened With Arrest
An Atlanta, Georgia father and his 2-year-old daughter were removed from a Frontier Airlines flight on Sunday after the girl tried sitting on her dad's lap during takeoff.
Posting on Instagram, the father, Chrisean Rose, said his daughter was "too nervous to sit in her own seat" and "sat [on his] lap crying" while a crew member threatened to have them arrested.
According to the social media post, Rose and his daughter were flying back to Atlanta from Orlando, Florida after having "the most awesome daddy/daughter weekend" at Disneyworld. The trip was his daughter's first experience with flying, so naturally, she was a bit "scared." Fortunately, the flight to Florida went off without a hitch.
"The attendants on that flight were understanding, accommodating, rational humans...and allowed her to sit in my lap when she got scared," he said on Instagram.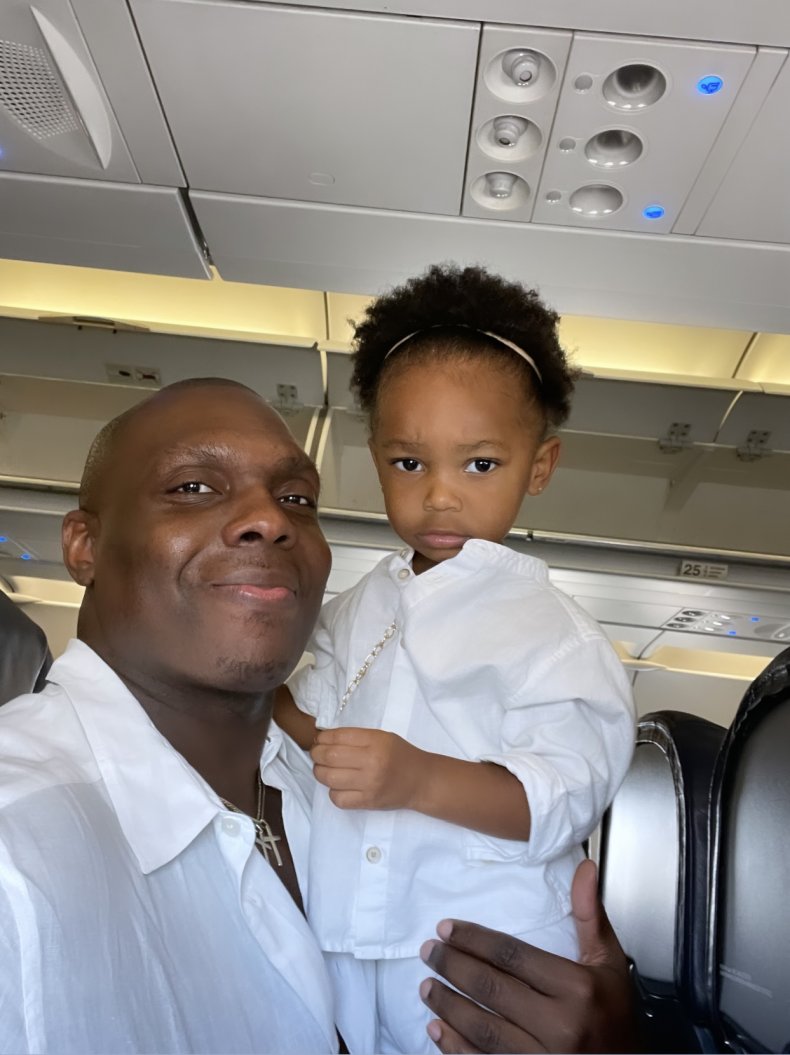 But the crew on Rose's return flight gave him and his daughter two options—she could either sit in her own seat during takeoff or they could exit the aircraft. When he refused both, they threatened to call the police.
"I'm asking you one last time to step off this aircraft—they will arrest you," a flight attendant said in Rose's Instagram video.
"I did not think it needed to be that far," Rose told WSBTV. "I mean, arrest for what? For a kid crying?"
In a statement to Newsweek, Frontier Airlines explained that "law enforcement assistance is requested" whenever a passenger "is instructed to exit the aircraft and refuses."
"On a recent flight scheduled to operate from Orlando to Atlanta, as the flight was preparing for departure, a customer was advised that his child needed to be buckled into her own seat for takeoff," Frontier said.
"It is an FAA [Federal Aviation Administration] requirement that all passengers over the age of 24 months must be buckled into their own seat for takeoff and landing. The parent refused to comply and therefore was asked to exit the aircraft with the child. It is the responsibility of the flight crew to enforce federal safety regulations."
Rose and his daughter were ultimately booted from the plane.
"I was not only shocked that they removed us from the flight but [also] shocked by their response and the way we were handled," Rose told Newsweek.
Flying With Children
On its website, the FAA encourages all parents to secure their children in a government-approved child safety restraint system (CRS) when flying.
"A CRS is a hard-backed child safety seat that is approved by the government for use in both motor vehicles and aircraft," the FAA explained. "Make sure your CRS is government approved and has 'This restraint is certified for use in motor vehicles and aircraft' printed on it. Otherwise, you may be asked to check the CRS as baggage."
The FAA said a CRS is a much safer alternative to sitting on a parent's lap because parents' "arms aren't capable of holding [their] child securely, especially during unexpected turbulence."
For more information on installing a CRS in an aircraft seat, click here.
Other Airline Stories
Last summer, a family said they were removed from a plane because her autistic son was unable to wear a mask during the flight. In September 2020, a 3-year-old boy's parents said they were banned from flying with Spirit because their son, who's also autistic, didn't wear a mask on the flight.
And in December 2020, a family was kicked off a United Airlines flight when their 2-year-old "refused" to comply with the airline's mask policy.