'Infinite Golf Glitch': Dad Uses Unique 'Planner' to Determine His Day
A retired father is bringing the laughs with his "daily planner" that he uses to determine what he's doing every day, garnering a lot of approval from viewers.
The TikTok recounting the situation, captioned, "Dad's doing retirement right #movewithtommy #fyp," has been viewed 1.4 million times and liked 113,200 times since it was posted on April 22.
According to Statista, in 2020 there were 46.33 million retired workers that received Social Security in the country. That number has increased from the previous years going back to 2010.
The short six-second clip, shared by TikToker @kadierenee, began with the woman's father holding a bag in a garage as the song Good Day by Nappy Roots played. He looked at his "daily planner" hanging on the wall by a door, getting closer to it.
"Dad said he lets his daily planner tell him what he's doing each day," the screen read in text overlay.
Then the video panned to the planner, which is a piece of wood with a key in the center of a circle hanging on a nail. Within the circle are a series of daily activity options written in black marker to complete if the key lands on them after being spun.
However, because of gravity, the key will naturally only land on one option: to go boating or golfing.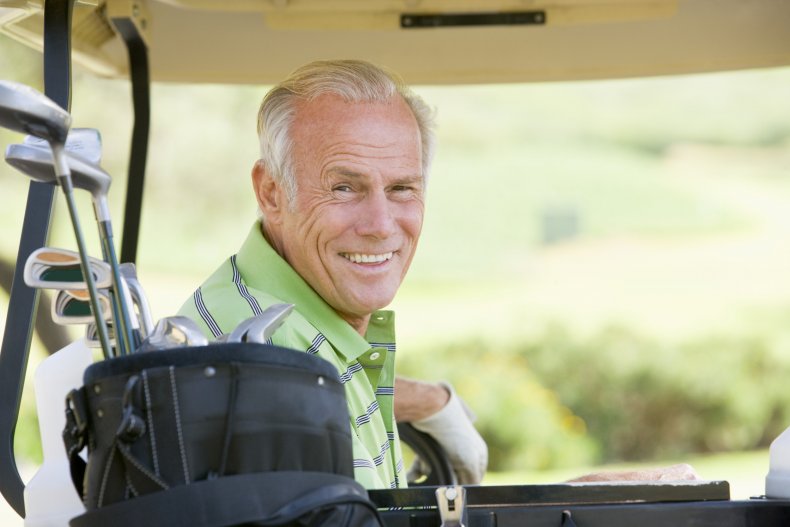 Work is at the top of the circle taking up a large chunk where the key will never land. There are also other options out of reach like washing cars, doing things around the house, completing the honey-do list, and cleaning the pool.
During the video, the key slightly moved for a few seconds before the TikToker's father spun the key, which landed on the option to go boating or golfing. The screen panned back to the man before the video cut off.
Over 100 comments have come in over the viral clip, and people seemed to appreciate the man's use of his unique planner. "I can tell that's homemade, and the thought of him making that is so sweet to me," a viewer said.
While a TikToker sums the situation up in five words: "Gravity says no work ever."
Some people still had questions about the man's plans. "But then how does he choose between golfing or boating that day?" a viewer wondered. "Or does he rotate? Lol, he's living the life."
One TikToker joked that they have the same planner, and they "always wonder why it tells me to stay in bed every day."
A few viewers pointed out specifics about the homemade planner. "I love how it's in Sharpie," a TikToker pointed out.
Comments of appreciation included things like, "This is so cute," "Infinite golf glitch," and "Love this."
Newsweek reached out to TikToker @kadierenee for comment.
This isn't the only viral moment involving fathers. A father's list to keep track of his son's friends was showcased in a TikTok video. A toddler went viral for his playful wrestling moves with his father. In addition, a woman's dad took a liking to a new dog.
Updated 04/26/2022, 4:38 p.m. ET: This story has been updated with a verified video of the incident.