The decision to include dads in a weekly support group set up for moms has sparked a fierce debate online, with people coming out in support for the two opposing views.
Women-only spaces remain a source of contention to some, but those in favor would argue they offer multiple benefits. Delmonico's steakhouse in New York City made history back in 1868 by hosting America's first ladies-only luncheon.
When they decided to celebrate the 151st anniversary of that event in June 2019 with another ladies power lunch, Carin Sarafian, Delmonico's former director of special events, explained why events of this kind remain relevant and necessary today.
Sarafian told Forbes: "Women-only events create an empowering space where women tend to be very open in expressing their feelings and speaking up. There's a level of respect and familiarity that is not offered in mixed settings."
Creating this kind of space is especially important for moms dealing with the trials and tribulations of parenthood while also balancing the ups and downs of life with their partner.
Moms-only groups are nothing new, but one has come to the fore on social media after a significant change to the entry requirements for those involved.
Writing in a post shared to online discussion forum Mumsnet by CaptainMyCaptainn, a concerned mother explained how she has been part of a mom's group that meet up every week in a cafe or bar to talk about everything from "boobs and postnatal depression to holidays."
However, there's been a significant change to the group.
"Someone recently asked if there's a similar group for dads and then all of a sudden, dads were being added to the WhatsApp group and have started to come," she wrote. "Today, one came on his own as he left sleeping baby at home with mom."
The woman said she felt it "changes the dynamic" to have men in the meetings and while she acknowledged there are other baby groups with dads present, she saw this one as more of a "support group" and now "feels uncomfortable" being there.
Some felt she was being unfair in wanting to exclude dads. "Do dads not need support too?" Peas252 asked. Catrice agreed writing: "Personally I think dads should be welcomed along in the group as much as moms."
Babyjellyfish also felt it was wrong to shut dads out. "When I was on maternity leave, I made friends with lots of local moms and had quite the social life," she wrote. "Then I went back to work, and my husband took parental leave and he didn't have anyone and was quite lonely."
However, plenty felt the woman was within her rights to want it as a moms-only group. "Not unreasonable at all to want a Moms only space," KeyWorker wrote. "If Dads need support too they are free to set up their own male only or mixed group."
Wavypurple offered up a more vociferous response. "They'll barge in anywhere they can because it's 'their right' and no one will say no and are oblivious to what the space is for," she commented. "Doubt they'd want you at their golf meetups or wherever else they meet up and complain about their wives and the unfairness of it all."
Snow1n also noted it was "females who go through pregnancy, childbirth and breastfeeding" and who only want to talk about those problems "with others who have been through similar experiences." "So while Dads do need support, they can get that elsewhere," she concluded.
The stress of motherhood has been shown to be significantly amplified among women also working in a full-time job.
A 2019 study from the University of Manchester in the U.K. found biomarkers for chronic stress were 40 percent higher among women with two children who were also in full-time work compared with full-time working women with no children.
Women who worked and raised one child were found to have 18 percent higher chronic stress biomarkers.
In September 2021, a frustrated working mom went on strike for a week at home to highlight how much of the housework she does in comparison to the rest of the family.
Another working mother also earned praise online after demanding she receive a share of the bonus her husband received at work.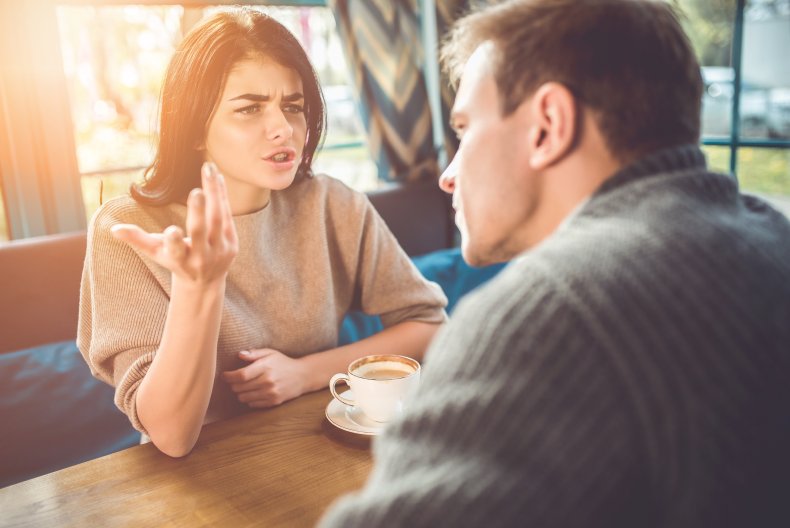 Update 02/17/22, 7:36 a.m. ET: This article was updated to note that Carin Sarafian is Delmonico's former director of special events.