Dagestan Women Confront Police in Mass Demonstration Against Putin's Draft
Videos circulating on social media show female protesters in Russia's Dagestan region demonstrating against the military's effort to mobilize Russian citizens for the war in Ukraine.
The protesting comes after Russian President Vladimir Putin announced a "partial mobilization" effort last week amid the country's invasion of its Eastern European neighbor that began in late February, ordering an additional 300,000 reservists with military training to fight in the conflict.
In one video posted by Julia Davis, a columnist for The Daily Beast, women can be seen confronting police officers on the street.
"Women in Makhachkala, Dagestan are desperately protesting against the war and mobilization: 'Why are you taking our children? Who attacked whom? Who attacked Russia? We are the ones who attacked Ukraine. Russia attacked Ukraine. No to war!'" Davis tweeted.
In another video, shared by an Anton Gerashchenko, an adviser to the Minister of Internal Affairs of Ukraine, women can be seen chasing after a police officer during a protest while he runs away.
The Belarusian media outlet, NEXTA, also posted videos of the protests on Twitter. In one of the videos, women can be seen chanting in front of a police officer.
"Women in #Dagestan explain a policemen that #Russia attacked #Ukraine and start to chant 'No to War!'" the outlet tweeted.
Meanwhile, in another video, an officer can be seen pushing a woman during a protest.
"An overweight cop in #Dagestan roughly pushes a woman," NEXTA tweeted.
Ruslan Akhalchi, an activist with the "Observers of Dagestan" movement, posted a video showing a woman speaking about the war to a group of men.
According to The Washington Post, the woman is a military recruiter who criticized them for not joining the war.
"These kids will be fighting for their future," the woman reportedly says in the video.
Tweeting out the video, which has been viewed more than 300,000 times, Akhalchi wrote: "Mobilization in Dagestan is not going very smoothly: - My grandfather fought for the Motherland! - In 1941-1945 we fought, it was a war. And now it's not war, it's politics."
Newsweek could not verify the authenticity of the social media videos.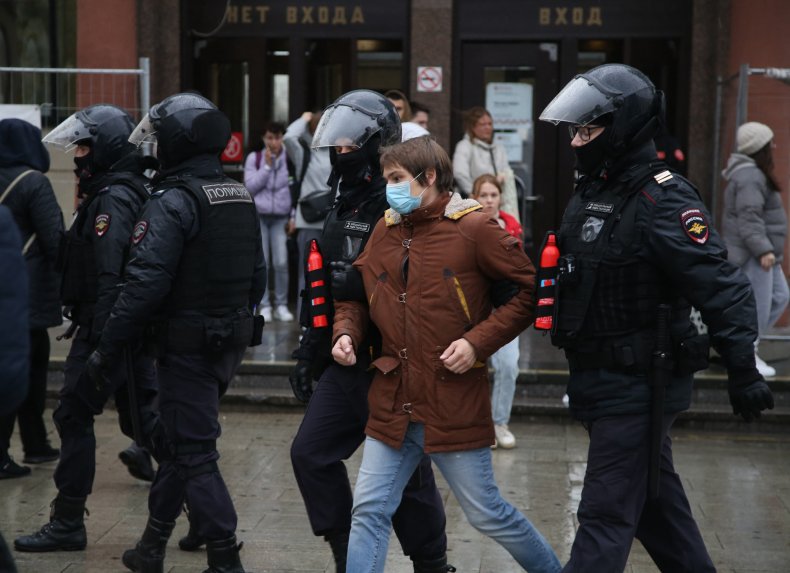 The newspaper also reported that Russian officials have sought to recruit 13,000 men from Dagestan, which is located in the North Caucasus and is a predominantly Muslim area.
Newsweek has reached out to the Russian Ministry of Defense for comment.
Putin's partial mobilization announcement set off protests around the country, which have resulted in mass arrests. As of Friday, Russian authorities had arrested nearly 1,400 people in 38 cities in connection with protests of the mobilization effort.
According to the U.S.-based think tank, the Institute for the Study of War (ISW), Russia's new mobilization push "is overwhelming an ineffective and unmotivated bureaucratic system and could fail to generate the much-needed combat-ready reserve force in a short time or at all."
"Russian partial mobilization efforts are suffering from serious and systemic problems in their first days, generating popular resentment and setting conditions to produce a mobilized reserve force incapable of accomplishing the tasks Russian President Vladimir Putin has set for it," the think tank added.