Dairy Queen Worker Hides From Customer, Crawls on Floor Before Opening in Viral Video
A TikTok video has gone viral after a supposed Dairy Queen worker hid from a customer in the drive-thru before the store was open, crawling on the floor. The video has been seen 1.9 million times, and viewers seem to sympathize with the employee.
On December 30, 2021, TikToker @girlintheblackchucks4 shared a post on the platform accompanied by music. In the five-second video, a Dairy Queen worker could be seen on the floor of the store crawling toward a counter, presumably to get her coffee cup, which she carried back with her as she crawled the opposite direction a second later. She even put her face to the floor at one point, garnering a lot of attention.
Text on the screen read, "When a customer pulls to the window before open, but you left your coffees on the counter." Dairy Queen is used in a hashtag as well in the caption.
According to Statista, 3.56 million people in the United States consumed four or more quarts of ice cream from Dairy Queen in 2020. The website also reported that Dairy Queen had about $3.8 billion in sales in 2019.
Over 99,000 people have liked the video so far, and people seem to be on the side of the worker. One TikToker revealed that they "just ignore people," adding, "You can bang that window all you want. 5 a.m. is 5 a.m. Lol."
Some people commented on the fact that the worker's face was on the floor. "You better hope the closers from last night mopped good," someone added.
"Yeah, not the face on the floor Lol," another person wrote.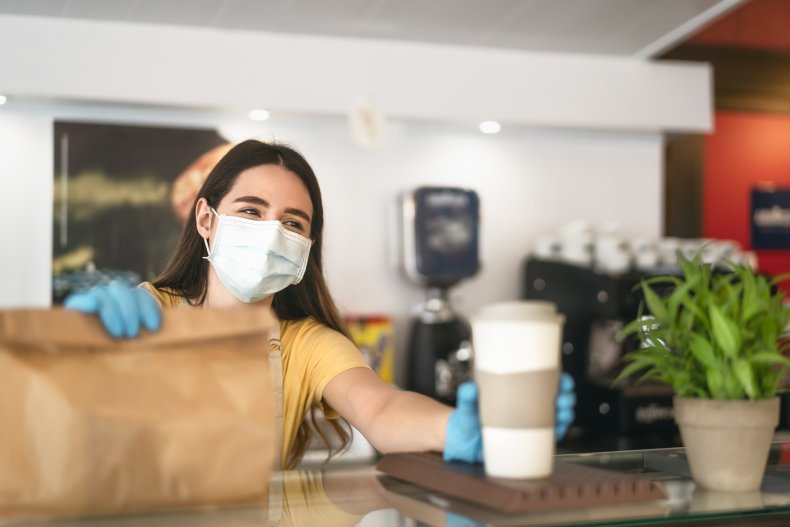 While others revealed how they handled similar situations. "I will make full eye contact with customers waiting outside," a TikToker expressed. "I'm not touching the lock until it's time Lol."
Another viewer used the phrase, "Systems won't allow us until our official opening time, sorry."
One viewer recalled their own scenario with a customer before the store even opened. "I had a lady drive around the building and stopped at all the windows even after two separate people told her we weren't open," they said.
A TikTok user admitted they "just mind" their "own business," saying, "We open at 7 a.m., I'll take your order at 7 a.m."
Another person had advice for the worker. "Just 'cause they see you don't mean you have to open before the time you're supposed to open!" they said.
However, one TikToker had a different outlook. "Yup, this is what $15 an hour gets you," they wrote. "Higher prices and less customer service."
Newsweek reached out to Dairy Queen for comment.