'The D'Amelio Show' Season 2: All the Scandals Since We Last Saw the Family
The D'Amelio family is back for season 2 of their reality TV series on Hulu, and there's been a few scandals to look back on since we last saw the family.
Charli D'Amelio, 18, began posting videos of herself dancing on TikTok when she was 15, and she managed to launch herself into stardom, garnering 147 million followers on the video app in three years. Her older sister Dixie, now 21, has a bit less than half of her following, with almost 60 million followers on TikTok.
By 2021, the D'Amelio family, including Charli and Dixie's parents, Heidi and Marc, announced a Hulu series called The D'Amelio Show, and on September 3 of that year, season 1 was released.
The first two episodes of season 2 were released on Wednesday, a little over a year later, but what has happened with the D'Amelio family between the two seasons?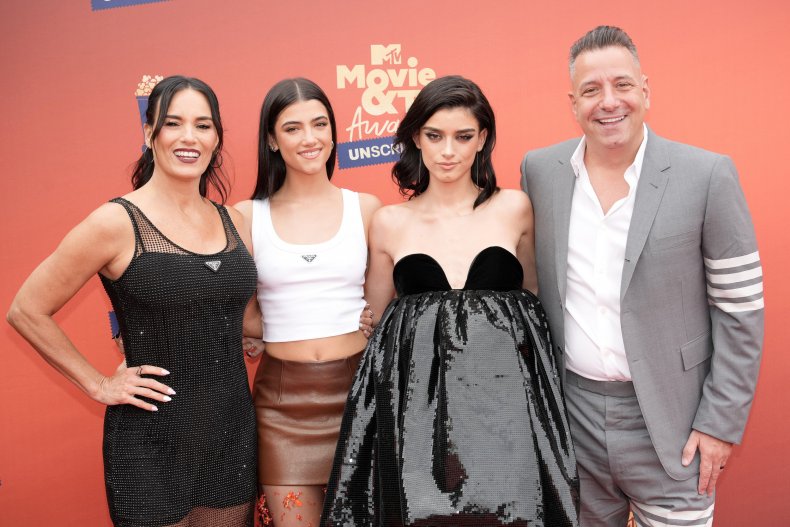 Just a few days after the first season premiered in 2021, Charli and Dixie faced backlash after posing for pictures wearing Scientology chains.
The sisters were seen in a since-deleted TikTok shared by Frankie Jonas, the youngest of the Jonas Brothers, striking poses for the camera with the sizable jewelry item along with other TikTok stars. Some, like The Cut, allege it was a prank by Jonas.
"Wear my Scientology chain and pose," read an overlay for the video. The video was deleted from Jonas' account shortly after, but it was reposted and circulated across social media, where many commented on the incident.
One user wrote on Twitter at the time, "i know charli d'amelio's agent is going absolutely crazy bcuz of that one scientology chain video."
"Frankie Jonas making Charli D'amelio pose for a picture while wearing a Scientology chain has been the highlight of my year," tweeted another.
After that and over the past few months, the family has done well to avoid any new scandals, but in the years prior to the show, Charli and Dixie came under fire several times. They both lost hundreds of thousands of followers after a YouTube video posted in November 2020 appeared to show them being rude to their personal chef, Aaron May, and many deemed their behavior disrespectful.
They both were also put in the spotlight amid dating scandals in 2020, as it was rumored Charli was cheated on by her then-boyfriend, Chase Hudson (AKA Lil Huddy), and Dixie waws reportedly cheated on by her then-boyfriend, Griffin Johnson, just a few months apart.
And while perhaps not scandalous, 2022 has been a busy year for the D'Amelios already. Dixie dropped an album titled a letter to me and was on tour earlier this year. She also revealed in the first episode of season 2 that she and her long-time beau, Noah Beck, have broken up, though they have reportedly been sighted hanging out since the filming of season 2 wrapped.
Marc D'Amelio launched the company, D'Amelio Brands, earlier this month, where he serves as a co-founder. The company's goal "is to create authentic and accessible products across a variety of industries, from fashion and beauty to CPG and lifestyle," according to the company's press release.
And Charli and Heidi are both contestants on Dancing with the Stars, Heidi paired with professional dancer Artem Chigvinstev and Charli with Mark Ballas. However, many online have predicted that Charli will win Dancing with the Stars, and some have claimed the prediction to be unfair.
On Twitter, one fan wrote: "Okay I don't follow the show so don't come for me if this is an incorrect take: but does anyone else think it's unfair for Charli D'Amelio to be on DWTS? Like I thought it was for celebrities who suck at dancing trying their best? And she was a competitive dancer #DWTS."
Charli and Ballas scored the highest out of all of the pairs in week one and topped the leaderboard again in week two.
Newsweek reached out to a representative for the D'Amelio family for comment.