JoJo Siwa and Jenna Johnson's 'Phenomenal' 'Dancing With the Stars' Debut Praised by Fans
Dancing With the Stars returned for its 30th season on Monday, with JoJo Siwa making history as the first contestant to be in a same-sex couple.
The singer made her debut alongside professional dancer Jenna Johnson on the show's premiere episode, with the pair dancing a quickstep to "Are You Gonna Be My Girl?" by Jet.
Siwa and Johnson's high-energy performance received the top score of the night as they were given 29 points in total from judges Len Goodman, Bruno Tonioli, Derek Hough, and Carrie Ann Inaba.
Goodman praised the performance, while Tonioli claimed he was so happy with it he could "hit the rafters" with glee. Inaba said she felt Siwa and Johnson could rely on each other as they continued to support each other even when the former slipped during the dance.
And fans of the show couldn't help but also heap praise on Siwa and Johnson, calling their performance "phenomenal" and sharing their delight at how the actress was able to make history.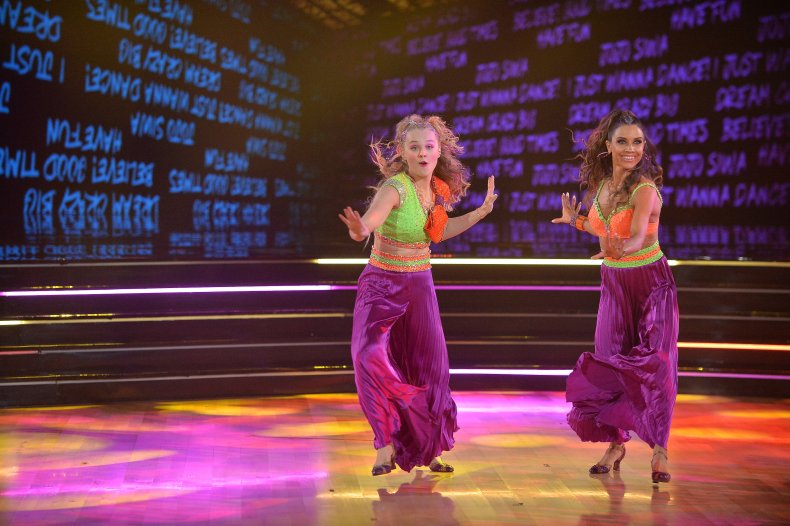 Viewers took to Twitter to share their thoughts on the duo, with many reiterating how important it was for the public to see a same-sex partnership like theirs.
One fan, @ghostklay, wrote: "The first same sex pairing on #dwts. My almost 5 year old niece adores Jojo Siwa.
"As her Uncle it warms my heart knowing she is seeing this type of example that I didn't have as much as a kid. A young idol spreading love, acceptance, and equality. Rainbow #DWTS30."
Another, @litteralydevon, added: "Jojo Siwa breaking ground by dancing with a same sex partner is so impressive—she's gonna influence so many young kids and I'm just so happy!!"
Sharing their enthusiasm for Siwa's debut on the program, @limegreenroger added: "Jojo Siwa with the top score on opening night???? Gay Rights me thinks."
One fan, @cobykalei, praised the duo's dancing skills by writing: "Jojo Siwa's routine with Jenna was really crisp. It looked like they were dancing with a mirror. So synchronized."
Another, @AlyCat_Wit, wrote: "Okay, but like,@itsjojosiwa is a PHENOMENAL dancer! Her energy was so infectious! Way to go, JoJo!!!"
Many fans also claimed the program had left "the best for last" by putting Siwa and Johnson at the end of the show, with several picking the duo as their winners after just one performance.
Dancing With the Stars airs weekly on Mondays at 8/7c on ABC. Episodes are also available to streak on ABC's website and Hulu.