Daniel Craig Lied About James Bond Return Just Hours Before Confirming News to Stephen Colbert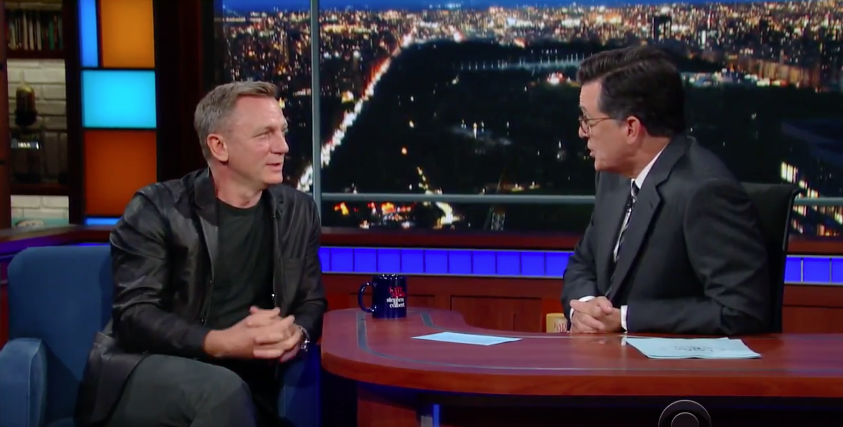 Daniel Craig confirmed what fans had long suspected in an appearance Tuesday night on The Late Show With Stephen Colbert: He will reprise his role as James Bond for a fifth—and final—time.
But as Colbert fawned over the British actor's portrayal of 007, calling him the "greatest Bond," Craig said he had "to apologize to all the people I've done interviews with," because, while promoting his new movie Logan Lucky in New York earlier in the day, he lied about his future as the franchise. Or, to use his words, he was "cagey" and "coy."
Craig has, in fact, been signed up for the untitled Bond 25 for a "couple of months," he told Colbert. The reason he withheld the news from other journalists, he claims, is because he wanted to share the news directly with the Late Show host. Sure, it's pretty smart to save the big announcement for a popular late-night talk show, so it has maximum impact. But you have to feel for the other poor souls who tried to get the scoop.
Earlier Tuesday, speaking to Boston's Magic 106.7 radio station, Craig said, "No decision has been made at the moment," though he later told Colbert it definitely had.
"There's a lot of noise out there, and nothing official has been confirmed, and I'm not, like, holding out for more money or doing anything like that," Craig said. "It's just all very personal decisions to be made at the moment. I know they're desperate to get going, and I would in theory love to do it, but there is no decision just yet."
The New York Times first reported that Craig would return as Bond in July, after Sony and Eon Pictures announced that the 25th film in the spy series would be released in November 2019. The announcement made no mention of who would star, nor did it confirm who would direct. At the time, spokespeople for Craig did not issue comment to Newsweek or the multitude of other publications that requested confirmation.
There was also silence from Craig's reps in August after cable network Showtime's president, David Nevins, let slip that the actor would reprise his most famous role.
Nevins told reporters Craig's miniseries for the premium channel, Purity, may not film until 2019—after he completes Bond. "He's doing Bond first, and I can't say anything about what I know or don't know about Bond, [but] it's possible it may not shoot until 2019," said Nevins.
Cloak-and-dagger tactics are part of the process of making films and television, and when done right, they can keep fans in anticipation for where the story goes next—like when Game of Thrones killed Kit Harington's brooding Jon Snow. Harington spent a year insisting he really had left the show, only to be resurrected in Season 6. But in Craig's case, was the subterfuge really necessary?
Perhaps Craig can be forgiven if Bond 25 is as good as 2012's Oscar-winning Skyfall.
Daniel Craig Lied About James Bond Return Just Hours Before Confirming News to Stephen Colbert | Culture