Daniel Enriquez, Killed on NYC Subway, Was 'Beloved' Worker: Goldman Sachs
Daniel Enriquez, who was shot and killed inside a New York City subway car on Sunday, worked for Goldman Sachs for nine years and was described by the investment banking company as a "beloved" employee.
The 48-year-old was shot in the chest in an alleged unprovoked incident while riding the Q train toward lower Manhattan around 11:30 a.m. on Sunday, the New York Police Department (NYPD) told Newsweek. The unidentified gunman quickly fled the scene as soon as the train car pulled into the Canal Street station, and remains at large.
The shooting marks the latest incident in a series of deadly attacks across the city's public transit system. Last month, a mass shooting on the N train in Brooklyn left 23 people injured, and in January, a woman was shoved to her death on the tracks in the city's popular Times Square station.
Enriquez's death has been described by family and co-workers as a "devastating" crime and is something out of a "horror movie." On Monday, Goldman Sachs CEO David Solomon called the incident a "senseless tragedy" and offered condolences to his family.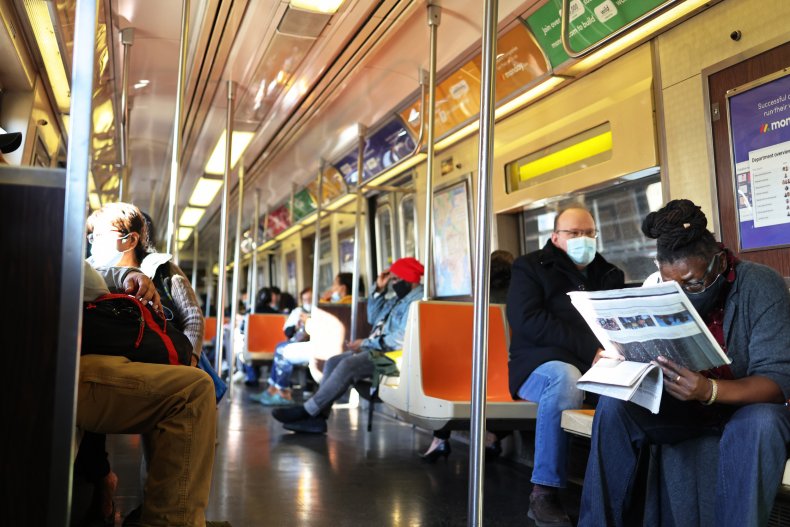 "Daniel Enriquez was a dedicated and beloved member of the Goldman Sachs family for nine years. He worked diligently to support our Macro Research team in New York and epitomized our culture of collaboration and excellence," Solomon added in a statement, according to Insider. "We are devastated by this senseless tragedy and our deepest sympathies are with Dan's family at this difficult time."
Enriquez lived in Park Slope, Brooklyn, and was on his way to Sunday brunch in Manhattan when he was shot. His sister, Griselda Vile, told The New York Times that he had largely been avoiding public transit due to the COVID-19 pandemic.
Witnesses told the NYPD that the suspect was pacing back and forth in the train car, and without provocation, pulled out a gun and fired at Enriquez at close range while the train crossed the Manhattan Bridge.
NYPD Chief of Department Kenneth Corey said Sunday during a press conference that Enriquez and the gunman had no interaction before the shooting. The suspect has been described as a heavy-set dark-skinned male, wearing a dark sweatshirt, an orange T-shirt, gray sweatpants and white sneakers.
An NYPD spokesperson told Newsweek Monday that the investigation is ongoing and that no arrests have been made.
"Help us find this guy. There's other people riding the train. We have some of them, others who saw something. Maybe someone who took a photo or some video on their cellphone, share it with us," Corey urged.
The latest shooting presents a massive obstacle for Mayor Eric Adams, a former New York police officer, who vowed to help reduce violent crime and increase subway safety. Last week, he urged the city's business leaders to return to the subway system in their commute to work following dwindling ridership throughout the pandemic.
The mayor called Enriquez's death a "horrific" attack Sunday and vowed that the gunman would soon be caught, adding that his administration would continue to increase police presence in the subways, according to the Times.
"What the goal is, and what we're going to continue to do, is the omnipresence of police officers," he said.